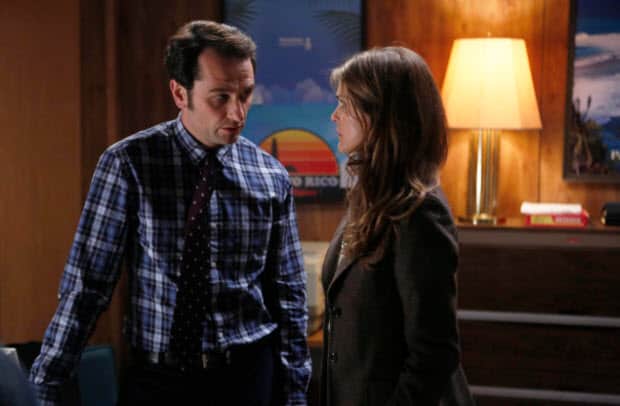 When reading about TV, you might occasionally come across the phrase "slow burn" as a description. In many cases, it's a substitute for "methodical" or "deliberate" pacing in series that avoid feeling boring or uneventful. Truthfully, not a whole lot happens in "Cardinal," the most recent episode of The Americans. But then not a whole lot happens in The Americans in general – or at least it sometimes gives off that impression, cleverly disguising the rapid movements of its narrative chess pieces through its cloak and dagger routine. The confounding part of all this is that The Americans is one of the more gripping shows on television. It's highly unlikely, for instance, that viewers can avoid relinquishing total attention to scenes like the ones Philip and Fred share in "Cardinal," where Philip is tied up and his life is at stake. Yet, even though these scenes are the most tense and form the episode's obvious climax, nearly every moment of an episode of this series demands close attention.

Take, for example, the development of the construction going on outside of the Jennings household and how closely Elizabeth monitors it, clocking the very important moment when one of the workers steals a glance across the way to where she's watching from. Without this kind of detail, Elizabeth comes off as slightly paranoid (and, to be sure, appropriately paranoid). Its inclusion, though, serves several functions: not only does this heighten the tension and develop the story in the aftermath of the murders in last week's episode, but this helps guide viewers' sympathy in the direction of the Jenningses by way of their innocent children (see how Elizabeth immediately moves to physically cover Paige when she first notices the construction guys show up).
Something like this can't go understated simply because of how tricky the concept of sympathy is in The Americans. For whom should we lend it? Philip and Elizabeth? Stan? Nina? Initially, The Americans put Philip and Elizabeth into a difficult position in that regard because we knew very little about them. As KGB operatives, the only sympathy given to them was the obligatory kind that goes to the main characters, if not protagonists, of our TV series. We've seen them commit multiple acts of espionage and sedition, but now – in its second season – it's clear how morally sound the both of them are when it comes to their children. That's something we can all get on board with. Stan, as the FBI agent here, should theoretically be the most sympathetic character, but not only do we see him exploit his circumstances through acts of infidelity, we also see how violent and ill-tempered he can be. He has little to do in "Cardinal," but the pre-episode-catch-up reminds us of his past in this story. And yet it's hard not to root for him to stumble on some clues. He comments on the clock hanging up at the Jenningses agency, evoking the titular clock from a very early episode in season one. Stan always seems to be on the precipice of his next big break, and the fact that we know Nina is manipulating him makes Stan a little nicer to look at under scrutiny.
Nina might be most troubling of all, and it's her character who is most interesting to me both in this episode and at this point in the series. On one hand, her self-preservation instincts and how she's carved a place for herself in spite of being in danger of being killed several times already make her completely likable. However, does it make sense to sympathize with someone who is contributing to the non-American side of the Cold War? Does it make sense to sympathize with a triple agent – someone whose allegiances have been so malleable? Does it make sense to want to see Nina wring Stan out to dry? What's most interesting in "Cardinal" on the Nina side of things is, thanks to Annet Mahendru's promotion to series regular, how we get more of her viewpoint and perspective, such as in the report she brings to Arkady explicitly detailing her visit with Stan. We can tell how difficult it is for her to recount the events at all, but I wonder if some of the difficulty there is also in how mixed up her feelings towards Stan are. The easy take on it is that, given how he killed one of her friends and is working against Mother Russia, she'd gladly throw him under the bus. I'm less inclined to believe that, because The Americans is so sharp when it comes to troubled relationships. It's never a clear-cut thing, so it's hard to definitively say there's nothing left between them but lies.
Less troubling is the Jennings marriage, which – I'm very happy to say – doesn't seem to be a major concern for the writers this season like it was last season. They've reached a point of understanding that has allowed them to fit in a workable version of love – one that allows Elizabeth to not think twice about Martha, especially when she has other things on her mind. When Philip comes home instead of going to see Martha (poor, sick Martha), it's another indication that The Americans has addressed some of its previous issues in ways that also serve the plot; in this case, Philip walks in as Paige is doing some more snooping around. All of the dynamics of the Jennings family have been improved (except their timeliness; shame on them for not having already seen Raiders of the Lost Ark before the events of this episode). And now, in the aftermath of the murders of Emmet and Leah, there's an interesting shift in the focus on the institution of marriage to the ins and outs of parenthood. While Paige is doubting the veracity of her parents' convenient absences and errands, Philip and Elizabeth take those absences and errands as extra steps in safeguarding their children. If and when Paige gets a better understanding of what's actually happening, the problems of parenthood – honesty and transparency among them – will take on a new meaning.
[Photo via Craig Blankenhorn/FX]