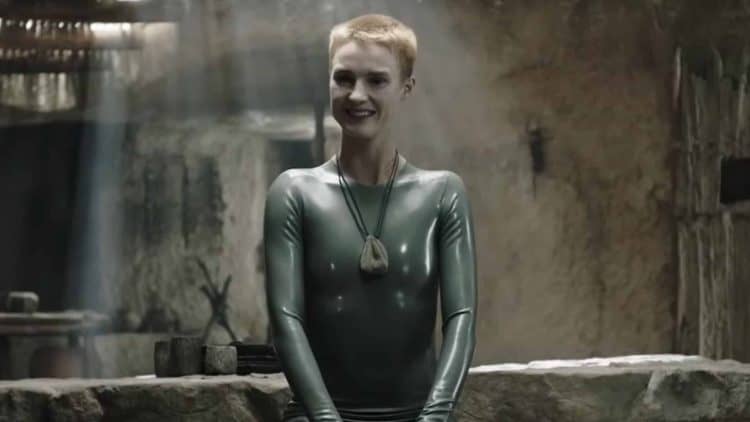 Amanda Collin may be relatively new to the acting industry, but she's already on her way to becoming an international star. In the years since making her debut, Amanda has worked hard to establish herself and her hard work is definitely paying off. So far in her career, she's landed roles on both the big and small screen. No matter what kind of project she's working on, you can pet that Amanda is going to light up the screen. Her most recent role as Mother in the HBO series Raised By Wolves has introduced her to a wider audience and her new fans are already loving her work. Continue reading for 10 things you didn't know about Amanda Collin.
1. She's Been Nominated For A Danish Academy Award
Many American viewers may not have been familiar with Amanda's work prior to Raised By Wolves, but she's been doing her thing in her home country of Denmark for the last several years. In 2017, she earned a Danish Academy Award for her role in the film Rakel.
2. She's A Private Person
Celebrities who relish at the opportunity to overshare has become quite common in the entertainment industry. Whether it be posting their every move on social media or telling all their business in an interview, many celebrities' personal lives have become part of their image. However, Amanda doesn't seem to have any interest in that. She is a very private person who doesn't like to share much about what she has going on outside of work.
3. She Has Theater Experience
Amanda's on screen work is what has gotten her the most attention from the mainstream, but she's also got lots of theater experience. She spent a year with the Mungo Park Theatre ensemble and she's also worked with other theater companies throughout Denmark.
4. She's Been In A Music Video
Amanda has had a lot of serious roles throughout her career, but she's also had a moment to be a video vixen. In 2016, she made an appearance in the music video for the song "You're Not Here" by Lukas Graham. The song was a hit and reached number two on the charts in Belgium.
5. She Was Excited For The Opportunity To Work With Ridley Scott
Working with a well-known director like Ridley Scott would be a dream come true for most actors. When Amanda found out she had the opportunity to audition for one of his projects she was so excited that she didn't even really care what the show was going to be about. She told The Playlist, "I mean, to be honest, when you were given a script to Ridley Scott's, new Sci-Fi TV show, and you're about to do the casting the day after, there's not much of considering what the script is about, just read it and learn your lines."
6. She's A Big Believer In Taking Care Of The Environment
Although taking care of the earth seems like a no brainer to lots of people, there are also plenty of people who simply aren't mindful about how what they do can impact the planet. Amanda, on the other hand, is an advocate for everyone doing their part to help maintain a healthy environment.
7. She's A Mother
Apparently, Raised By Wolves isn't the only place where Amanda is a mother. Although we weren't able to find much information about her personal life, it does appear that she has a child. In March of 2020, she shared a photo on Instagram of her holding her baby.
8. She's Not Afraid To Stand Up For What She Believes In
Amanda doesn't have the largest social media following, but she has still made it a point to use her platform to bring awareness to the causes that are important to her. In addition to her stance on taking care of the environment, she is also a supporter of the Black Lives Matter movement.
9. She's All About Spreading Positivity
It's no secret that the world can be a dark and cruel place. There's never a shortage of bad things going on and it's easy to feel overwhelmed by all of it. Amanda tries to maintain a positive outlook and she likes to spread compassion and empathy whenever she can.
10. She Studied Acting In New York
Amanda isn't as new to the American entertainment industry as it may seem. She started her career in Denmark and got most of her experience there, but she also spent two years in New York City studying acting at the William Esper Studio where she practiced the Meisner Technique.