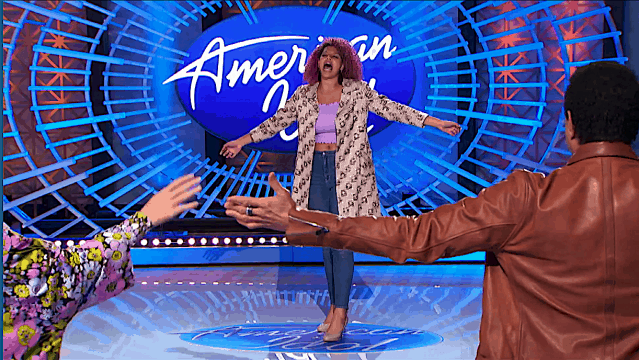 From the moment Alyssa Wray walked into the American Idol audition room, it was clear that she was a special talent. Once she started singing, her potential as a star became undeniable. Her rendition of Jennifer Hudson's version of "I Am Changing" literally got all of the judges out of their seats. All three of them were more than happy to give a 'yes' for the Hollywood round and they all felt that she could be the next American Idol. The world will have to tune in to the rest of the season to follow along with Alyssa's journey, but so far the future is looking very bright for the talented young singer. Here are 10 things you didn't know about Alyssa Wray.
1. She's Studying Musical Theater
Singing is officially the first thing that comes to mind when people think of Alyssa, but in reality she's an all around performer. She also enjoys acting and she is currently in the musical theater program at Northern Kentucky University. Even during the Idol process she is making it a point to stay on top of her school work.
2. This Is The Second Time She's Auditioned For The Show
Alyssa has been a huge fan of American Idol for as long as she can remember. In fact, her entire family loves the show. Getting the chance to compete has always been a dream of hers and she initially auditioned a few years ago when she was in high school. Unfortunately, she didn't get past the first round at that time.
3. She's A Very Shy Person
Anyone who has seen Alyssa perform would probably agree that she looks pretty confident. In reality, however, she is a very shy person and she deals with a lot of nerves before singing in front of people. Her mom has always been the person she turns to when she needs help calming down.
4. She's A TikToker
Social media has become a great way for upcoming artists to build a buzz, and Alyssa has been doing just that. She has a large following on TikTok that includes over 66,000 people. What's even more impressive is the fact that her content has gotten more than 1.7 million likes.
5. Her Faith Is Important In Her Life
At the moment, Alyssa hasn't provided any insight into her specific religious beliefs, but the line "love like Jesus" in her Instagram bio makes it clear that she is a follower of Christ. Since the American Idol contest can quickly become overwhelming, Alyssa may find herself having to lean on her faith.
6. She's Passionate About Social Justice
Alyssa is the kind of person who isn't afraid to stand up for the things she believes in and her social media presence makes it clear that she is serious about human rights. She has shown her support for the Black Lives Matter Movement as well as overall fight to end racism.
7. She Enjoys Being Outdoors
As a full-time student and someone who is actively trying to chase her dream of becoming a singer, Alyssa's schedule is pretty full. When she gets free time, she likes to spend it relaxing. On nice days, Alyssa loves to spend time outside. Some of the things she enjoys include hanging out at the lake and going kayaking.
8. She Was A Basketball Player
Alyssa's height is one of the first things the judges (and probably the rest of the world) noticed about her when she entered the room. If you wondered whether or not she's ever put that height to use on the basketball court, the answer is yes. Alyssa played basketball for many years and was a member of her high school team.
9. She Hasn't Released Any Music
Many of the contestants on American Idol have already gotten to a place where they've started releasing singles. Some of them have even put out entire projects. Alyssa hasn't gotten to that point yet, though. So far, it doesn't look like Alyssa has released any original music and it's also unclear whether she writes songs.
10. She Looks Forward To Being Able To Give Back To Her Community
Making her dreams come true isn't just something Alyssa is doing for herself. She also wants to give back to her loved ones and other people who have supported her over the years. She told Your Sports Edge, "I have been fortunate that my family provides for me. I would like to give back to them. I want to give back to my community and people who bought my basketball uniforms for me when we could not afford them."