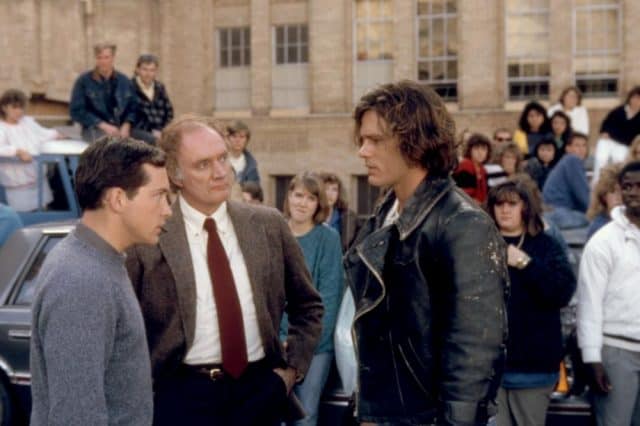 Here's the thing. I don't dislike Ice Cube or Charlie Day. In fact I happen to like both of them and love their respective acting careers. And frankly the idea of them fighting each other at a school parking lot is somewhat intriguing. The issue I have is the fact that a much better movie came well before Fist Fight and that movie is called Three O'Clock High. The only difference is that in the 1987 movie, the people who were going to fight are students. In today's Fist Fight the two fighters are faculty.
Yes, sure, all the lines are different. Fist Fight is more "today." But come on. And I know movies take from each other. Even Fist Fight admits it drew inspiration from Three O'Clock High. Here's a direct quote:
The tone of Fist Fight is rumored to have been inspired by Three O'Clock High, the cult high-school comedy from 1987. Three O'Clock High, which itself was inspired by the 1952 classic western High Noon, revolves around a high school student who accidentally offends a bully and then spends all day trying to avoid the impending fist fight at three o'clock.
Everything's true in that quote except for "rumored." There's no rumor here. This is fact. Look, I don't mind movies doing modern versions of other movies but can't they explicitly state that from the beginning? I'd have so much more respect for Fist Fight if in all the ads they said something like "inspired by Three O'Clock High." That would just make it so much better and almost more legit.
It's like when Monsters University gave zero props to Revenge of the Nerds and it was basically the exact same movie. I mean, come on! Casey Siemaszko and Richard Tyson must be reeling right now. Anyway, you look at the trailers and tell me the difference.
P.S. that reminds me I need to watch Three O'Clock High again. Buddy Revell is one of the best bullies ever.
Here's the trailer for Three O'Clock High
Here's the trailer for Fist Fight