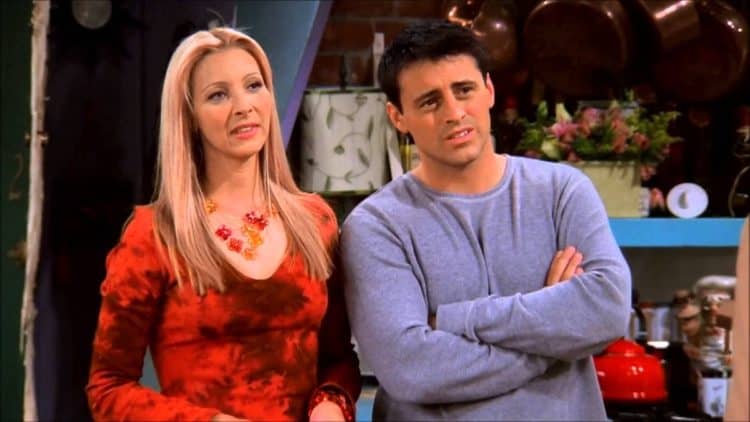 Amongst the characters on Friends, Joey ( Matt LeBlanc) happened to be the only artist. For a long time, he was a starving one. He had more free time than the rest and was broke until he got a stable gig. Once in a while, he'd bag an audition, but some roles just weren't right. Acting cheques were never regular, so Joey had to work odd jobs in between roles. Joey landed some roles on stage, most of which his crew of friends wasn't so keen on attending. Other than playing Sigmund Freud, and landing roles on Boxing Day and Macbeth, Joey had a couple of roles on the big and small screen. Here's a summary of his movie and television career:
1. Joey Starred On The Popular Daytime Soap Opera, 'Days Of Our Lives'
As Dr. Drake Ramoray on Days of Our Lives, Joey had one too many experiences. For someone who wasn't so decent an actor, he did a pretty good job that earned him a fanbase that included a stalker. Dr. Ramoray's crazy fan (Brooke Shields), had him living in her head for a while, so much that she believed he was an actual doctor. To get rid of her, Joey and his friends had to make up a story about him being Dr. Ramoray's evil twin. Being in a show with stars, Joey had to deal with a lot of fangirling, especially on Rachel's (Jennifer Aniston) part. Rachel couldn't contain herself when Joey invited her to the set of Days of Our Lives. Every time she saw a celebrity she was a fan of, she lost it. When Joey brought Jessica Lockhart (Susan Sarandon) home, Rachel couldn't believe that Lockhart was in her apartment. Almost instantly, she rushed to bring Monica (Courtney Cox) over. Monica tried to get Lockhart to slap her, but her lawyer had advised against that. Joey was written off of Days of Our Lives for claiming that he wrote his own lines, but he eventually returned with the brain of Lockhart.
2. Joey Had A Minor Role In An Al Pacino Movie
On announcing that he was cast in the new Al Pacino movie, Joey's friends were excited for him. " Can you believe this? Al Pacino! This guy is the reason I became an actor." An enthusiastic Joey said. When it came to revealing what his part was, Joey had a little bit of hesitation. There was no dignified way of saying he was his hero's butt double. Al Pacino would get into the shower, and Joey would be his butt. Joey took his role seriously. He went ahead to borrow moisturizer from Monica so he could look good on his big day. He wasn't letting anything, not even rogue hair, get in the way of playing Al Pacino's butt. He wanted to bring life into his role. During shooting, Joey thought Al Pacino's butt was meant to be angry in the scene and clenched it, much to the director's dismay. He also tried 'quiet desperation', and got himself fired for acting too much.
3. His Part Was Cut From An Episode Of 'Law & Order'
Upon learning that Joey was going to be on Law & Order, Rachel was super happy for him. No one, however, was more excited than Joey himself, who brought his grandma, Nonnie (Lilyan Chauvin) to Monica's apartment to see the big reveal. Nonnie, it turned out, was the only one in the family to have ever believed in Joey. She called him her big fat Joey star. For context, Joey was 27 pounds when he was born, so the nickname made sense. Everyone was glued to the screen and waiting for Joey's big scene which, unfortunately, did not come. Joey urged everyone to smile since he'd been put in a body bag instead. To fool his grandma into thinking he was on the show, Joey distracted everyone in the room and showed a video of him playing detective at home. Chandler noticed that Joey didn't even change his shirt. Joey's little skit was interrupted by his duck, but Nonnie was proud of him in the end.
4. He Was One-Half Of The Duo, Mac And C.H.E.E.S.E
For his Mac and C.H.E.E.S.E audition, Joey got Phoebe ( Lisa Kudrow) to help. Phoebe was so involved in reading the lines, that she started to dramatize them. She felt like she was so terrific an actor, that she didn't Joey or anyone else toning down her talent. Mac ( Machiavelli) was 'a detective who solves crimes with the help of my robot partner.' C.H.E.E.S.E was a Computerized Humanoid Electronically Enhanced Secret Enforcer, which was designed and controlled by Wayne ( Andrew Bilgore). After many years of struggling as an actor, Joey finally landed his own show. It had one too many plots, including an encounter with Russian terrorists, heated arguments about rewards for a rescue, a bank heist, and an encounter with cheerleaders. Joey had an altercation with Wayne in which he almost lost his job, but luckily for him, he managed to salvage the situation. The friends got to watch Joey's show, and they couldn't have been more bored. The show's network executives agreed too, and Mac and C.H.E.E.S.E was canceled.
5. Joey Co-Starred With Richard Crosby In 'Over There, Private Tony'
When Joey learned that he was going to star alongside Richard Crosby ( Gary Oldman), he was over the moon. Joey thought that Crosby had just won an Oscar, and he was honored to be in his presence. Eventually, he learned that Crosby had lost three times. Joey was barely worn off of his surprise when he and Crosby began to rehearse. In split second, Joey discovered that Crosby spit heavy when he talked. The legendary actor emphasized his words too heavily, sending droplets of spit on Joey's face with every hard-hitting word. Joey could barely keep up with the script. He spent the better part of the time wiping spit from his face. The director complained that Joey was touching his face so much. Joey couldn't let him know that his idol was the problem, so he coined the word 'face toucher'. Joey finally gained courage and told Crosby he was being a nuisance. What resulted was a spitting match between the two.
Tell us what's wrong with this post? How could we improve it? :)
Let us improve this post!