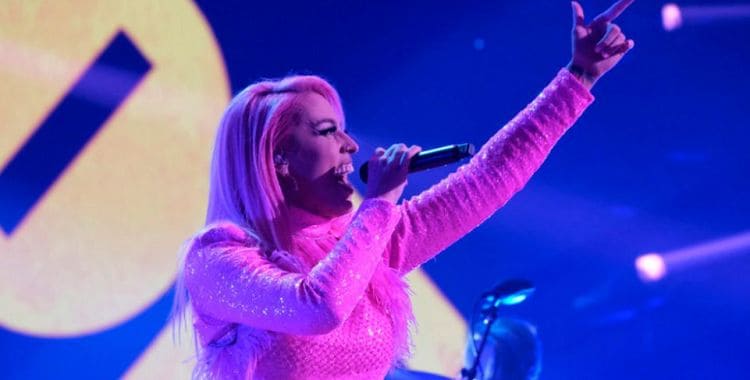 Alisabeth Von Presley has loved music since she was a child. Most of her life has been spent working on her craft and sharing her talents with the world. Now, she's really starting to see all of that hard work pay off. With that said, 2022 is a year that Alisabeth will probably never forget. After appearing American Song Contest, Alisabeth's star has been rising faster than ever before. Her vocal skills and performance abilities have proven that she has what it takes to make it in the music industry and her growing fan base is looking forward to watching her career blossom. Only time will tell what's next for Alisabeth, but we have a feeling that we're going to be seeing and hearing a lot more from her in the future. Keep reading to learn 10 things you didn't know about Alisabeth Von Presley.
1. Her Name Isn't Actually Alisabeth Presley
Although Alisabeth Presley may sound like her birth name, it isn't. Like lots of other artists, she has decided to use a stage name professionally. According to Talent Recap, "The singer changed her name to just Alisabeth, inspired by pop icon Madonna. She added Von Presley to honor Elvis Presley. Alisabeth believes she is the reincarnation of the rock & roll legend."
2. She Likes to Stay Active
Music may be Alisabeth's first love, but it isn't the only thing she's passionate about. She also likes to stay active and exercise is an important part of her regular routine. Staying in good shape also comes in handy when it's time for Alisabeth to perform. Being on stage requires lots of stamina and breath control.
3. She Was A Contestant on American Idol
Alisabeth's participation in American Song Contest isn't the first time she's been part of a competition show. She was also a contestant on American Idol in 2013. She told ESC United, "American Idol really opened my eyes to the entire world of television. It was expansive and challenging, yet was an incredible experience for a young singer to go through. Being a part of the show really made me consider WHO I am and WHY I am that way. It made me lean further into my own branding, and really accept the differences I possess that make me unique."
4. She Likes Connecting with Her Fans
Alisabeth has gotten lots of love and support throughout her singing journey, and she's thankful for all of it. She does her best to return that energy whenever she can. Alisabeth enjoys using social media as a way to connect with her fans and it's common to see her responding to people's tweets.
5. She Considers Herself A "Pop Rocker"
Some people may be a little confused about what kind of artist Alisabeth is, but she knows exactly who she is. While talking to ESC United, Alisabeth said, "I'm a pop rocker through and through. Hot pink hair, sequins, and Keytar solos!! I was raised on a well-balanced diet of Pat Benatar and a plateful of glitter. Often I am compared to Lady Gaga and Katy Perry and I'm 100% absolutely ok with that!"
6. She Was A Backup Dancer for Drag Queens
Alisabeth has had lots of cool experiences over the years. One of those experiences was performing as a backup dancer for drag shows. Not only did these experiences help her grow as a performer, but being close to the drag community also helped Alisabeth develop her unique style.
7. She's A TikToker
These days, building a social media following has become very important. This is particularly true for people in the entertainment industry and Alisabeth understands that fully. She is very active on social media and she has started sharing her talents on TikTok. She currently has more than 4,500 followers and her content has gotten nearly 20,000 likes.
8. She Loves Inspiring People
It goes without saying that Alisabeth loves to entertain, but that isn't the only thing she wants to do with her talents. She also enjoys being able to inspire people and encourage them to chase their dreams. I think it's safe to say that Alisabeth is already an inspiration to countless people.
9. She Sells Merchandise
If you're a fan of Alisabeth's and want to support her, listening to her music isn't the only way you can do it. She has an online store on her website where she sells various items. Her store currently includes things such as water bottles, Pop Sockets, t-shirts, and inflatable donuts.
10. She's A Dog Person
There's always something heartwarming about finding out that someone is an animal person. That being said, get ready for your heart to start heating up. Based on her Instagram profile, it's clear that Alisabeth is a dog lover and she has a fur baby of her own. As you can imagine, her dog is the start of her profile.