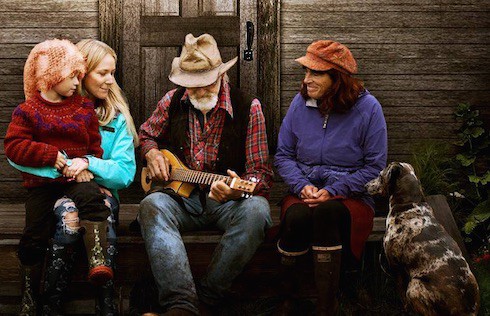 We never could have imagined what life was really like in remote Alaska until we first got a true glimpse of it from the Discovery Channel's Alaska: The Last Frontier in its pilot episode almost 6 years ago. In the premiere of the 7th season, we caught up with the Kilcher family and the conditions of their homestead near Homer, Alaska and how life's changed or stayed the same since we saw them last.
The season opener started off with a homestead reconstructing and extensive upgrading after a massive earthquake and endless battery from Mother Nature. The family has gone through many disasters in the last year alone, including those that have affected their physical health and emotional wellbeing also. The goal is to work on their family homestead now to ensure the future and the legacy the family started 80 years ago. It's going to take a lot of hard work and an endless list of improvements to be made in order to stay ahead of nature before it takes over.
In the premiere, we see their plans all laid out for execution, but then a heavy snowstorm hits to slow down their progress. They dig out their equipment and machinery before they continue, but it's proving to be more of a difficult task than the family expected. The family members experience problem after problem with their respective machinery in trying to contend with the ice. Atz Lee and Jane have to dig out the road, and Atz is helping them out with the frozen snowblower.
Eivin and Otto have to bulldoze so they can get to the livestock in order to feed them, but they have to get Otto's plow truck out of being stuck first. We also see Shane and Kelli driving back from Anchorage to get to working on their cabin. Atz Lee drives the snowblower backwards to Shane and Kelli's cabin to clear the road in order to restore access. At the end of the day, everyone accomplishes what he or she set out to do, and they can finally get started with their first homestead improvement project, the building of Shane and Kelli's cabin.
It seems as if the focus this season will really be on the homestead and the upkeep and upgrade of it. We're looking forward to how the Kilcher family fares with the daunting task, and if they'll be able to do it all before the year end. They have plenty of time and plenty of help among each other, and they might get more help with famous family member, singer-songwriter Jewel Kilcher, as it seems she might finally be making an appearance on her family's show.
The season starts off really strong; everyone worked together to do what is needed, and it seems that the same sentiment will continue on for the rest of the season. It's the only way for the family and their legacy to survive. It's always nice to see the Kilcher family and their way of life as a stark contrast to the way the rest of us live ours. We'll be taking a few pointers in surviving as a family along the way, and we're sure you will too. Tune in every Sunday at 9 p.m. on the Discovery Channel to get to know the Kilcher family more.
Tell us what's wrong with this post? How could we improve it? :)
Let us improve this post!