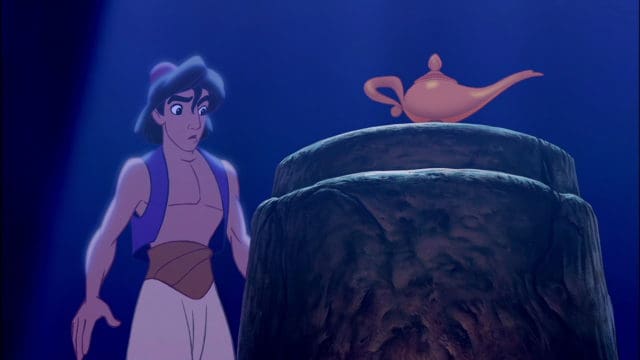 It may surprise you to learn that there is a noticeable connection between 'Indiana Jones: Raiders of the Lost Ark' and 'Aladdin'. Why should this surprise you? Well, when two movies are from such different genres are produced and directed in such different styles, it is difficult to think that there are any similarities between the two said films. 'Indian Jones: Raiders of the Lost Ark' is clearly an action adventure film while 'Aladdin' is a Disney musical fantasy animation. It is hard to imagine two movies that are less similar than these. However, there is one surprising connection that you may not have noticed in these movies and once it is pointed out to you, you will never watch either movie in the same way again.
When watching Raiders of the Lost Ark, it suddenly becomes apparent that Aladdin was possibly the inspiration for one of the characters in the movie; an evil henchman who wears an eyepatch and rides a motorcycle. Just like Aladdin, his monkey is his trusted friend and this is not the only similarity between the pair. These similarities were first noticed by the author of this article on Cracked.com.
Both the henchman and Aladdin are men of ill-repute who are familiar with life on the streets. Aladdin is forced to steal from fruit vendors and do what he can to survive. When he finds the magic lamp, he has the chance to change his fortunes. However, to do so, he must use underhand tactics. One strategy he uses is to mimic the Sultan to win the love of the Princess and to increase his wealth.
The life of the henchman is similar as he is wandering the streets of Cairo with very little to his name, except his monkey, the clothes on his back and his beloved motorcycle. He too must do whatever it takes to survive his tough life. The biggest difference between them is that Aladdin catches a break while the henchman is not so lucky and does not experience a life-changing event that drags him from the gutter. Instead, his monkey is accidentally poisoned while the henchman is trying to steal from Indiana Jones. This leaves him without his only trusted friend.
It is not just the henchman and Aladdin who have similarities as the monkeys also share some similar traits. In both movies, the monkeys are equally unscrupulous and steal what they need for themselves and their masters to survive. Another similarity between these creatures in the manner in which they sit on the henchman and Aladdin's shoulder. In Raiders of the Lost Ark, the monkey lurks in the shadows to wait for the chance to steal to steal food just like Abu in Aladdin.
It may seem far-fetched, but it is perfectly possible that the producers of 'Indian Jones: Raiders of the Lost Ark' used Aladdin and Abu as inspiration for the henchman character and his monkey. Watch both movies closely and build your own opinion on what you see. Can you see the connection?
Tell us what's wrong with this post? How could we improve it? :)
Let us improve this post!