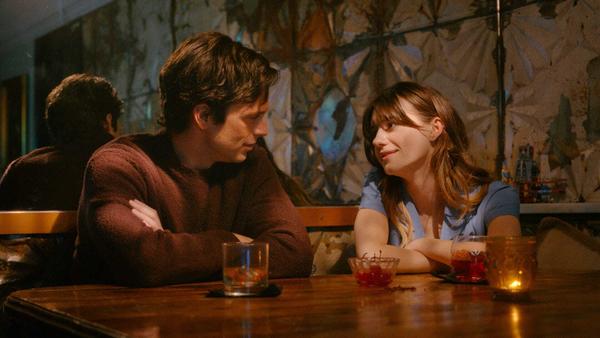 Fresh, which premiered earlier this month on Hulu, opened to mostly positive reviews, with Rotten Tomatoes rating the movie an 81 percent certified fresh based on 180 reviews. The movie is a directorial debut by Lauryn Kahn, who had previously worked as a writer for projects like Ibiza, The Other Guys, Fresh, and Step Brothers. The movie is produced by comedy legend Adam McKay, who brought us Don't Look Up, as well as Kevin Messick and Maeve Cullinane. Here's a synopsis of the film: "FRESH follows Noa (Daisy Edgar-Jones), who meets the alluring Steve (Sebastian Stan) at a grocery store and — given her frustration with dating apps — takes a chance and gives him her number. After their first date, Noa is smitten and accepts Steve's invitation to a romantic weekend getaway. Only to find that her new paramour has been hiding some unusual appetites." Fresh stars Daisy Edgar-Jones, who we all know from War of the Worlds, and Sebastian Stan, who is a Marvel mainstay, playing the Winter Soldier in multiple MCU installments. Fresh is a unique take on dating movies, with amusing twists and storylines. If you enjoyed Fresh, here are a few movie recommendations to keep the mood going.
Get Out
The first movie that came to our minds when brainstorming movie recommendations for those who enjoyed Fresh is Get Out. A masterpiece by comedian-turned-horror impresario Jordan Peele, Get Out tells the story of a guy who meets his girlfriend's parents for the first time. However, the further he interacts with what he thought were pretty regular people, the more he unravels the horrors that his girlfriend's family is hiding. Get Out stars Daniel Kaluuya, Allison Williams, Catherine Keener, Bradley Whitford, Caleb Landry Jones, and Marcus Henderson. A widely acclaimed film, Get Out received almost universal praise from critics, cementing Jordan Peele's reputation as a crafter of masterfully made horror flicks. Anne Thompson of IndieWire goes as far as to compare Peele with the original masters of horror, writing: "Peele seduces, subverts and manipulates audience expectations – as the masters Alfred Hitchcock, John Carpenter, and Stanley Kubrick did before him."
I'm Thinking Of Ending Things
Another movie similar to Fresh is Netflix's psychological thriller I'm Thinking of Ending Things. Directed and written by Charlie Kaufman, I'm Thinking of Ending Things stars Oscar-nominated actor Jesse Plemons, Jessie Buckley, Toni Collette, and David Thewlis. It's hard to explain what the movie is about without accidentally spilling spoilers, so to keep things simple, I'm Thinking of Ending Things is another meet-the-parents movie with a dark and eerie twist. Another critically acclaimed work in this list, I'm Thinking of Ending Things received generous praise from critics, although audiences are split as to their assessment of the movie. "Charlie Kaufman writes movies about getting lost in people's heads. His adaptation of Canadian author Iain Reid's surrealist novel about a woman going on a road trip to meet her boyfriend's parents might be the purest expression of that," wrote Radheyan Simonpillai of NOW Toronto in its review of the movie.
Ready Or Not
Ready Or Not, like Fresh, is a comedy horror movie delving into the relationship of a couple, in this case, newlyweds who are forced into subjecting themselves to a brutal and twisted family tradition. The movie, directed by Matt Bettinelli-Olpin and Tyler Gillett, stars Samara Weaving, who we all know from Hollywood and Nine Perfect Strangers, as well as Adam Brody, Mark O'Brien, Henry Czerny, and Andie MacDowell. Highly rated both by critics and audiences, Ready Or Not has cultivated a fanbase since its release. In a review by the Chicago Reader, Cody Corrall wrote: "Bettinelli-Olpin and Gillett create a harmonious blend of genres that can too often feel at odds with one another: the elements of horror become the catalyst for comedic relief and vice versa. Weaving comes alive as a hilarious and deeply macabre play on the "final girl" archetype, and it's nothing short of cathartic to cheer her on and echo the rage that quickly consumes and empowers her."
The Loved Ones
A pure horror flick that doesn't shy away from gore and scares, The Loved Ones is an Australian film directed by Sean Byrne, who previously worked on The Devil's Candy. The Loved Ones stars Xavier Samuel, Robin McLeavy, Victoria Thaine, Jessica McNamee, Richard Wilson, and Josh Brumpton. The movie depicts a popular high school classmate's refusal to go to the school dance with a classmate, and the horrors that result from that decision. Film.com implies that the movie reuses tried-and-tested horror formulas, but still manages to create something new and fresh in its own way. "Speaking of reusing old premises, The Loved Ones shows the right way to do it. In this outrageously creepy and entertaining." In an interview with Chase Whale, The Loved Ones director Sean Byrne explained the movie influences that helped him create the movie. "My filmic influences were a real mash up. Structurally the film is closest to MISERY but tonally there are shades of CARRIE, DAZED AND CONFUSED, FOOTLOOSE, THE TERMINATOR, THE TEXAS CHAINSAW MASSACRE (original), EVIL DEAD, HENRY: PORTRAIT OF A SERIAL KILLER, David Lynch, Gaspar Noe, Michael Haneke, John Hughes and even Walt Disney. The way Tarantino juxtaposes violence and comedy was a big influence. I'm also a big David Fincher and P.T. Anderson fan."
mother!
Last on the list is mother!, a movie that stars Hollywood A-listers, like Jennifer Lawrence, Javier Bardem, Ed Harris, Michelle Pfeiffer, Domhnall Gleeson, and Brian Gleeson. Here's the official synopsis from Rotten Tomatoes: "A young woman spends her days renovating the Victorian mansion that she lives in with her husband in the countryside. When a stranger knocks on the door one night, he becomes an unexpected guest in their home. Later, his wife and two children also arrive to make themselves welcome. Terror soon strikes when the beleaguered wife tries to figure out why her husband is so seemingly friendly and accommodating to everyone but her." Definitely creepier and more disturbing than Fresh, the two movies share similar themes: that of unknown and often uncovered horrors that potentially come with relationships.