Some time ago, there was a lot of talk on social media about some shocking text messages that were said to be from the famous singer Adam Levine. Many people felt upset when not just one but a number of girls chose to tell their stories about their experiences with Levine. As these stories spread across social media, disappointment grew among fans.
At that time, Levine was married to Behati Prinsloo, who was pregnant with their third child. This made fans feel even more let down. On top of that, many fans saw things in a different way and turned the situation into memes that were shared on various social media platforms. Here's a recap of the text messages and discussions about how Levine's marriage to Prinsloo is doing today.
Where Did These Alleged Text Messages Of Adam Levine Start?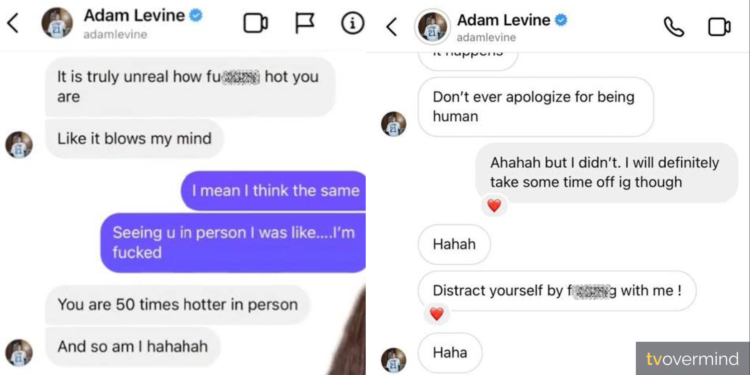 It was September 2022 when Adam Levine was involved in a big mess. A Instagram model named Sumner Stroh, started it all. She made a TikTok video that quickly became popular. In the video, she said that she and Levine had been in a relationship for about a year after she finished college in 2021. She said that he had not spoken to her for a while but then suddenly sent her a message in June. According to the message, he was going to name his unborn son "Sumner,".
Stroh revealed that she was forced to share her story because a friend betrayed her trust and leaked their private chats to a newspaper. Some of these messages from Levine were quite daring. He even said to her, "It is truly unreal how f–king hot you are. Like it blows my mind." The model said their relationship was physical, but she didn't want to say anything more about that.
After Sumner's revelation, two other women said they also got flirty messages from Adam. One of them, named Alyson Rosef, showcased a video where Adam Levine was seen messaging her, suggesting that he shouldn't be communicating with her. Another woman, a comedian named Maryka, shared her messages with the star too. Levine started their conversation by saying, "I'm now obsessed with you." When Maryka reminded him that he was married, Adam said, "Yes, but it's a bit complicated."
What Was Adam Levine's Statement Regarding The Scandal?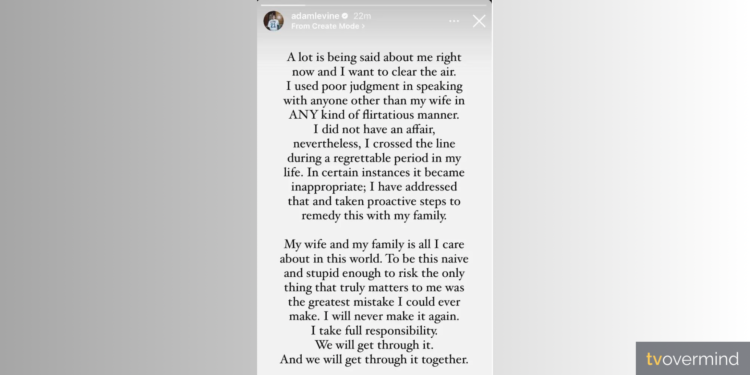 Adam Levine made an official statement regarding the scandal involving allegations of infidelity with several women. In a statement from September 2022, Levine denied having an affair. He admitted to having engaged in inappropriate and flirtatious conversations with women other than his wife. He acknowledged using poor judgment and crossing the line during a regrettable period of his life.
"I did not have an affair, nevertheless, I crossed the line during a regrettable period in my life. In certain instances it became inappropriate; I have addressed that and taken proactive steps to remedy this with my family." Levine expressed deep regret for his actions. He further stated that they were a major mistake, and took full responsibility for them.
He reassured fans that he was taking proactive steps to address the issue with his family, and pledged that he would never repeat such a mistake. "My wife and my family is all I care about in this world. To be this naive and stupid enough to risk the only thing that truly mattered to me was the greatest mistake I could ever make. I will never make it again. I take responsibility." Levine emphasized that his family was his utmost priority and that he was committed to getting through the situation together with them.
Is Adam Levine Still Married?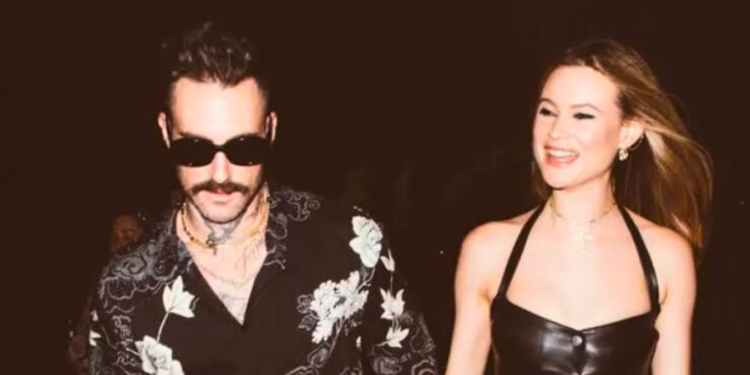 As of 2023, Adam Levine remains married to his wife, Behati Prinsloo. Despite the cheating scandal that happened a year ago, the couple managed to work through the issue. Levine took responsibility for his actions and promised never to make the same mistake again. As per US Weekly, Levine "recommitted" himself to his wife after the scandal. Thus, although their marriage faced a serious challenge, Levine and Prinsloo are still together.