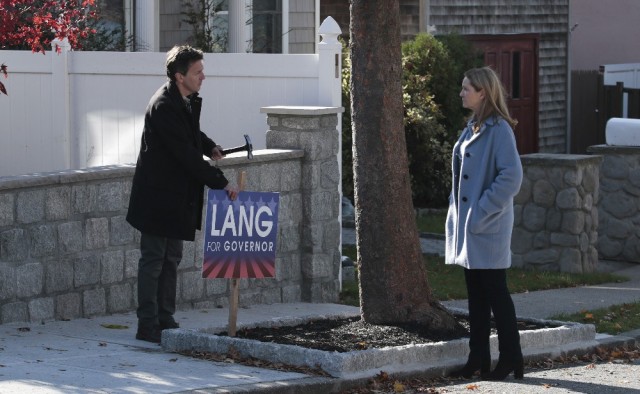 Just when you thought things couldn't go deeper, The Family season 1, episode 8 is set to reveal more painful truths. This story is far from being only about the awful things that happened to Adam Warren! Of course, the show's title says as much, so if you've been watching, you've long since figured this out…. Anyway here's this week's story synopsis:
Claire wrestles with the emotional ramifications of Willa's scheming. Meanwhile, Nina observes that Adam disappears every night from his home and sets out to track down his mysterious destination, while Clements investigates Jane's connection to Doug, the pock-marked man. When the Governor's wife threatens to reveal Claire's drinking, Willa handles the situation by exposing another Warren family secret, potentially changing the outcome of the election. Finally, Hank makes a shocking discovery that reveals his true involvement in Adam's kidnapping.
Usually shows don't have such specific details in their press releases because they want it to be more of a tease, but The Family always has lots of details. That's because the details can't begin to cover the depth of what actually goes on in the episode!
There is a lot of fallout from last week's revelations. (You can catch up on those here.) The first is that Claire Warren (Joan Allen) was photographed while being drunk. If you saw the episode then you knew that was coming. Between the possibility of convenience store security cameras and the fact that everyone has a phone with a camera, there wasn't a chance that no one would have gotten a shot of the intoxicated mayor!
However, Claire is still dealing with the fact that, "Adam" is really Ben (Liam James) pretending to be Adam – and that her daughter Willa (Alison Pill) is responsible for the deception. In this sneak peek, when Willa gives Claire the news about the photos, Claire's not exactly concerned.
Yikes! Claire is obviously furious at Willa! She's also questioning herself and wondering what she did to make Willa capable of doing what she's done. In fact, Claire will end up asking Willa that very question. Wait until you see Willa's answer! All I'm gonna say is…ouch! Then, the way Willa fixes things about the pictures…double ouch!
Meanwhile, the way we see Claire looking at Ben in the video and at other times is quite nuanced. At times she looks angry & sad, but at others it's as though she's unsure how to feel. This is understandable. For one, Ben's deception has brought her and her husband John (Rupert Graves ) back together when just prior to "Adam" reappearing John had been asking Claire for a divorce.
Then there's the sad truth that despite Ben not being Adam, he was with Adam through that miserable ten years of being held captive in awful conditions while being sexually assaulted on a regular basis. The trauma Claire sees in Ben is representative of what Adam went through. How can she hate him?
As for Ben, you can tell he knows something is wrong. He's missing the feeling of being loved that he was getting from Claire before she found out. Will there be some resolution there? Maybe….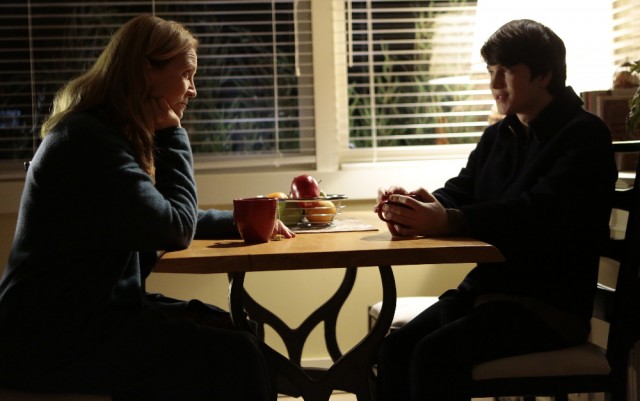 However, Ben has more going on than trying to win back Claire's affection. Hank Asher (Andrew McCarthy) is the one that delivers the news to Claire that Adam has been sneaking out at night. He sees this because he has difficulty sleeping. (Between the drugs Hank is on and the general stress of his life this makes sense.) Claire doesn't take kindly to Hank giving her this information, and Hank doesn't take kindly to her attitude! He gets the last word in their conversation and trust me, it's a doozy! However, karma's a b*tch. Hank's words will likely be coming back to haunt him.
Here my last tidbit. The Family season 1, episode 8 is titled, "Sweet Jane." After this clip you might want to replace that "Sweet" with another "S" word….
Woman, denial is not a river in Egypt!
So, how are things going to play out with Jane (Zoe Perry) and her psychopathic husband Doug (Michael Esper)? You'll have to watch The Family at 9pm ET on ABC to find out!