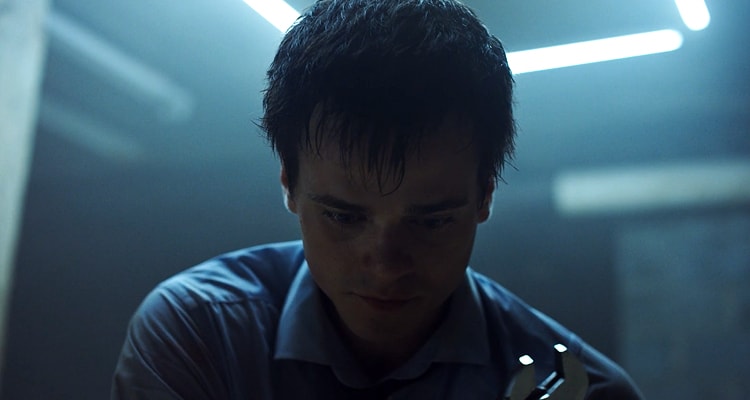 Aaron Dalla Villa is an energetic actor and music artist known most for his film roles in "Pledge" (as Max) distributed by IFC Midnight and "Trick" (as Smooth Johnny). Aaron has a lead role in the upcoming "Alpha Rift" (as Nolan) and a supporting lead in the feature film "All Those Small Things" (as Dennis, aka Tiny Hammer), "Immortal" (as Kyle), "Upcode" (as Nugget Nuts) and more. Find out more about Aaron Dalla Villa below:
1. Aaron started as a background actor.
Aaron Dalla Villa started as a background actor working on shows like "Chicago Fire" and "Mob Doctor" in Chicago, IL.
2. World Mysteries and the Supernatural.
He is fascinated by world mysteries and the supernatural. Whether it's world phenomena, aliens, the occult, religions, or places uncharted, etc., he's always down for a good YouTube video or documentary.
3. He plays tenor saxophone.
Aaron played tenor saxophone in both the middle school and high school jazz bands. He competed in the all-city competition for Nansemond River High School. He was then accepted into the jazz field of the music department at the Governor's School for the Arts in Norfolk, VA, before switching over to the dance department.
4. The Glee Project: Season 2.
He auditioned for The Glee Project: Season 2 and was selected to be one of the Top 40 male singers chosen from around the country to fly to LA for the next cut. He did not advance from there, but you can see a glimpse of him in the first episode of season 2.
5. Lost 10 pounds for a short film.
Aaron once lost ten pounds to shoot the second part of a short film titled "The Coming Horizon." He was playing the role of a castaway on a deserted island. He tried to follow the Christian Bale "The Machinist" diet. It was the hardest thing he's ever done. He ate all of the candy and cake after he wrapped production; it was worth it. Side note: Aaron has plans to recut the film, making it shorter for a festival run, if enough people who read this article hit him up requesting to see the film.
6. Free Samples, Mother F*ckers!
Aaron once managed a waffle and gelato shoppe in Chicago, IL. To attract customers so he could sell them $14 waffles, he would yell "free samples, mother f*ckers!" out the side window. It worked.
7. Predicted "Pledge" pickup by IFC (Midnight)
Aaron was so certain that "Pledge" would be picked up by IFC Midnight, that while shooting the film, he told his agent at the time. His agent thought that there was no way a little grizzly horror movie like "Pledge" would make it past "direct to video." A few months after wrapping production, Aaron was interviewed by a news outlet at an Art Hearts Fashion show in NYC where he said, during the interview, that IFC might distribute the film. Not too long after, IFC Midnight distributed "Pledge." The interview is still available on YouTube.
8. Teen News Now
Aaron was once a co-host for the sports section of a local teen news show, Teen News Now, on the UPN27. He would report on local high school and college games in the area. There is one ODU interview still available on YouTube. Enjoy.
9. Radio personality for iHeart Radio/Voice Actor
Aaron was hired numerous times to record those "you're listening to (insert radio station) in the morning with (insert names)" for iHeart Radio in NYC. He is also a voice actor with notable credits and loves tearing it up in the booth.
10. President & Law School
Aaron once went before the school board of Suffolk Public Schools and told them that he would be President one day. He had plans to attend law school at Hampden Sydney College (which he was accepted into and almost enrolled at) until his love for art took over. He still has plans for the presidency one day.
_____
Aaron Dalla Villa was born and raised in Suffolk, Virginia, and studied music and dance training at the prestigious Governor's School for the Arts in Norfolk, Virginia, in classical ballet and classical modern dance. Prior to experiencing an injury, he had a career in dance and worked with NB2-Nashville Ballet Second Company.
After moving to NYC, Aaron continued to pursue performance as an actor and has been featured in numerous film, television, and theater roles including a starring role in the feature film PLEDGE, distributed by IFC Midnight, a starring role in the feature film ALPHA RIFT, a supporting lead in the feature film ALL THOSE SMALL THINGS (for which he also wrote some music for), a starring role on the series DUELS, a spot on GOTHAM, a spot on MADAM SECRETARY, a spot on LATE NIGHT WITH SETH MEYERS, and voice work for HOLLISTER, STARBURST, LIBERTY MUTUAL, and in the popular video game series Earth Defense Force. He won Best Ensemble Broadway World Long Island 2015 for ORPHANS, by Lyle Kessler, directed by James Bonney at the Conklin Theatre. He was also nominated for BEST ACTOR for his work in the award-winning short film, THE FOLD, directed by Andrew Kiaroscuro.
Due to the world's complications with COVID-19, and with the industry shut down, Aaron decided to explore music avenues to broaden his talents and now has music available on all major platforms under his artist name DALLA VILLA. He has dropped two singles so far, CONSPIRACY and DEMON KILLER, currently available on Spotify and all digital outlets. Aaron is planning on dropping several songs soon.
— Photo credit to DP William Tracy Babcock – "Pledge" —
Tell us what's wrong with this post? How could we improve it? :)
Let us improve this post!