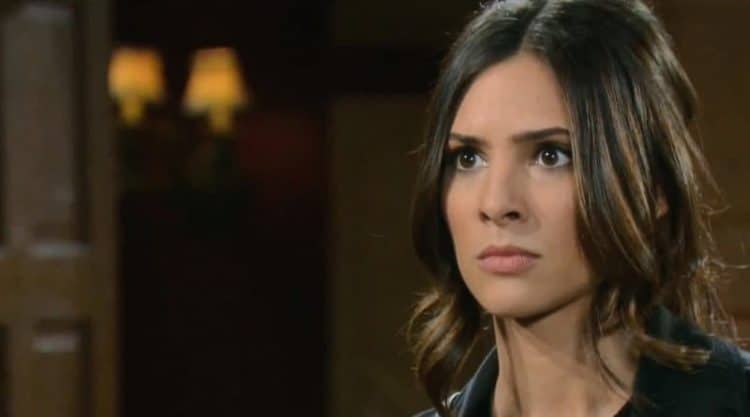 Days of Our Lives fans love Gabi. But, some of them hate her. She's the kind of versatile character who makes it very easy to feel both ways about her. She's got her issues, and we get that. She's got a lot on her plate, and she's got a lot going on in her life, but she's also going to have something else to say and do about that. She's living her best life her own way, even if we think her best life is not so good. She's changed a lot over the years, and we cannot help but feel that some of the changes she's made in her life come from the frustration of feeling as if she is always losing out to someone else. In this case, that someone else is often the person we know and love as Abigail. But, we also want to know more about Gabi and what we feel makes her tick.
She Was Rapidly Aged
One of the most interesting things about this character is that she came into the show in November of 2009 only to be aged very rapidly seven months later. She was then replaced by Camila Banus and she's been in this role for the better part of almost a decade at this point. She wasn't meant to be a young child, but she was a sweet girl. She was someone who made it her mission to make friends, to be friendly, and to do things that made her feel good and happy about her life. She's not someone who felt she had to do some mean things to get what she wanted, and fans loved her from the start.
She Turned A Little Manipulative
It was in 2012 that we began to see Gabi change a little. Gone was the girl who was so sweet and innocent and fresh and kind. She began doing little things here and there that did make us wonder if there was something else going on. She was a little bit manipulative, which was not typically her situation. It was just little things here and there, as if she was dipping her toes into this new water with much more than a little bit of hesitation. She was slowly going crazy, and there was no real way to make that situation change.
Was Will to Blame?
We have to wonder if her sudden personality change is a result of the fact that her first true love, Will, turned out to be a gay man. She was crazy about Will, and they were such a sweet couple. But, the sudden announcement that the man she loved was a gay man who did not love her back in the same manner in which she loved him was a shocking blow. We can say with certainty that there probably is not much going on that helps people feel good about themselves after finding out the love of their life is gay, but she didn't handle it well at all. Not that we think we would have handled that kind of blow to the heart well, either. We imagine finding out your boyfriend is gay is a little final — almost like death. He's not coming back to you, and that small flicker of hope you might have otherwise is just not there.
Her Fatal Attraction
There is nothing in her life as pivotal as the moment she fell for Chad. It was almost over before it began, but then it happened again and again. She fell harder for him each time, but he was almost always with another woman when that opportunity arose. She was so hard on herself because of it, and we wonder if there is a chance she has a deeper situation that we have not even begun to look into just yet. Is there a chance we are going to see her fall further into despair because she is the kind of girl who always falls for the wrong guy, and that's left her with some personality issues she's not sure she can manage? Does she feel unworthy? Does anything about the character make that seem more certain and interesting to anyone?
Tell us what's wrong with this post? How could we improve it? :)
Let us improve this post!