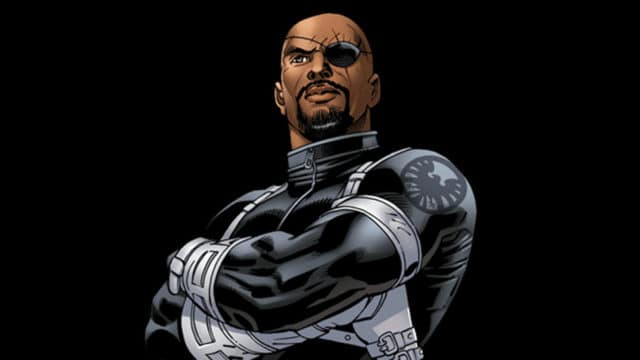 Nick Fury is one of the oldest and most timeless Marvel universe characters. First appearing in May 1963 the character has seen many changes and incarnations since then. As recognized and known as Nick Fury is though, there's still a lot unknown about the character… Or better yet, there's a lot that has been forgotten. Yes, even many die-hard fans have forgotten these things.
Here are five things we've all totally forgotten about Nick Fury.
1. Adolf Hitler hated Fury so much that he singled him out for humiliation
During World War II Fury and his Howling Commandos caused Hitler so much trouble that he sent one of his best henchmen, Baron Wolfgang Von Strucker to seek out and humiliate Fury. The goal: To damage the reputation of Fury and the Howling Commandos to the point of no return. Long story short, Strucker challenged Fury to a fight… Which he won because he drugged Fury with a powerful sleeping pill he slipped in his drink. Strucker took photos of Fury bloody and beaten then circulated them. Scoring a huge propaganda victory for Hitler and the Third Reich.
2. He wears an eye patch because a grenade damaged his eye
Over the years there have been many versions of Nick Fury all with different origins stories. However, they all have the eye patch in common. None accept the original Nick Fury reveal how the eye was damaged. His version was that a grenade damaged the eye to the point that he lost sight in the eye slowly. But in the Marvel movies, Samuel L. Jackson's version of Nick Fury has a scar around the patch, suggesting that he might have lost the eye in some hand to hand combat.
3. He fought in World War II alongside another Marvel Superhero
Nick Fury's first appearance in the Marvel universe was in 1963's "Sgt. Fury and his Howling Commandos." Those same Howling Commandos appeared next as Captain America's elite soldiers in "Captain America: The First Avenger." By 1965 Fury had made his leap to S.H.I.E.L.D agent.
4. He ages at a significantly decreased rate
Basically, this is Fury's super power. Given a serum known as the "Infinity Formula" by Dr. Berthold Sternberg in the 1940's after being injured in World War II, Fury's chronological age doesn't match his appearance. He does have to take the serum yearly though, or the effects would be reversed… Allowing time to catch up with him…
5. He has an army of robot clones at his disposal
Some fans speculate that Fury actually has aged and he deploys these clones, known as "Life Model Decoys" to make it appear that he hasn't. What we do know for sure is that the Infinity Formula in his body had lost effect before, in that time frame of several years Fury did replace himself with a Life Model Decoy entirely. But the real Nick Fury being dead or an elderly man and his running character actually being a LMD? That's up for debate. What isn't in question though is the fact that he uses these clones more than any other Marvel character.
Conclusion
The story of Nick Fury is still unfolding before our eyes. In the comic books, he has been replaced by his son Nick Fury Jr. In film, Samuel L. Jackson is under contract for nine films with Marvel Studios to portray the character, so there's sure to be a lot more to come… Something tells me the story of Nick Fury is just beginning to get interesting. I hope you enjoyed the revelations on this list. Trust me, there were a lot more where that came from. I started to compile each of them, but I quickly came to the realization that if I tried to, you and I both might need a dose of Nick Fury's Infinity Formula to get through them all.