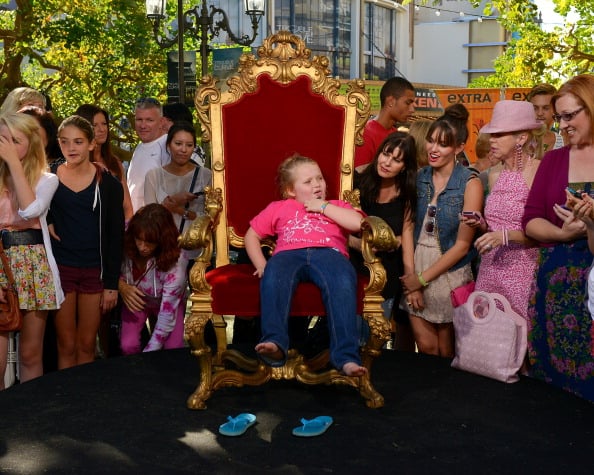 While we wouldn't blame you id you didn't want to actually admit it, there's probably a very good chance that you've seen the wildly-popular TV show, Here Comes Honey Boo Boo, which basically shows a family's complete train wreck of a mission in trying to get their daughter various beauty pageant wins. And whether or not you've seen an episode or not, we know you've heard of these people–especially their recent car accident that happened just last week. But how well do you really know them? Hopefully not too great, which is why we're giving you a few things we think you should know.
5. How They Got Noticed
Trust us, the world of childhood beauty pageants is a weird one. But thanks to the random hit, Toddlers and Tiaras back in 2011, producers were able to get to know the Thompson family and their extremely entertaining daughter. Thanks to the family from Georgia providing a bevy of one-liners and hilarious events, TLC just couldn't let the idea slip through the cracks, and now is through two seasons–even making the family's pig the channel's mascot.
4. She Gets Schooled
Seeing how the star of the show is only eight-years-old, there have been plenty of haters who complain that the second -grader is being overexposed and rushed into things a bit too abruptly. Just last year, the family took a trip to L.A., which caused a serious outrage from people who thought that the family should have her focus on her schooling instead, causing Boo Boo's mom to reply on Facebook to state that the girl's school was on fall break, and that the family had turned down plenty of requests in the past to accommodate her studies.
3. She's Not the Only Beauty Queen in the Family
The daughter of Boo Boo's stepsister Anna, three-month-old baby Kaitlyn actually entered the Miss Southern Princess beauty pageant last year. She won both fifth place and the People's Choice award in the event, meaning she may have a similar path to fame as her now global aunt. Not sure if they make outfits with a ton of sequins on them for kids who are just three months old, but apparently they can compete in pageants–which we're still debating is a good or bad thing?
2. The Show Is HUGE
As one of TLC's highest-rated shows in its first season–scoring more than two million viewers every week of the 10 on-air–the show might be ripped for being offensive, exploitative and horrifying by some, but it's something that people just can't get enough of. The first episode of the second series attracted more than 3 million viewers–though audiences have dipped slightly in the U.S. since then–you can bet that people still really enjoy acting "smexy" and "redneckilicous."
1. She's a Trust Fund Baby…Kind Of
For all the childhood actors who went into things way too fast, spent their money as if it were rain in a monsoon and found themselves out of work and cash by their mid-twenties, we hope that it won't happen to Lil' Honey Boo Boo. Well, at least if that happens to Alana, no one can blame her mom for at least trying her hardest not to have it happen, as June Shannon is making sure that all of her money goes right into a Trust Fund that none of her daughters can touch. June may be a thrift-conscious lady, but she seems to have her finances together in this case.