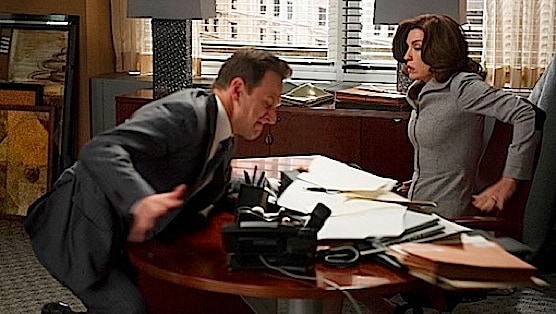 The Good Wife can be described as so much better than good. The CBS drama, which is currently airing its 6th season, got a resurgence last season when Alicia Florrick (Julianna Margulies) and Cary Agos (Matt Czuchry) started their own law firm, much to the anger of their bosses Diane Lockhart (Christine Baranski) and Will Gardner (Josh Charles). The just a few short months later we saw the demise of Will in courtroom shootout. This season Alicia has decided to run for State's Attorney while Cary is on the verge of heading to prison for a crime he did not commit.
It was announced last month that fan favorite Archie Panjabi, who plays the very awesome private investigator Kalinda Sharma, will be parting ways with the series this May. The actress had just inked a new deal with 20th Century FOX TV, so we will hopefully get to see her play another captivating character very soon.
We at TV Overmind decided to share our five favorite moments on The Good Wife over the last six years. With roughly 120 episodes to sift through, we had a lot of great moments to choose from. Hopefully one of your favorite scenes made the list.
5. Tie: Alicia Confronts Kalinda from Season 2 Episode 22 "Getting Off" – Original Air Date May 10, 2011 and Alicia and Peter have an epic fight from Season 5 Episode 17 "A Material World" Original Air Date April 10, 2013
After Alicia finds out that her BFF slept with her husband years prior, Alicia is furious. When she sees Kalinda at the office she almost turns away and leaves. Instead, she confronts her and tells her to get out of her office while fighting back tears. You could tell that Alicia was truly crushed Kalinda did not tell her about this, but still kept her cool. The exact opposite happened in the season five argument between Alicia and Peter. The argument is about Alicia still not over Will's death. Peter yells, "How many times do I have to tell you. When I cheated, it didn't mean anything?" Alicia's response is awesome when she retorts, "Well, then that was a waste because when I cheated it did!"
4. Alicia and Peter in the Bathroom from Season 2 Episode 1 "Taking Control" – Original Air Date September 28, 2010
Will expressed his love for Alicia, but for some reason she does decide to stay with Peter. After all, the show is called The Good Wife and not The Get Even Wife. Alicia does end up getting even with Peter by having an affair with Will at the end of the season. Alicia spent the entire first season learning how to cope with her husband being an adulterer and becoming the bread winner for her family while Peter was in prison. Peter ends up getting out of prison towards the end of season one, but he and Alicia do not have any sexual contact with one another until this episode. Peter follows Alicia into the bathroom pins her up against the sink and disappears from the camera view. It is pretty obvious what is going on and I still cannot believe they "showed" that on TV. Then I started watching How to Get Away with Murder and realized that scene was not as scandalous as I previously thought.
3. Kalinda Smashes Up a Car from Season 2 Episode 4 "Clean House," – Original Air Date October 19, 2010
Scott Porter from Friday Night Lights fame was featured in 14 episodes of the second season of The Good Wife. He played Blake, a private investigator that often butted heads with Kalinda. It appeared that there was some sexual tension between the two, but when Blake referred to Kalinda as "Leela" all bets were off. He also threatened to reveal her past to anyone who would listen. Naturally, Kalinda wanted to get the last laugh. She grabbed a baseball bat and broke the windows to Blake's car. By the end of the season, Blake had been ousted from Lockhart and Gardner, but not before he testifies to a grand jury that he witnessed countless illegal activities that Kalinda performed while he was working at the firm. Blake admits that he was given immunity for his testimony. He also knows that Kalinda slept with Peter (Chris Noth) during her time at the State's Attorney office.
2. Will is Shot and Killed during Court from Season 5 Episode 15 "Dramatics Your Honor"- Original Air Date March 23, 2014
I love TV spoilers, so I knew that Josh Charles was going to be leaving the show, but I thought it was going to be at the end of season five.. Imagine my shock when I am watching this episode of The Good Wife and Will is shot and killed in court. Will's death affected many of the characters on the show. Each time one of them found out, it was like reliving the tragic event all over again. Alicia does not even find out about Will's passing until the very end of the episode. This episode is also where we are introduced to Matthew Goode in the role of Finn Palmer. I enjoyed his interaction with Will during the courtroom scene and have grown to like his current friendship with Alicia.
1. Will finds out Alicia is Leaving the firm from Season 5 Episode 5 "Hitting the Fan" – Original Air Date October 27, 2013
Alicia and Cary had been planning on leaving Will and Diane's firm at the conclusion of the fourth season. It would take another five episodes of sneaking around before Will finally gets word that his former lover, along with Cary, were going to be leaving and trying to take some clients with them. Once Will hears what is going on, he storms into Alicia offices and clears her desk in a scene you wish you could experience in the real world just once. He spends the next several minutes berating Alicia and then fires her, Cary, and anyone else he thinks is backstabbing him. He even resorts to having Alicia escorted out by security because he does not think she can be trusted, Will obtains some of this information for Kalinda, who Cary had been confiding in for some time. The rest of this superb episode deals with Alicia and Cary trying to retain their clients while Will and Diane coax them to stay with the firm. The Good Wife is at its best when Alicia is at odds with someone, even if that someone is her soul mate Will Gardner.
What was your favorite scene from The Good Wife? Let us know in the comments section below.
Photo by: CBS
Tell us what's wrong with this post? How could we improve it? :)
Let us improve this post!