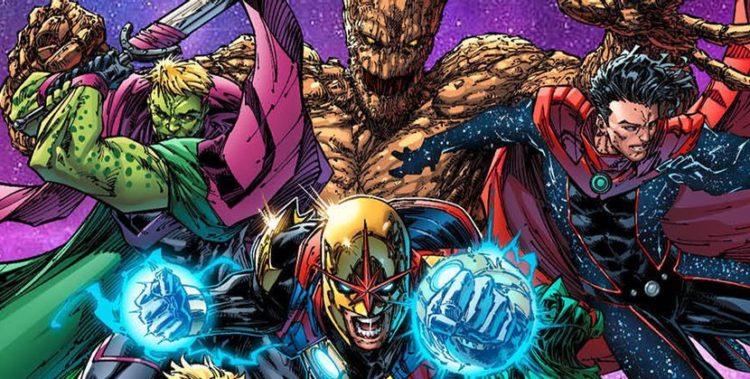 There aren't too many details being handed out at this time apart from the idea that comic book writer Al Ewing will be looking at creating a more positive storyline for the Guardians of the Galaxy that will include several members that will come together as a more cohesive team in order to achieve a goal that's far more positive than many have been as of late. 2020 was a rough year for just about everyone in one way or another, and while the comics have almost always hinted at dark, foreboding stories that are gripping and fully capable of engrossing the readers in a manner that sells issues and raises profits, it's apparent that the new goal is to tell stories that will be uplifting and far more upbeat than many have been within the past several years. Some folks might want to argue that there is usually a goal that is being moved towards, that there is some positivity in the comics, but the undeniable fact is that a lot of comic book stories survive by being a bit dark and even a little depressing at times since the fans want to see a resolution that will allow for at least a moderate amount of relief.
It does sound though as if 2020 managed to drum the idea of needing to depend on positive influences from Ewing's point of view and to be certain, those that work on the comics would be the best qualified to tell when things need to shift in a certain direction. The fans are likely to wonder at the shift, but it feels as though the risk of changing things up just a bit would be worth it in the long run since the idea doesn't appear to call for creating a happy and stable environment that will accommodate everyone as much as possible in a nurturing, positive and 'woke' manner, but will at least guide the stories in a direction that will avoid any drastic and overly negative path that might otherwise continue to push the narrative that Ewing wants to steer away from for the moment. Creating more positive stories could work for Marvel since it might finally show that things can be resolved rather than just allowing them to sit and fester. The fact that everything, including the comic industry, was hit hard by COVID-19 is only one reason why Ewing has been given a chance to look at things in a different light, as he's been doing what he can to move the story of The Guardians of the Galaxy into a different direction that will prove to be a little more uplifting and filled with slightly few dire consequences for certain actions.
Whether the Guardians are the only comic book group that will be given this treatment or if they're among the first is hard to say, but the feeling appears to be that comic book stories might need to start traveling down a lighter and more positive path than has been seen in recent years. One has to admit that there have been a few stories out there that have had a pretty negative lean with consequences that are rather serious for the heroes and those around them. The one thing about making the comics a little more positive though is the fact that there is a balancing point that the writers and artists likely know about that needs to be struck so that the comics don't end up becoming TOO positive, since conflict is bound to happen in the comics and is a very natural process that creates chances for growth and development. But perhaps outcomes that far more positive than many have been in the last several years would be interesting to see considering that many stories usually tend to have a lot of issues to deal with and some of those manage to head off into darker territory when it comes issues that deal with the heroes and the villains. Bringing a little more positivity to the mix might be a great idea since it can be seen as a way to kind of heal and even strengthen the many stories that might have been headed into a heaping helping of disaster.
Positive stories in the Marvel universe are always possible at any given time but it takes a special push sometimes to resolve certain storylines that might have almost no redeeming quality and are kind of like the proverbial dark tunnel with the light at the end that turns out to be a train that's just ready to run the hopeful survivors over once they get far enough. It almost sounds as though Ewing wants to divert that metaphorical train further up the tracks and let the light pour in to let the Marvel universe breathe a little easier for now.