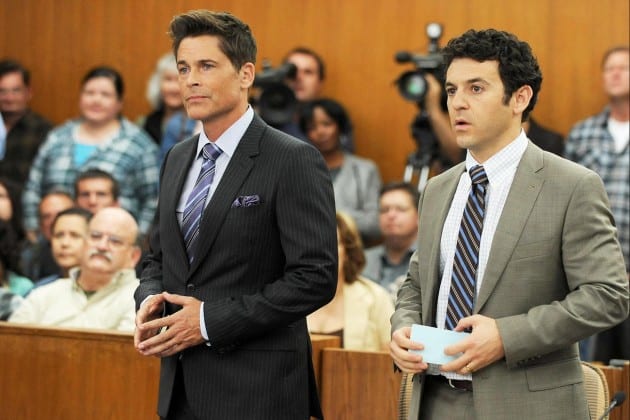 To clarify, this article and the ones similar to it are not reviews of this fall/midseason's pilots (because pilots can change a lot between now and when they broadcast). These are just my first impressions of the not-for-air network pilots that I have been able to screen. I last wrote about FOX's Grandfathered. Next up: FOX's The Grinder, which premieres on Tuesday, Sept. 29, at 8:30 p.m.
The Premise: A struggling lawyer's Hollywood-star older brother returns home after years of playing an attorney on a popular TV series and now believes that he can be the real thing.
The Cast: Rob Lowe (Parks and Recreation) as Dean Sanderson, Fred Savage (The Wonder Years) as Stewart Sanderson, Mary Elizabeth Ellis (It's Always Sunny in Philadelphia) as Debbie Sanderson, Hana Hayes (Bucket and Skinner's Epic Adventures) as Lizzie Sanderson, Connor Kalopsis (Days of Our Lives) as Ethan Sanderson, William Devane (24) as Dean Sr., and Natalie Morales (Parks and Recreation) as Claire
First Impression: There's a lot to like about The Grinder. Rob Lowe is a solid lead to construct the series around, and while he doesn't necessarily bring anything new to the "famous TV star" character that he's playing, he does fine work in his role as Dean. Similarly, Fred Savage is also likable as Stewart, a lawyer who knows all the information but struggles to express it when he's actually in the courtroom. As brothers that butt heads, the two of them make a fun and interesting pair.
However, even though it does boast a pretty strong cast, what makes The Grinder less than it could be is the writing. There a lot of easy, simple jokes and a good bit of Rob Lowe being his charming Rob Lowe self, but there were no moments in this first episode that really had me laughing hard, instead only chuckling occasionally. Even more worrisome, however, is that the emotional exchanges between Lowe's Dean and Savage's Stewart never felt believable to me, and if The Grinder is going to be laugh-out-loud funny every week, it needs to use this brotherly dynamic as an emotional center for the show. At least in this first episode, that's not the case; the moments are there, but they don't feel real.
Still, though, with Rob as the lead and a strong cast of supporting players around him, The Grinder has enough pieces in place that I'm interested in seeing where it goes and if it can build upon its somewhat mediocre beginning. There's certainly some promise here, even if it's not all clicking just yet.
My Interest In Watching More: Moderate. I'm a big fan of many of the actors in this series, particularly Lowe and Devane. However, in order to keep me watching, The Grinder either has to up its comedy game or make its more heartfelt moments feel more authentic. As I mentioned above, there's potential here, and I'll continue to watch throughout the show's first few episodes to see if The Grinder can capitalize on all the talent onscreen and become a stronger series.
Will you be checking out The Grinder this fall? Comment below and let us know.
[Photo via FOX]