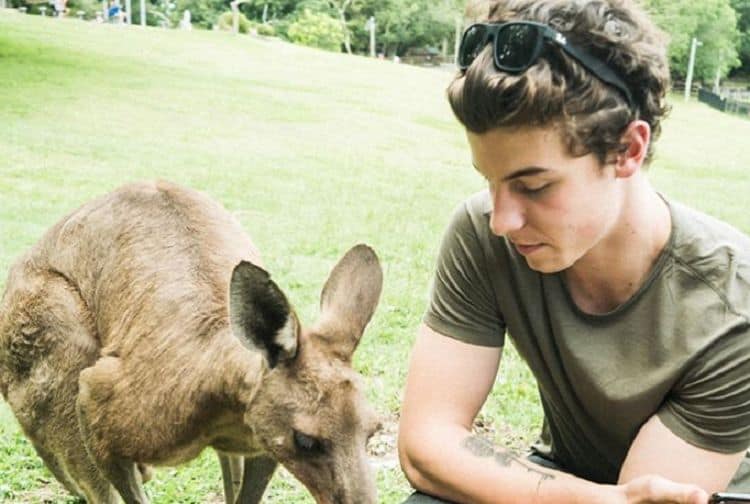 Shawn Mendes is the kind of guy that young girls still go crazy for since honestly and truly it seems like there will always be those individuals that know how to play music or act in such a way that young women will go absolutely nuts over it. Those of us that don't or can't sing fail to truly understand this since the whole idea of being a musical star is something that has touched people in a certain way for so long that trying to figure it out is a long and somewhat tiring process. But the truth is that it still exists and is capable of turning a lot of people to jelly with the right singer. Mendes is the kind of guy that just wants to get up on stage and do his best and tries to show himself as the kind and sensitive person that many people seem to know him as, so perhaps that's one of the reasons he's so popular.
Here are a few other things you might not have known about him.
10. He learned how to play guitar by watching YouTube tutorial videos.
That might be a way to claim that you're self-taught, at least in part since the YouTube instructors can't really offer any feedback considering that you have to follow at their pace or learn how to pause and then pick up once again after you've discovered how to do what they're asking for.
9. Shawn has been pretty open about his anxiety disorder.
For someone that's on the go so often and has to be in front of people all the time you would think an anxiety disorder would be one of the biggest possible career-ending disorders ever, but he's found a way to manage it and continues to thrive in his career so you can only assume that whatever it is that he does has been working.
8. A lot of his fame came from his covers of various songs on YouTube and Vine.
Once he started playing six-second spots people took note of him and started liking what he was doing. At the risk of sounding cynical it obviously doesn't take much to get famous these days as the internet offers a wide variety of different methods for people to pick up on the talents of others. But having the talent to start with does help, and in that Mendes is covered.
7. He describes himself as being very neurotic.
This goes along with the anxiety disorder and can cause a person to be moody and more likely to avoid others, though Mendes does manage to greet his fans and put a smile on his face quite often. It's how he feels in private though that seems to describe who he is.
6. Shawn has a set of rules that he lives by in order to keep himself on the level.
He goes to the gym, practices on his guitar, and then takes some time to relax and this seems to help him get through his day. A lot of people have a regimen like this that allows their mind to fall into a known and recognizable pattern that allows some comfort.
5. He's not exactly skilled at attracting the opposite sex.
Despite being a good-looking guy, being in shape, and apparently having great hair he's not exactly a smooth-talker when it comes to the ladies. His father says he gets this honestly from him since he was much the same when he was younger. So it does prove that no matter how great a person is on the mic they're still capable of being shy when they're off stage.
4. Shawn does what he can to keep a clean image.
He does smoke and drink but for the most part he's kept himself out of the tabloids and hasn't gotten into any serious trouble that would threaten his reputation in any way. In many regards he just wants to play his music and be the guy that likes to have fun.
3. There have been rumors that he's gay, but they're unfounded.
Shawn has stated more than once that he's not gay but apparently not being seen with a woman at all times is enough for a lot of the media to state that he might in fact be gay, which is erroneous thinking since he just hasn't met the right woman apparently.
2. So far in life he's chosen to be the nice guy.
Shawn doesn't really seem to like confrontations or dissing anyone if he can avoid it which is a good quality but kind of leads to the next point.
1. He does seem like a guy that's easy to take advantage of.
You don't have to be the bad guy to confront other peoples' negativity and you certainly don't have to take the kind of abuse that the industry and those in it can seem to heap on others. But so far it seems that Mendes is willing to let things slide most of the time.
Being the nice guy is great, but hopefully he's not the naive guy.
Tell us what's wrong with this post? How could we improve it? :)
Let us improve this post!