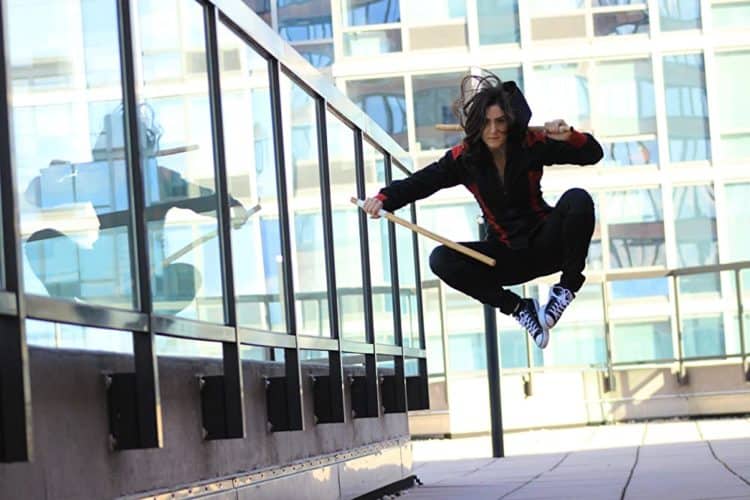 Watching the best action movies made in Hollywood is always fun, but no one pays much attention to the people who are making all the amazing stunts happen. Sure, there are some actors and actresses who might attempt their own stunts here and there, but it's the men and women trained and prepared to do these dangerous stunts without risking serious injury that are the real MVPs. One such stunt woman is Julia Maggio. She's been the woman behind some of the biggest stunts in the biggest movies of all time (Avengers End Game, anyone?) and she's someone we thought the world should learn to recognize for her tenacity.
1. She Had a Rough Childhood
Not rough in the tragic, horrible way that so many kids grow up (on the streets, in abusive homes, etc.) but in a way that means she grew up with both anxiety and ADD. She struggled, and there is a lot that can make a child feel as if their life is just not as good as others when they grow up with those kinds of issues in their own minds.
2. She Was Always Imaginative
Even as a child, Maggio was a girl who thought a lot. She was likely an overthinker and a worrier, and that's because she was very imaginative. It's kind of par for the course with kids who are imaginative and suffer from anxiety and ADD. They think all the time, overthink about everything, and they have the world's most amazing imaginations.
3. She Had Some Rough Teachers
While we like to think that all teachers are amazing humans who make kids feel good about themselves, sometimes a rotten egg is in the bunch. Maggio's first-grade teacher was not a good one. She recognized this little girl's learning disabilities, and rather than working with her to make school easier on her, she would use her as an example of what a stupid person looks like and she would humiliate her in front of her classmates. That is not an easy thing to move on from.
4. She Has the Best Parents
She was a child who had to deal with a lot in her little mind, but she was fortunate to have amazing parents. They were there for her. They were always supporting her, and they always made her feel good about herself. They never treated her poorly or as if she was not good enough, and they were simply always there for her.
5. She Looked for Passion
As a child, her parents made the decision to sign young Maggio up for all the sports and teams and classes. They wanted her to find kids that were so much like her, and that had the same interests in her. She was happy to find those like her so that she could bond with them and make memories, and so that she could find something that brought her passion and joy.
6. She Chose Her College Wisely
When it was time for her to pick a college, she used a different method than most. She was a cheerleader her entire life, and she loved it. She wanted to go to college, but not if that college cheer squad was not good enough to make it to a Nationals competition. That's how she ended up choosing her college. Sadly, an ankle injury her junior year ended her cheer career.
7. She is Married
She's a married woman, and she is a happily married woman at that. Her husband is Lloyd Pitts, and she is so happy with him. She calls him supportive, loving, and someone who is always there for her all the time. She is someone who has had a lot going on in her life, and she's made it clear that she's happy to know that he is there for her always.
8. She Knows Failure is Not a Bad Thing
Maggio knows a thing or two about failure – just like the rest of us. She's a woman who has been through a few situations in her life that are not always ideal, but she knows that she has to embrace her failure, she has to learn from things that don't go her way, and she has to focus on how she can learn from each failure and make the most of her life.
9. She Loves Her Job
No two days are alike for her. She gets to dress up as different people and do different things and make things work for the characters she is playing, and she adores it. She's someone who has the best job in the world for her, and she recognizes that.
10. She Calls "Legacies" One of her Most Rewarding Jobs
Getting to play the stunt double for Klaus' daughter (remember Klaus from shows like "The Vampire Diaries," and then the spinoff of that show, "The Originals," when it came out?) was one of the best jobs she's had, and she loved it.
Tell us what's wrong with this post? How could we improve it? :)
Let us improve this post!