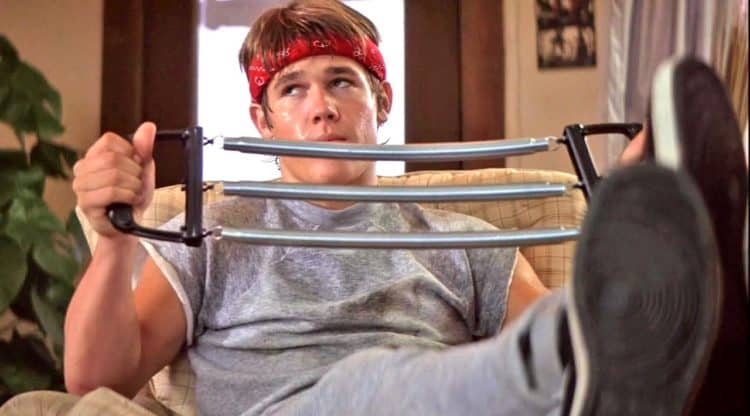 Unless you followed his career religiously from the time he showed up on screen and until he became a big hit yet again it almost seems as though Josh Brolin kind of disappeared off the map for a while until he got a bit older and started making big movies again. His current value is through the roof since he's played some of the greatest characters to have been on screen in some time, but for a time he really wasn't doing much aside from the occasional appearance that received any note. He's had a few stinkers here and there as well since not every actor is going to make every movie they're in an immediate blockbuster. But for the most part Josh has really been on another level lately and he's been tearing it up when it comes to the big screen since the last few parts he's played have been viewed as some of the most intense in quite a while.
Here are a few things you might not have known about him.
10. He's been engaged to Minnie Driver and Diane Lane in the past.
Obviously he wasn't engaged to both of them at the same time if that's what you were thinking, but he's been around when it comes to attaching himself to beautiful and successful women and he was very close to both of them for a time. But things have a way of happening and eventually they drifted apart.
9. He's an art collector.
Some celebrities and those that can afford it spend their time gathering priceless pieces of art from varying mediums to display in their homes or just keep as part of the private collections. It's something you really need to be into in order to enjoy and should probably have an eye for if you're going to be spending your money on even one piece out of many.
8. His son sketches all of his characters before he begins filming.
If his son still does this then he's likely been busy in the last few years since Josh has taken on some awesome characters that require a lot of detail and a good amount of skill to really get down properly. But it's actually kind of cool to think that his kid is so into what he does that he participates in this manner.
7. At one point in his life he wanted to be a chef.
A lot of celebrities have other interests that a lot of people don't know about largely because it's their business and they want to keep it that way. But the great part about wanting to be a chef usually means that the person with the desire will at least want to cook at home in order to see how well they can do and of course wow their family with their culinary skills.
6. Josh enjoys racing cars and surfing when he's not filming.
Everyone's got their hobbies and these two are obviously something he's been doing for a while since surfing isn't something you just pick up considering that it requires a good amount of strength, balance, and skill to really enjoy. Racing cars on the other hand requires a steady hand and the ability to pay attention to your surroundings. Given the many skills he needs for his hobbies it's safe to say that he's a skilled and interesting individual.
5. He was injured two weeks before filming No Country for Old Men.
Josh broke his collarbone two weeks before filming but was thankfully healed up enough that he was still able to go to work when the film needed to start. That kind of proves that he's not just tough but likes to see things through as well.
4. Josh was offered a role in Terminator:Salvation.
He was offered the role of Marcus but turned it down. Looking back now it doesn't seem like it would have been the best part since Sam Worthington kind of filled the role in a better way than Josh could have since it wasn't so much a role for a rough-sounding guy like Josh. He could have played John Connor though.
3. He auditioned for a part in The Green Mile.
He was going for the part of "Wild Bill" Wharton, but it went to Sam Rockwell instead. This is another role that seems like it was destined for the person that got it since Rockwell can do crazy a lot better than Brolin. He's got his skills, but being insane and out of control isn't one of them.
2. Josh was initially worried about his part in Milk.
Considering he had to be the guy that killed the protagonist in the movie he was worried that the LGBT crowd would want to skewer him, but they welcomed him with open arms for being a part of the story.
1. He was 17 when he starred as Brand in the Goonies.
It's not too often that you see age-appropriate individuals cast in a movie like this since teenagers are usually played by those in their 20s. But if you check he was born in 1968 and the Goonies came out in 1985, so it's accurate.
It might have taken awhile but Josh Brolin is a certified superstar.