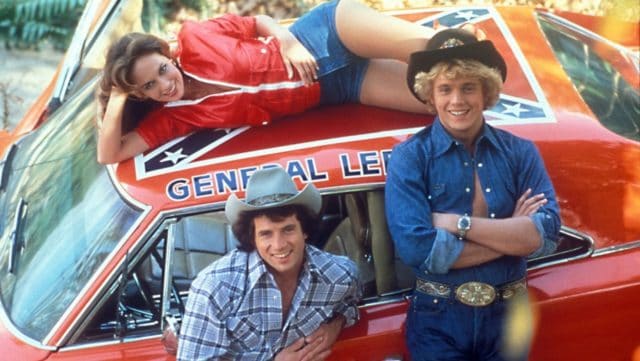 The Dukes of Hazzard was one of the absolute most fun shows in all of TV growing up. I can still recall having a small, matchbox version of the General Lee and racing it all around the living room when the show came on. By far it was one of the only live action shows that ever gained my attention as a kid and was one of the few that I really remembered growing up as being anything special. What the movie did to it wasn't all that great but it could have been worse. Of course then it got worse since the idea of the show was stripped down to its basic parts and the whole thrill of it was just gone.
At least it's worth remembering the show though.
10. Boss Hogg did have well-defined limits.
The actor had it stipulated in his contract that Boss Hogg wouldn't kill or deal drugs. Of course even a villain has to have a line they won't cross.
9. There were a lot of cars crashed during this show.
Replacing the police sedans was simple but it was much harder to replace the General Lee since the model changed between the years. It got to the point that the producers would offer to buy just about any charger they saw on the street.
8. The Dixie horn wasn't originally in the plans for the show.
They bought the horn for three times what it was worth before finding out that it was a novelty item.
7. The show took a dive in the ratings when the main stars were replaced due to a walkout.
Coy and Vance weren't nearly as popular as Bo and Luke. Daisy and Uncle Jesse almost walked out too but the actors that played Bo and Luke convinced them not to.
6. Daisy's pants almost weren't allowed on the show.
When the network execs saw the length of her pants, or lack thereof, they almost blew a gasket and demanded that she wear something beneath them. Instead of minimizing the look though it just made men even more attracted to her since it showed off her legs.
5. The first five episodes were filmed in Georgia.
After that they decided to switch it over to Burbank, California, where they would film the rest of the episodes.
4. Uncle Jesse raised Luke, Bo, and Daisy after their parents died in a car crash.
It was a story that a lot of fans never got to hear but was the creator's idea. It wasn't released until later after the show had earned its acclaim.
3. It was almost suggested that the replacements for Luke and Bo be kept on to make a more interesting show.
Some folks thought it might be a good idea to add Vance and Coy in for a while for a few adventures but others figured that four Duke men was just too many.
2. Half of the fan mail was addressed to the General Lee.
That tells you right there that the car was one of the main reasons that people even tuned in. I wonder how many people are demanding that all mention of the General Lee be excised from TV history now.
1. Daisy's outfit is actually on display in the Smithsonian in Washington D.C.
That's how iconic Daisy Duke turned out to be.
Like it or not, this show was one of the best of its era.
Tell us what's wrong with this post? How could we improve it? :)
Let us improve this post!