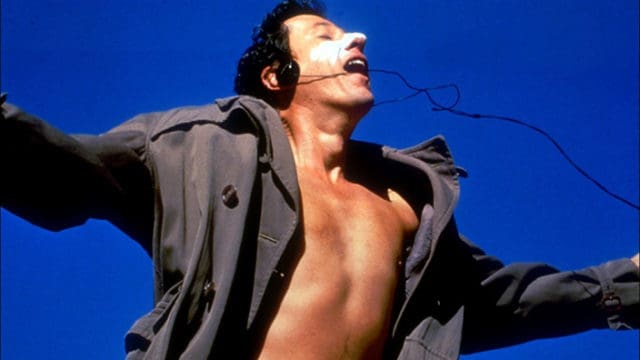 David is a boy turned into a man that has little to no basis on how to really react to the outside world thanks to a very overbearing father that accepts nothing less than the best from his child. This however has the effect of causing David to break down even when he does well. He has a zest for life and a love for music that is unparalleled but few if any people really know how to take his manic episodes or take care of him when they occur. He is for the most part a very interesting individual that is in many ways a genius when it comes to music but a novice in the ways of life since few people have taught him how to act and/or behave around others. But music seems to calm him down and give him something to focus on. He is capable of adjusting to life and society, but there are certain triggers that can bring about his breakdowns that others can't really cope with.
People that suffer from manic episodes are hard to deal with at times, but there are ways.
10. Geoffrey Rush had learned the piano up to the age of 14 then he stopped.
Thirty years later he would take it up again for this film and he did pretty good considering how much time had passed.
9. This was Rush's breakthrough role.
Up until this film he wasn't that well known. Afterwards he was found nearly everywhere since he'd become so popular.
8. Dustin Hoffman was interested in this role.
He enjoyed the story and the way it made him feel. He auditioned for it but obviously didn't get it.
7. This film is based on the life of a real person.
It was loosely based on the individual that Rush plays but was taken to a dramatic extreme that pleased the audience.
6. The film's US premiere was at the Sundance Film Festival.
This is where a lot of films that tend to go on towards fame and recognition end up.
5. Gillian Helfgott was in the movie for a brief cameo.
She stood up in the audience near the end of the film, she was wearing blue.
4. The movie was kind of based around The Eddie Duchin Story.
This was kind of the basis of Rush's character and the inspiration that he took to bring a little more interest to his role.
3. The film took about ten years to make.
From conception to the actual making of the film it took roughly a decade to get this film underway and then finally to the theater.
2. It was named as one of the 10001 movies to see before you die.
This might seem like an odd list to be on but it's one of distinction since it's neither good nor bad really.
1. The film includes two Oscar winners.
Geoffrey Rush and John Gielgud were the Oscar winners that starred in the film. It also featured Oscar nominees Armin Muellere-Stahl and Lynn Redgrave.
Shine stands as one of the most inspirational films ever made.