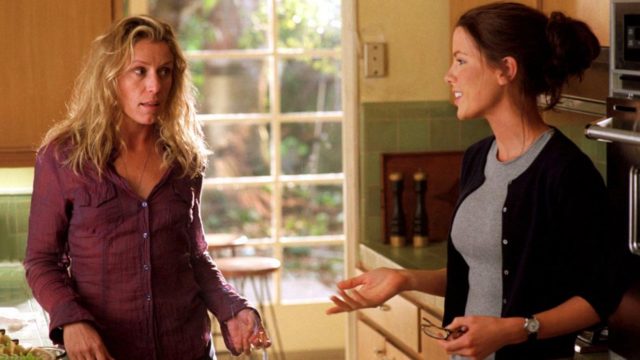 Laurel Canyon is basically a movie depicting the difficulties between relationships and what happens when the breaking point is reached. Sam and Alex are moving to LA to further their careers and are planning on staying in his mother's vacant home. The only trouble is that the home isn't vacant. Sam's mother has been using it to cut a new album with her boyfriend and his band. Eventually Alex begins to grow more interested in hanging out with the band than she does in doing her work while Sam starts to fall for a gorgeous intern at his new job. Eventually Sam finds Alex in a motel room with his mother and her boyfriend. He decides to beat down the boyfriend and accidentally strikes his own mother before storming out. Alex then chases after him, professing her love for him. Before the end of the movie the intern calls Sam back, stating that she can't help how she feels about him.
It's a very emotionally charged film.
10. Sam Rockwell was almost in the film.
He might have brought a bit more whimsy to the movie, but then it might not have been what was desired.
9. The Jane character was based on Joni Mitchell.
Frances McDormand played a very loose and carefree role while Bale was the uptight individual that didn't agree with his mom's lifestyle.
8. The Red Hot Chili Peppers are shown in Jane's photo gallery.
She has a rather full photo gallery that shows some of the best and brightest in the business.
7. A real life record producer makes a cameo in the film.
It's not too surprising that a real record producer would be on hand to make an appearance and perhaps mingle with the cast.
6. This is the second movie that features Christian Bale and Kate Beckinsale.
To date they haven't worked with each other on any other film endeavors. But they seemed a little stiff in this movie.
5. Only one of the actors uses her real accent.
Frances McDormand is the only person that uses her real accent in the main cast as the others either speak English or British but are either Welsh, English, or American.
4. It got a 68 percent on Rotten Tomatoes.
This seems more relevant to people that are willing to let critics tell them which movies are okay to watch and which ones they should avoid.
3. The reviews were mixed.
Some said it was an okay movie others said it was kind of a letdown. This is why I tend to not listen to critics as much.
2. The movie was filmed in LA.
So in other words it was filmed on location. The film doesn't look like it had much of a budget, so perhaps the location was the primary concern.
1. It's arguable that Frances McDormand was the reason why this movie got noticed.
Her acting in this film was considered to be the best of any of them. Bale and Beckinsale weren't horrible but these weren't their best roles.
As far as drama goes it's not the worst.
Tell us what's wrong with this post? How could we improve it? :)
Let us improve this post!