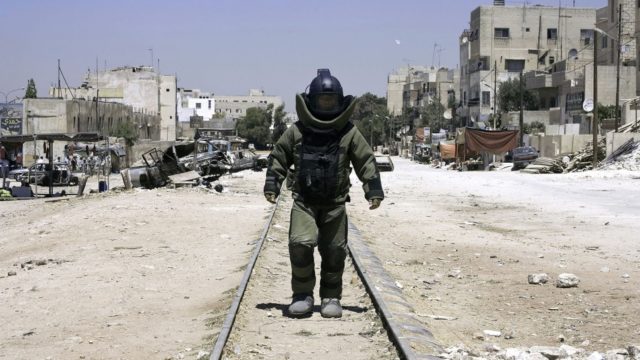 The Hurt Locker is kind of a messed up movie, but it's still very interesting to watch. It shows how some soldiers simply can't reintegrate into society without feeling the need to get back into the fray and continue doing something that might kill them one day simply because they can't handle the quiet. Sergeant First Class William James is addicted to the love he feels for his job in a very dangerous manner, while Sergeant J.T. Sanborn has become disillusioned with the life of a soldier and just wants to go home. The two are at odds throughout the movie since Williams is far too brash and willing to take unnecessary risks for Sanborn's liking, but somehow they still manage to work with each other. Their job is one that straddles the line between life and death, but for Williams it's the only way to live.
Some people just get addicted to the thrill that comes from living on the edge.
10. The film was shot on location in Jordan.
Kathryn Bigelow wanted to shoot part of the scenes on a Kuwait military base but she was denied.
9. The director claimed that no scenes were left out of the final cut.
It would seem that everything that was filmed was put into the movie, which is kind of hard to believe but kind of intriguing as well.
8. The director's ex-husband was the one that set her on the course to make this movie.
James Cameron actually pushed for Bigelow to accept the chance to film this story, which is surprising because it ended up trumping his own movie, Avatar.
7. The director became the first female director to win this many awards.
She won the BAFTA, an Academy Award for Best Picture, and the DGA for Best Director, which was unprecedented at that point.
6. Jeremy Renner was injured on set.
He hurt his ankle during a scene when he was carrying an Iraqi boy down a flight of stairs. It took several days to allow his injury to heal.
5. Jordan was considered a safe zone during filming.
The crew had no security given by the Jordanian military. The only security around were those hired from a private firm since the area was deemed safe.
4. There was a bit of controversy surrounding this film leading up to the Academy Awards.
Some believe the reason for Bigelow winning was that Avatar was somehow being blacklisted so that The Hurt Locker could win, which would have been considered to be a very prohibited practice.
3. The bomb disposal outfit was genuine.
Despite what a lot of people thought Jeremy Renner's bomb disposal outfit was the real thing.
2. A lot of those in the military did not care for how servicemen were depicted in this movie.
A lot of soldiers have gone on record to point out the inaccuracies and mistakes in The Hurt Locker and have expressed their displeasure with how their jobs are depicted.
1. The two biggest names in the film have less than 10 minutes of screen time.
Guy Pearce and Ralph Fiennes appear in the movie but are both killed off fairly quickly.
It's an interesting film if you can look past the mistakes that are made.