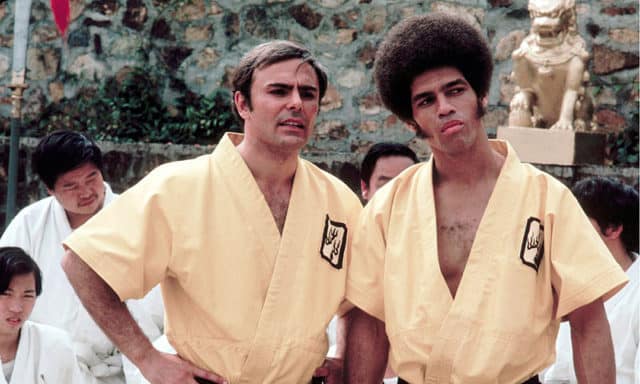 If you haven't seen Enter the Dragon yet then you're missing out on a classic. It's not just about the action, this is a great movie that most anyone can watch without having to know a thing about what's going on. Bruce Lee was one of the greatest martial artists to ever live and his legend was cemented before this film but it was Enter the Dragon that allowed fans and non-fans to agree that he was one of the most awesome personalities to ever come to Hollywood. His level of skill and the energy he brought to a set were incredible. Within the first five to ten minutes a person can be easily hooked into this movie, as it delivers a good deal of action, humor, and drama all at once.
If you haven't seen then by all means go get a copy and watch it.
10. Jim Kelly replaced another actor for his role.
The actor that was supposed to take the part bowed out only days before shooting because the pay was too low.
9. Bruce Lee offered $100 to anyone that could stop his jab.
He never paid out a single penny. No one could match him on set.
8. Production was halted when a dead body was found near the set.
That's kind of eerie since there's actually a scene in which this same event happens in the movie.
7. Both Jim Kelly and John Saxon were skilled in karate.
Kelly was an international middleweight karate champion at the time and Saxon had a black belt in karate, so they knew what they were doing.
6. Linda Lee Caldwell has a brief cameo in the film.
She shows up at Han's party for just a brief moment. If you watch very closely she is wearing a purple dress and stands out for a second.
5. An extra challenged Bruce Lee to a fight.
The extra wanted to see if Bruce was really that good, so they challenged him. Bruce beat the man easily and sent him back to work.
4. Bruce Lee trained the women that played Han's daughters.
In the film they had to be able to overpower John Saxon so Lee trained them himself.
3. There were major communication difficulties on the set.
There were not enough translators nor enough people that spoke both languages. Some folks didn't even come back after making a mistake as a means of saving face.
2. Jackie Chan was accidentally struck in the face during an action scene.
During the fight in the underground lair Jackie Chan was struck full force by a fighting stick that Lee wielded. Lee immediately apologized and promised Jackie that he could be in all of his movies. Bruce died before that promise could be fulfilled though.
1. The film was shot without sound.
The sounds were dubbed in later, which makes it pretty obvious that they weren't filmed that way. This was how it was done back then, at least some of the time.
Seriously, if you haven't seen this film yet go out and find a copy, it's worth it.