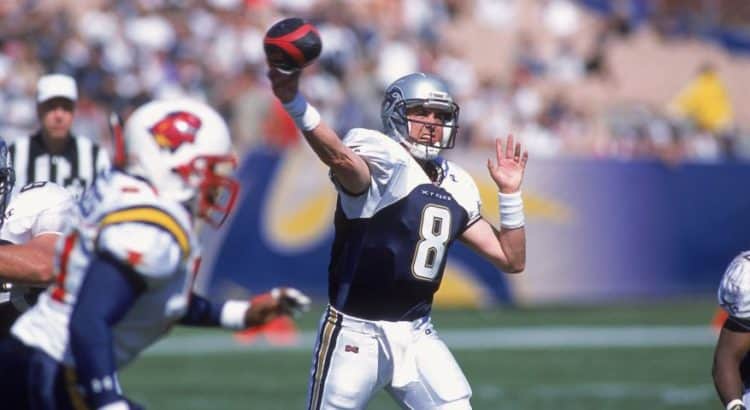 It's kind of funny to read Ben Charlson's piece at The Michigan Daily on the XFL since it gives a pretty amusing account of how Vince McMahon has seen and described the NFL in the past. McMahon's own creation, the XFL, was a train wreck from the word go unfortunately and lost the chairman of the WWE millions according to Alfred Konuwa of Forbes. All in all it shouldn't be too surprising since the buzz surrounding the XFL wasn't all that great and as you can imagine from his business practices to date Vince's idea to keep things close to the vest didn't pan out quite as well. There are a lot of issues with the XFL that made it feel less than developed and as though it would fall apart the moment it began. While Vince might have taken a dim view of the NFL and had a thought that he could do better, it seems that he might have stretched himself a little too thin this time. Unfortunately if he thinks he's going to take advantage of the ratings drop the NFL has been experiencing in the last few years it really feels as though he's trying to pick a carcass that's still up, moving, and fully capable of defending its spot.
Here are a few reasons why the XFL seems bound to fail, again.
10. The XFL isn't bound to be safer.
CTE scans and concussion protocols have been hamstringing the NFL for the past few years now as more and more players are retiring young and the rules keep getting changed to keep them safe. But while this is a positive move in the NFL it would seem that the XFL is bound to push the boundaries in terms of safety, much as the WWE has done at times despite their apparent need to keep the talent safe.
9. The idea to start in the NFL offseason is not a good plan.
For a lot of NFL fans it's kind of tough to see the season end and then have to wait until April to start seeing a glimmer of hope for their team in the coming season. After all this is when the NFL Draft happens and when trade rumors and contracts are starting to be discussed. By July teams are getting ready for preseason and by August preseason is here and the fans are in a frenzy when it comes to cheering on their team. Wait, we were talking about the XFL regular season, right?
8. The cost to broadcast the games is insane.
It's not just the cost unfortunately, it's the selection of stations that Vince will allow to even broadcast the games. If he's going to be so selective it might hamstring him before he can start counting his millions again. Creating a bidding war for a league that no one cares about is kind of funny really.
7. Vince McMahon even called the XFL a failure.
Danny Lewis at Gothamist covered a piece that spoke of the XFL as a failure, and Vince even alluded to it, though as he seems to love rewriting his own narratives it seems fair to say that he would never bother revisiting such words. When you have to eat a multi-million loss despite still making millions it seems like it would sting the old pride just a bit.
6. The idea of bringing in new teams to various cities is problematic.
For cities that don't have their own team it might be something that could boost the revenue in a city if the XFL was to succeed. But given that some cities wanted to take on another team while already having teams spread across multiple sports it seems as though a lot of people weren't ready to invest in another franchise.
5. There's not enough interest in starting a new league.
This seems pretty subjective to be honest, but even those who are interested in the XFL don't seem to understand that they're in the minority when it comes to those that would rather continue to follow the NFL as the dominant sport.
4. Some would think that the XFL is just another way for the McMahon's to make money.
When you look at every direction they've stretched their influence in it's hard not to be impressed since there's nothing wrong with making money in many different venues. But there is a point when the McMahon's just look inordinately greedy. And Vince saying that he had a plan to improve on the NFL is avarice that seems to know no bounds.
3. Vince McMahon is a wrestling promoter.
That's as clear as it can be. He's not a football expert, he's not a coach, he's a wrestling promoter that's been doing what he's good at for years. Thinking that he has the talent to start an entire league on his own is arrogance on a level that seems to eclipse a lot of people.
2. People think that American football is in decline.
It's true that the NFL has been experiencing a drop in ratings over the past few years, but it's also just as true that the XFL never even experienced a fraction of the success that the NFL has had. In fact it feels safe to say that the NFL on its worst days is still miles above the XFL on its best.
1. It's in direct competition with the NFL.
Vince took aim at the NFL with his new league and somehow forgot that he was a giant from a different sport taking on a giant that was far too big for him to take on. Even a man like Vince had to admit that he took on more than he was capable.
The XFL is an idea that might be feasible if the NFL ever fails entirely. Even then it's a long shot.