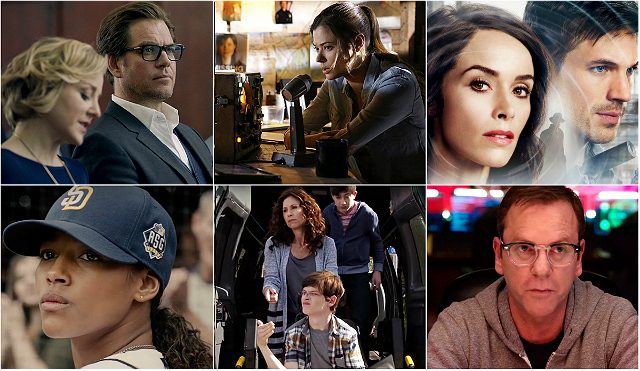 Every fall the main broadcast networks – ABC, CBS, CW, Fox, and NBC – introduce a ton of new shows they hope viewers will love. Well, it will be September before you know it and, per usual, the broadcast networks have a crop of new shows mixed in with the current ones. In fact there are forty-three new scripted shows premiering over 2016-17! I've been going over my current, "have to watch" schedule, and trying to decide which new fall 2016 shows I want to add to it – and to my DVR.
Obviously, no one person is expected to watch all 43 of these new shows. Even as reviewer, you may prescreen all of the pilots, but there's just no way you can watch everything on a weekly basis. A standard DVR lets you record two shows, so with five networks (remember, this isn't even including cable) you still have to choose. Besides, there are only so many hours in a day available to watch TV! (Not to mention write about it!)
Another thing about these 43 new scripted shows is that they don't all start this fall. Many will be starting mid-season in 2017 or swapping places with shows that are only 10-13 episodes by design. If you just want the list of 10 new fall 2016 TV shows you don't want to miss, scroll to the bottom. First though, here are the show descriptions of the sweet 16 for the 2016-17 season. These are listed by network, and include the start days of those 10 new fall 2016 TV shows you don't want to miss.
ABC
ABC has 9 new shows this season: 5 dramas and 4 comedies. Out of these there are 5 that make the list – 2 dramas and three comedies.
American Housewife – Tuesdays at 8:30. Start date: October 11th.

The comedy stars Mike and Molly's Katy Mixon as Katie Otto, a confident, unapologetic wife and mother of three, raises her flawed family in the wealthy town of Westport, Connecticut, filled with "perfect" mommies and their "perfect" offspring. ((ABC)

Not only is Mixon hilarious, but I like the way they are dealing with what it's like to be an average-sized women with America's super thin ideals! The average American woman is 5'4″ and 166 pounds.. The idea of a weekly reality check on what is normal, done with laugh-out-loud moments like in this trailer is something I am looking forward to!

[youtube https://www.youtube.com/watch?v=A9JRoZsnINw?rel=0]

Speechless – Wednesdays at 8:30. Start date: September 21st.

Maya DiMeo (Minnie Driver) is a mom on a mission who will do anything for her husband Jimmy, her kids Ray, Dylan, and JJ, her eldest son with cerebral palsy. As Maya fights injustices both real and imagined, the family works to make a new home for themselves, and searches for just the right person to give JJ his "voice." (ABC)

It's hard to get a true sense of this show in a 30-second promo. This is one of those, "comedies" in the vein of Transparent. In other words, it's a half-hour dramedy. You can see the longer trailer here.
Imaginary Mary – Midseason

This may be a way for ABC to make up for cancelling Trophy Wife….
[youtube https://www.youtube.com/watch?v=15vywGIjvPk?rel=0]
ABC already has a slew of successful comedies (Modern Family, The Middle, Blackish) and more! With these three being added it looks like they're going to be the goto networks when you want some laughs!
Conviction – Mondays at 10pm. Start date: October 3rd.

I reviewed this pilot back in May (you can check that out here), but in June one of the characters was recast because, according to Deadline, "The character now has been taken in a different direction." Judging by this new promo, I think the entire show has been given a different emphasis. It's more about the cases and the redemptive parts of the character. If this is the new direction, it's a good one!
[youtube https://www.youtube.com/watch?v=B_V46oCiMxM?rel=0]
Designated Survivor – Wednesdays at 10pm. Start date: September 21st.

Who is going to argue that having Kiefer Sutherland back in a TV drama is anything but great? Not me – I'm thrilled! My only hesitation about this show is if I want to put myself into a world with this scenario going on. The real life state of things are difficult enough. Still, it's Sutherland amidst a wonderful cast in what feels like a highly nuanced scripted series.
[youtube https://www.youtube.com/watch?v=APgZ0jYVSXQ?rel=0]
You can learn more about Designated Survivor – and even check out a sneak peek – at www.abc.go.com.
CBS
CBS has 8 new shows: 5 dramas and three comedies. Three of their dramas make the list.
Bull – Tuesdays at 9pm. Start date: September 20th.

I love Michael Weatherly! However, this is another one of those, "they need a better promo." The short version showcases him without really giving you a real sense of what the show is about. There's more to it than just his "Tony DiNozzo" charm. Here's part of the CBS blurb on Bull.

BULL stars Michael Weatherly as Dr. Jason Bull in a drama inspired by the early career of Dr. Phil McGraw, the founder of one of the most prolific trial consulting firms of all time. Brilliant, brash and charming, Dr. Bull is the ultimate puppet master as he combines psychology, human intuition and high tech data to learn what makes jurors, attorneys, witnesses and the accused tick.

In the trailer you'll see a lot more of the interesting way he works, as well as more of the supporting ensemble. .The character really is one of good guys, but that can seem a little vague in the short promo: Trailer for Bull
Pure Genius – Thursdays at 10pm. Start date: October 27th


In terms of its scope, Pure Genius is the pure opposite of CBS's other hospital show Code Black. It's a utopia of a hospital setting, one that simply doesn't exist. It's not a total fantasy though. There's a lot about the possibilities of technology and how it can perhaps some day be used to help people. The trailer really emphasizes this aspect – but I wasn't sold on the show until I watched the pilot. Having done so, it's made my list. There are a few things about this show that remind me of House – in a good way.
Doubt – Midseason 2017

It's almost as if they planned it. With the Good Wife gone, CBS has another law-firm story with a great ensemble and featuring a great female lead. This is part of the CBS synopsis:

DOUBT stars Katherine Heigl as Sadie Ellis, a brilliant attorney at a boutique firm who starts to fall for her charismatic client, Billy Brennan, an altruistic pediatric surgeon recently accused of murdering his girlfriend 24 years ago. (…)Sadie's decision to become involved with her client could put her career, as well as her happiness, at risk if Billy is found guilty, which means she needs to work all the harder to prove reasonable doubt, even if she has some herself.

Now, lets take a look at the afore-mentioned great ensemble!

Dulé Hill (West Wing, Psych) is the friend and colleague. Steve Pasquale (Rescue Me) is the client/love interest. Laverne Cox (Orange is the New Black) is a transgender lawyer at the firm "who fights passionately for her clients since she's experienced injustice first hand." Dreama Walker (Don't Trust the B—- in Apartment 23) is an associate under Cox's character. Kobi Libii (Alpha House, Transparent) is a lawyer at the firm "who earned his degree while serving time." Last, but far from least, Elliott Gould (there's too much to reference) is "a revered legal lion and "lefty" legend" they all look up to.

Do you notice anything about this ensemble? These actors are skilled not only as dramatic actors, but ss comedic ones. The significance of this didn't register until I saw the trailer!

[youtube https://www.youtube.com/watch?v=aF3t6WXIjqE?rel=0]

It looks as though Doubt is going to be in the realm of shows like Orange is the New Black, and Transparent. You know, half drama, half comedy, aka – a dramedy. They certainly have pitched it with some comic markers in the trailer. For instance, the labeling of "types" for the characters is a common comedic signpost.

Incidentally, CBS? This, is a great trailer! Honestly, until I saw it, Doubt wasn't on my radar. The writing and talking about it can't convey the feel of the show. Now, I'm really excited!
FOX
Fox has 11 new shows: 3 comedies and 7 dramas, and 1 "event drama.* " Out of these, I picked 3 of the dramas.
Star – Midseason, 2017 Wednesdays at 10pm.

Headlined by Queen Latifah, the concept for Star strikes me as an update on Dreamgirls. This story of the making of a fictional mega girl group is the switch-off show for Fox's mega-hit Empire.
[youtube https://www.youtube.com/watch?v=T2snL9QUIZI?rel=0]
Pitch – Thursdays at 9pm. Start date: September 22th.
From executive producer Dan Fogelman ("Crazy, Stupid, Love."), PITCH is the dramatic and emotional story of GINNY BAKER (Kylie Bunbury, "Under The Dome"), who becomes the first woman to play Major League Baseball — under the glare of a white-hot media spotlight. (Fox)
[youtube https://www.youtube.com/watch?v=faifRomCki8?rel=0]
There are so many reasons to be excited about Pitch! For me, it's the tagline:
A true story on the verge of happening.
In 2014 Mo'Ne Davis was the 13-year-old girl who was the first girl to pitch a shutout in the little-league world series. As much as she loves baseball, what she talked about often was basketball and her goal for playing in the WNBA. The current reality is that there's no place for Davis to go if she were to focus on the baseball track. Fox's character Ginny looks a lot like a grown-up Mo'Ne Davis…. As most things start with imagining what it would be like, Fox's Pitch is a hopeful sign of someday this being different.
*This means the season will be a closed-ended story like, say the American Horror Story series on FX. Back in the day they'd call things like this a "mini-series." Now they pick a theme (like horror, crime or infidelity), make that the series title, and do a new mini series based on that theme every season.
24: Legacy – Mondays at 8pm. Start date: February 5th 2017.

Normally I don't start with a trailer, but this shows and explains what this is perfectly!

[youtube https://www.youtube.com/watch?v=ukQCYCCIUCk?rel=0]

The executive producers on 24 Legacy were involved with the original Kiefer Sutherland version, except for Howard Gordon. He only worked on 24: Live Another Day…oh, and he's a Emmy Award-winning executive producer from HBO's Homeland! The icing on the cake is that Sutherland is also onboard as an executive producer.

So, Sutherland is going to have a busy 2016-17 TV season! First, he's in front of camera for Designated Survivor and then behind the scenes for 24 Legacy. Maybe that's why we have to wait until February for 24 Legacy?
The CW
The CW only has three new shows, two of which have peaked my interest. (I'm not counting Supergirl as a new show. All it did was hop from CBS to the CBS co-owned CW. )
Riverdale – Midseason, 2017.
This a dark version of the Archie comics, but it's no comedy. The story synopsis has it starting with "the town reeling" from a popular student's murder! The general buzz keeps referring to the David Lynch classic, Twin Peaks when talking about Riverdale.
While it has a lot of cool hype, there's no trailer for it. For me, when a studio doesn't want the public to preview something it's immediately suspect. However, it could just be behind schedule. The cast was at the 2016 San Diego Comic Con.
[youtube https://www.youtube.com/watch?v=YJhvcogWS5o?rel=0]
Frequency – Wednesdays at 9pm. Start date: October 5th.
In this reimagining of the film, a female police detective in 2016 discovers she is able to speak via a ham radio with her estranged father (also a detective) who died in 1996. They forge a new relationship while working together on an unresolved murder case, but unintended consequences of the 'butterfly effect' wreak havoc in the present day. (Youtube promo blurb)
[youtube https://www.youtube.com/watch?v=OQK-DChpn1M?rel=0]
Aside from the film it's based on, Frequency also reminds me a bit of a 2012 NBC show called Awake. The idea of these parallel worlds where saving one person you love means the loss of another was, and is, compelling. Of course, the movie Frequency took this much further. Another thing about this take on the movie that I like is the complicated father/daughter relationship.
The movie version of this show is a Saturn award-winner, which, in the world of sci-fi is the highest honor given. Basically, if you're into that genre, you're thrilled about this show! Even if you aren't, the mystery and relationship dynamics of the family should be very compelling. It's definitely worth checking out!
NBC
NBC Has 12 new shows – the most of all the networks. They've got three dramas in the sweet sixteen. Considering how many other great dramas are over there, (Blindspot, The BlackList, the Chicago series…just to name a few.) they may be the drama network the way ABC is shaping up as the home for comedy.
Timeless – Mondays at 10pm. Start Date: October 3rd

Is this a modernized American take on Dr. Who?

[youtube https://www.youtube.com/watch?v=4glJzvUunOE&w=640&h=360]

Okay, not exactly, although the underlying ideas behind it might very well be identical. Here's what sparked that show:

The programme was originally intended to appeal to a family audience,[10] as an educational programme using time travel as a means to explore scientific ideas and famous moments in history.

Being that this is a 10pm show, I'm not so sure about the family audience part. However, the trailer does suggest we'll be seeing a lot about some big moments in history. I also suspect there's going to be a little more romance…eventually. That Sergeant Wyatt Logan Delta Force (Matt Lanter) and professor Lucy Preston (Abigail Preston) are already giving me that Princess Leia & Han Solo in Star Wars IV vibe. Of course, there's already the complication of this woman in the past that reminds him of his dead wife. As for why Lucy is so important…is anyone thinking about The Terminator?

Also, one of the points Timeless won't be ignoring, is the role of race and racism in U.S. history. Malcolm Barrett as the scientist/pilot Rufus Carlin is the perfect touch for this crew. (Best line ever, "Basically, anyone named Michael.") In this current time of American history, a look at our past and how we got here seems…timely.

Yes, it's true that time-travel stories aren't exactly original. Somehow though, they rarely get old. Maybe because we all have a secret wish that we could go back in time? What makes a great time-travel story are the characters, the twists on history that are imagined, and great to watch action and adventure. Timeless looks like it may have the goods to make it a real classic!

This is US – Tuesdays at 10pm. Start Date: September 2oth (after The Voice)

Here is the official NBC description:

Sometimes life will surprise you. Starring Mandy Moore ("A Walk to Remember"), Milo Ventimiglia ("Heroes," "Gilmore Girls") and Sterling K. Brown ("The People v. O.J. Simpson: American Crime Story"), this refreshingly honest and provocative series follows a unique ensemble. As their paths cross and their life stories intertwine in curious ways, we find that several of them share the same birthday and so much more than anyone would expect. From the writer and directors of "Crazy, Stupid, Love" comes a smart, modern dramedy that will challenge your everyday presumptions about the people you think you know.

The first thing that came to mind when reading this was the brilliant 2004 Oscar-winning film, Crash. However, unlike Crash, this show doesn't appear to be about "race and redemption."

That part of This is US is about showcasing the diversity of America is impossible to miss. Here though, the term diversity is not a code word for race – although race will be included. The trailer for This is US suggests the show is more about American resiliency.

[youtube https://www.youtube.com/watch?v=rfUiKg28r_M&w=640&h=360]

There's so much honesty in this writing, and in the performances. Will there be more to the birthday link beyond a way to choose this group of people? Maybe, but it's become irrelevant. Even with just a trailer I already care about journey these characters are on. Come Tuesday, September 20th, count me in!

Midnight, Texas – Midseason, 2017.

This is another new sci-fi/fantasy piece for NBC. Unlike its new series Timeless or their successful show Grimm, it is based on pre-existing material. Charlaine Harris is the author of several sci-fi/fantasy book series that tend to involve vampires, witches, werewolves, etc. Here's a quote from a review of the first of her series Midnight Texas

…There's a ton of fun stuff. No matter how many sexy vampires or shirtless werewolves Harris proliferates, she is, at heart, a mystery writer. Midnight Crossroad is what Charlaine Harris does best: a murder mystery with enough plot twists and fakeouts to make even M. Night Shyamalan dizzy. And yes, that's actually a compliment. (Tor.com)

The reviewer goes on to say that the Midnight Texas series is even better than True Blood, which later became a TV series on HBO.
What's most amusing to me is that the publishers obviously must have seen the potential for Harris's new series to become another show. How many books have trailers on Youtube?

[youtube https://www.youtube.com/watch?v=8WfOp9sPmXM?rel=0&w=640&h=360]

Seriously, the publisher saved NBC a nice chunk of change with that!

The NBC version

As for what NBC's spin on this will be, it doesn't look like it will be deviating too much. (This is a good thing!)

Welcome to a place where being normal is really quite strange. From the visionary director of "Mr. Robot" and based on the hit book series from the author behind HBO's "True Blood" comes a journey into a remote Texas town where no one is who they seem. From vampires and witches to psychics and hit men, Midnight is a mysterious safe haven for those who are different. As the town members fight off outside pressures from rowdy biker gangs, ever-suspicious cops and their own dangerous pasts, they band together and form a strong and unlikely family.

The above-mentioned executive Producer/Director is Niels Arden Oplev ("Mr. Robot" pilot, "Game of Silence" pilot, "The Girl with the Dragon Tattoo," Swedish version). However, I'm more excited about Monica Owusu-Breen being listed as the writer/executive producer! She has a ton of experience with sci-fi shows as both a writer and a producer. You can check her full resume out on IMDB, but I'll just toss a few titles out: Alias, Fringe, Agents of Shield.

Can you see why I'm excited?
So, that's my sweet 16 group for the 2016-17 television season! I'll admit, I made it a little easier for myself by listing the top 16 by network. For the shows premiering this fall, I decided to up the ante!
10 New Fall 2016 TV Shows You Don't Want To Miss!
The following top ten list of fall 2016 TV Shows are ranked by interest from low to high.
10. Conviction
09. Bull
08. Designated Survivor
07. Speechless
06. American Housewife
05. Pure Genius
04. Pitch
03. This is US
02. Frequency
01. Timeless
There you have it. These are the 10 new fall 2016 TV shows that seem the most promising. Come February 2017 there'll be six more great shows. Have no worries though. It's likely those six shows will be switching places with another series (like Star does for Empire), or coming in where the NFL games used to be. Your DVR can handle it!