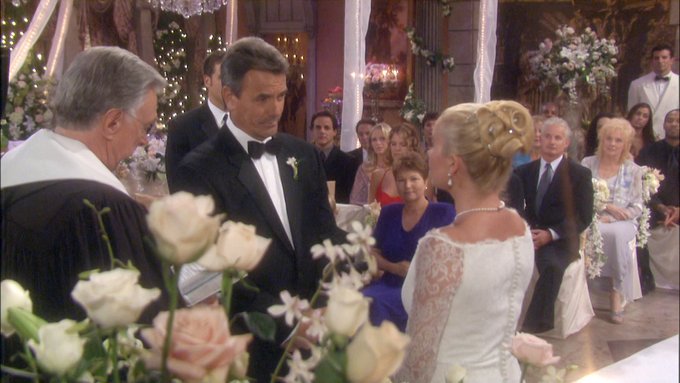 Young and the Restless fans are excited about day two of Rivalry Week. Day one was a big success for fans, because we got to see so many people we love and so many things we forgot all about. But, this is a day that will bring us all the more drama and all the more excitement. We cannot wait to see. This is an episode that comes from 1993 — so a long time ago. Almost 27 years ago this October. That's a lifetime for some of the people who have been watching the show, and it's an eternity for those barely old enough to remember those days. However, this is that year. It's the year that Victor came back to Genoa City after being gold. People though he was gone for good, and he showed up to take care of this business, and we were all shocked to see him show up on the doorstep of his home and decide he was there to take over. Today, we take a look back at Victor Newman and his many shocking surprises.
He Came From Nothing
To help those who aren't aware fully understand Victor and his life, we need to go back to his backstory. He was born with the name Christian Miller in the late 40s. His mother didn't want him, and she put him in an orphanage when he was a child. He was around 7 at the time. We don't know much about his father and why he wasn't part of the family, or why his mother didn't want him. Our assumption is that she wasn't fit to be a parent, his father didn't want anything to do with him, and everyone just had their issues. Either way, he didn't want to be there. He lived there until he was a teen. That's when he decided he would never allow anyone else to control his life again, and he'd be wealthy and powerful and control the world.
He changed his name as a young adult. Victor is short for Victorious and Newman means New Man. It's a whole thing that really does tell us what he was looking to accomplish and how he was living his life. I don't know what this means to his family now, but this is what he knew he needed in his life.
The Big Move
It was 1980 when he and his first wife, Julia, moved to Genoa City. He was there to help the lovely Katherine Chancellor run her own company, Chancellor Industries. He was ready to start his own company at that point, and he did. But, doing this and helping Katherine also put him in a place where he was unable to spend any time with his wife. She was not his priority, but she was fine with that as she was sleeping with her photographer, Michael. She was happy, he was not really in a situation where he cared what his wife was up to, and things were going well for his work. It also didn't help that he was sleeping with two many other women.
The Divorce
When he was ready to end his marriage to Julia, she was ready to leave town with Michael. They were not in a good place together, and he was already seeing someone behind her back — again. That was Nikki Reed. She was a stripper he'd met, and he had some serious feelings for her despite the fact that he tried hard not to let that be a situation happen. We think that his feelings for her were very much rooted in the fact that his past is so much like her own. She was doing what she had to do to make money and survive after growing up on the wrong side of the tracks, and so was he. They were so much alike, and we think that he felt the desire and the want to make her feel different and better about her life, and he knew he could help her become someone she was meant to be. He did, and that worked out well, but it also gives you an idea of his life.
Tell us what's wrong with this post? How could we improve it? :)
Let us improve this post!