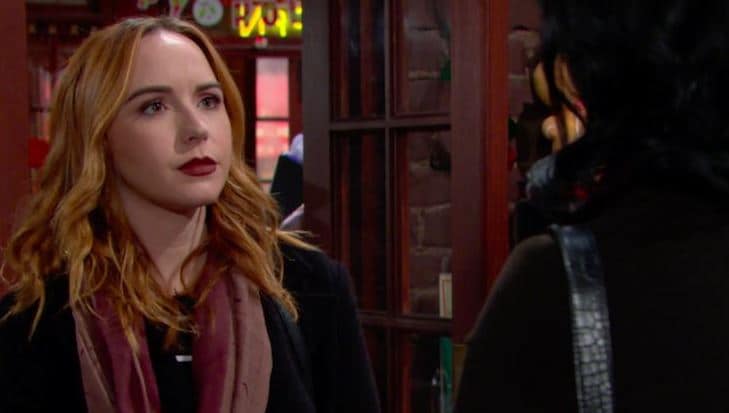 Young and the Restless fans know that Nikki is going through some stuff right now. She's in a bad place going through things that don't work for her, that don't make her feel good, and that don't really seem to make her life easier. She's in the middle of a personal struggle, a family struggle, and a demon from her past has come back into her life to help her feel even worse about things. She's not able to talk to anyone about what is going on with her, either, and that's a big problem for her. She's struggling in a major way, and we do not know how to do that with her. She cannot talk to her husband about this, or even her kids at this point. She's feeling very much alone and without her family and friends, and we are all struggling with her in more ways than one.
And then there is the fact that Abby is taking risks that are making everyone a little nervous. She's not known for her great decision making skills, which has everyone panicked just a little. She's not the most reliable person in the world, and her mother is gone right now. Her father is also not really around at the moment, and everyone is feeling the struggle of all of that. This might not be one of the best decisions she's ever made, either, but we hope she can get it together and work through her issues in some way. We aren't sure that there is much she can do, but we can figure that out in our own time. Cane and Victoria are working together, too, which means that there is some serious worry about what is happening going on.
What's Happening on the Young and the Restless
When someone tries to talk to you before you've had your first cup of coffee. ☕️ #YR pic.twitter.com/ZinQnyjhRG

— Young and Restless (@YandR_CBS) December 4, 2018
But, for real though. Don't. Just don't even bother with it. Don't let it happen. Don't make this a thing. Just don't do it. Don't make this weird.
What's Next on the Young and the Restless
A missing person raises suspicion this week on #YR. PLUS, will #Philly's love be revived? ❤️ It's all coming up on The Young and the Restless! pic.twitter.com/wBlXNfBhx9

— Young and Restless (@YandR_CBS) December 2, 2018
Jack is a man who doesn't know what it's like not to get precisely what he wants in life. He is a man who doesn't know what he wants all the time, but he knows that he will get it when he decides that he wants it. He's always been the best for that kind of stuff, and we are not all that surprised with his way of life. But right now, he wants to have Kerry. We aren't sure he wants her to have her for a romantic situation or not, but he wants her for something. And he will do anything and everything he can do to make sure she wants him in return. He is pulling out all the stops when it comes to romancing her, and we will get to see a few of his moves and his tricks soon. He's going to make this work for no reason other than the fact that he's not sure how not to make it work.
Arturo is going to stand up for Mia, too, even if the people in his life aren't that impressed by his moves. They might not like to see him doing this and making these bold moves, but he will do it. He seems to be the kind of man who wants to do what is right no matter where that takes him or what he feels that might do to him. He's someone will get things to work for him, but we don't know that he will have things handled otherwise.
Stay tuned for more Young and the Restless and be sure to check out TVOvermind daily for the latest Young and the Restless spoilers, news, and updates.