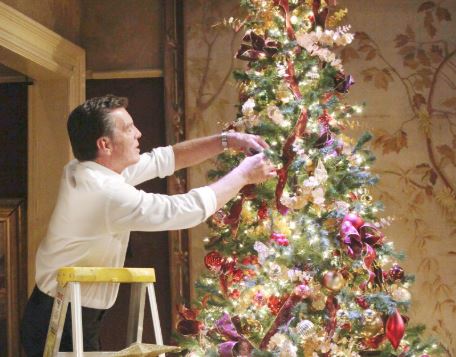 Young and the Restless fans have never been more shocked than when they saw the accident that took Nikki from vibrant to barely hanging on. There is no indication at this moment in time that she will live, and we think that this will play a very big role in the fact that she will take the blame for all that happened to JT. This will, in some way, play a role in that and how that all happens and goes down. We are just shocked and beside ourselves that she is in this situation right now, and we don't even know how to handle it. She's a mess, and there is nothing that anyone can do to make this seem any better. She's been in a bad place before, but this is more than she can handle at the moment. This is more than she's been able to handle, and we are watching as her family falls apart around her. This is meant to be the most exciting, most beautiful, most wonderful time of the year, yet here she is barely hanging on and not in a good place at all, and we don't know how to fix her.
But her family will get through this. They are strong and they are resilient, and they will make sure she has the best possible care in her life. She will not be left without that, and they will rally. But what about the boys thinking that they can hide this to keep them out of trouble? They are far too young to be able to pull that off and not live with some terrible guilt, but we know that they will end up being caught for it — and that will be a million times worse than it was before hand.
What's Happening on Young and the Restless
There's still time! Order fan favorite Crimson Lights mug now and receive by 12/25: https://t.co/87UKwRo7Sm #YR pic.twitter.com/uv20zUsS3m

— Young and Restless (@YandR_CBS) December 18, 2018
If ever you wanted to feel as if you belong in Genoa City, now is your chance. This mug won't be around forever, so go ahead and get it now while you can!
What's Next on Young and the Restless
Nikki's family rallies around her today on #YR. pic.twitter.com/Qkwg4l2Kkv

— Young and Restless (@YandR_CBS) December 18, 2018
No one can find Victor, and there has never been a time when anyone needs him more than they need him now that his wife is lying on her deathbed because someone ran her over. He has no idea that his own grandson is the one who hit his grandmother with the car, and that he is covering that up. He and Charlie are covering up what they did and they will end up caught for this. They will not get away with this, and we cannot help but feel that this is a horrible situation for all of them. They are not in a good place with what they did, but they are young and scared. And no one can find Victor, who can somehow make this all better with his power and his prestige.
But right now, there is a family rallying around their mother. Even those who don't like her are there for her and their own families as they go through this horrible situation together. This is one of the most awful things to ever happen in Genoa City, and everyone is out looking for the person who could have taken Nikki's life. They still might take her life, but they don't know yet if she will make it. She's a mess, and that's all there is to it. There is nothing that anyone can do right now, and that means it's a waiting game during a time when everyone should be focused on the season.
Stay tuned for more Young and the Restless and be sure to check out TVOvermind daily for the latest Young and the Restless spoilers, news, and updates.