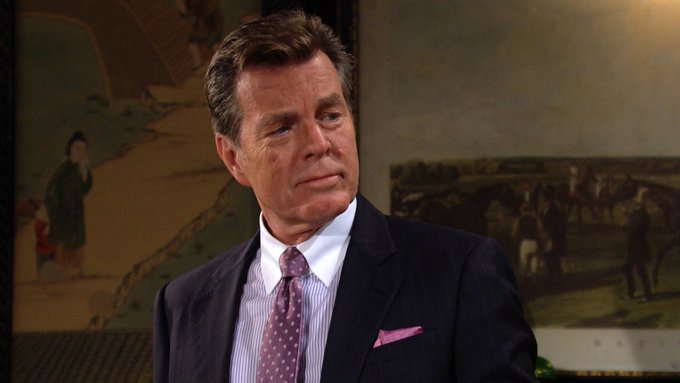 Young and the Restless fans got to see a lot of drama this week with Adam and Victor. He had to ask his father some questions, and his father was not happy to answer them. He feels as if his son is up to something — and he almost always is — and he's not sure what that might be. Does he feel that Adam is trying to take him down? We do. He's going though the stuff his father lived in the past, and he's not sure he is liking anything he sees. We might not know specifically what he is looking for, but we can guess that anything he is looking for might be more of a mess when it all comes out. There's little around here anyone can get on board with, and we foresee a war brewing between father and son. Do you agree?
Nikki is a mess when it comes to her own daughter. She's trying to calm Victoria down and get her to make some sense of her own life, but will she and can she and how will this work at all? We have no earthly idea how to get anyone to focus on anything other than being together and making this work, but it will happen as it happens. On the other side of things, we know that there is virtually nothing anyone can do right now to fix this. Then there is Billy who is fixing things with Amanda and figuring that out while she's off being very friendly and open with Nate. Jill is very unhappy, Phyllis is covering her tracks again and again, and everyone is unsure what is about to happen next, though we all know it's going down for real in the next few weeks with something.
What's Happening on Young and the Restless
We thought this was the perfect #YR throwback for this Thursday. ❤️ What do you think? pic.twitter.com/7FpVswYm9z

— Young and Restless (@YandR_CBS) March 19, 2020
This is a good one.
What's Next on Young and the Restless
Mariah fights for her relationship this week on #YR! pic.twitter.com/fw8KIyb1LJ

— Young and Restless (@YandR_CBS) March 15, 2020
Victor has a secret. We know. That's a shocking surprise, right? Victor never has secrets and he never keeps things from people and he never does things like this. We are all laughing at this one, but we have a feeling it has to do with the things that Adam was asking about and the things that he is looking to do and to accomplish these days. We aren't entirely certain, but we do feel that this is going to be a situation that might need a bit more support in some capacity. He's a man who likes his secrets, so we aren't surprised. Then there is Chelsea. She has made it abundantly clear she is looking only to the future, only to those who need her, and only ahead.
This means she's about to spend some serious time standing up for the man she loves without any shame and without anything that makes her feel as if she's ashamed. She knows this is her life now that she's chosen to marry Adam. Jack is going to lose his temper this week, and we'd like to venture a guess and say that this is something that has a lot to do with Theo — the kid who he brought into the family, took in as his own, refused to hear the truth about, and now regrets getting to know at all. But, that's just us. It could really be anything, right? We don't know for certain, but we have our thoughts on that process and what it will entail.
Stay tuned for more Young and the Restless and be sure to check out TVOvermind daily for the latest Young and the Restless spoilers, news, and updates.
Tell us what's wrong with this post? How could we improve it? :)
Let us improve this post!