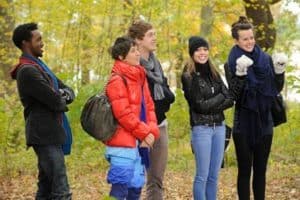 Work of Art went absolutely crazy last night, surprising me with the revelation that two would be eliminated from the contest. This is the second time the show has surprised us with a double-elimination; contestants John and Nao were both eliminated during week four's shock art week. However, with a smaller group of artists (five) remaining, the double-elimination managed to quicken my pulse in a way the other one hadn't.
I really liked four of the five remaining artists, though I can't say that I cared too much for Jaclyn. Her art has only really engrossed me once, during week three's challenge. Instead, her nudity has only managed to bore me because it's just repetitive. Maybe it if it wasn't blurred out, it'd be more interesting. Thankfully, Jaclyn was one of the two contestants to leave, and I don't think anyone was particularly sad about that.
Nicole was also cut, something which seemed inevitable yet still sad. The artist, who shared a lot about her backstory with us, never showed an incredible amount of personality, though she always created solid art. Her flirtation Miles was always a fun draw for the show, though it was given no resolution; not even a gratuitous shot of the two hugging played at the end of the episode as Nicole declared it was "only the beginning" for her and her art career.
That leaves three artists, all of whom I'm glad made it to the finale. They were my picks from the start, really (not who I predicted, but my favorite contestants).
First of all was Miles, who managed to wow us once again with a very interesting process that he constructed in order to not have "free time" while completing the challenge. Using a piece of fungus and a bleach abstract, Miles created something admittedly overdone, but still very engrossing. His piece was the judges' second-favorite of the night.
Meanwhile, Peregrine, who had faltered with her piece last week, faltered again this time, though much more strongly than her other two losing competitors, propelling her into the top three, though barely. I'm sure Peregrine will be a formidable contestant in the finale; like Abdi, she's had a brush with elimination and didn't like it. Not one bit.
Speaking of Abdi, I was really afraid for him going into this episode. The fun artist seemed to have run out of ideas with his rendition of "Socrates' cave" last week, but he really turned it around at the beach by using a concept that none of the others did. Instead of putting the natural elements into the art itself, he ground up black rocks with charcoal and pigment and used it as his material to create a baptism-esque painting of beauty. Abdi, coming off of two bottom-two appearances last week, pulled off an upset and won the challenge, though how he fares next week will remain solely on whether he can continue this sudden, judge-lauded evolution.