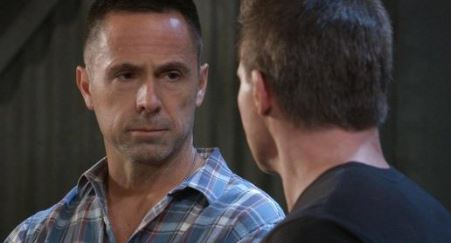 General Hospital fans know that things never really go well for Mike with his condition. He's in a place where he's making poor decisions, he's not getting the medical help he needs, and his family is suffering. In his state of mind, he should not be making any decisions or doing anything that he's been doing, and he cannot stop. He's got a problem, and he's shaken. He's got to find a way to make sure he can cover up what he feels is going on around here, and we aren't sure he can do that without much else happening to him in the meantime. He's struggling with the way things are going, and that's not good news for anyone. But will he get this handled, or will he only make a bigger mess? We don't know, but we can't imagine it will turn out well judging from the way he was handling things yesterday.
Then there's Sonny. He's in a bad place, he needs some answers, and he needs to find someone who can give him what he needs. He's struggling with that, though. Sonny is also confronted by someone about something, and it's not good. He hasn't the correct answers, and he's not sure where to go and what to do from here. He's going to struggle a bit here, and that's something he has to add to this already large plate of things he's being forced to deal with. Can he handle it, or will there be something else going on in his life that makes this situation out of control? And what about Chase's discovery? Will he get the answers he needs when he shares what he's learned? We don't know if anyone can currently deal with this the correct way. It's all bad.
What's Happening on General Hospital
🎊Please help us wish @lldubs a very #HappyBirthday! 🎉#GH55 pic.twitter.com/zM4coamyIo

— General Hospital (@GeneralHospital) September 11, 2018
There's a birthday in the house this week, and it happens to belong to our very favorite Carly. She's having a day all to herself, and we want to wish her a happy one. She's made some of our best GH memories over the past few years, and we know she's well-deserving of a day that's all about her. Go ahead and shout her out, fans. She needs it.
What's Next on General Hospital
"Just another day at the office." #GH55 pic.twitter.com/JciMbZHgG9

— General Hospital (@GeneralHospital) September 10, 2018
Jordan and Margaux worked together, and things are getting crazier than ever. We will also take a moment to point out that Jordan might seem just a bit different to you when you see her next, and that is because she is an entirely new person. She's been recast after the former Jordan left the show to move on to bigger and better things (with no hard feelings from her cast) and the new Jordan has stepped into her spot to take over the role and make it out as easily as she made it in. She's not going to be discussed in terms of her changing appearance, and that is just fine. But, they are working together rot uncover the truth, and it will be interesting to see the dynamic between them as this new actress walks into the show without any history.
We will also see that now that Kristina is home, she's going to open up to Sam. They've known one another forever, and she trusts her. She wants to talk to her about what has been going on in her life, and what is going on in her future. Things aren't good for her right now, but she's looking to change that. Maxie, on the other hand, is really nothing more than confused at the moment. She's a mess with the way things are going in her life, and she's not sure how she can get through this mess she's in. She's missing Nathan, her sister-in-law is losing it, and everything is a big mess in her life right now. It's bad and ugly.
Stay tuned for more General Hospital and be sure to check out TVOvermind daily for the latest General Hospital spoilers, news, and updates.