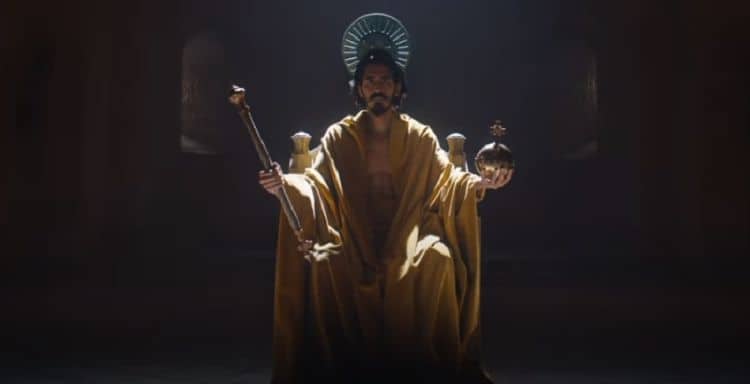 It's time to brush up on your knowledge of King Arthur and his knights of the round table since The Green Knight is, at this moment, scheduled to come out next summer and is already looking like it might be a visual treat that will be serving up a great deal of imagery and a storyline that's going to be confusing for those that have never read the actual story. It's been a long time for a lot of us no doubt since at one point Arthurian legend was actually quite popular, but like everything else it kind of comes and goes since it's the type of story that incorporates a lot of different elements that range from action and adventure to fantasy to drama to even comedy at times, even though with many movies the comedy is contained to witticisms that don't override the main story. The legend of King Arthur and his knights has been told many times over and in many different ways, but this time around we'll be focusing on Sir Gawain and his fated meeting with the Green Knight, a legendary figure that the fabled knight has been connected to for many a year. The manner in which this story is bound to be told already looks like something that will be both stunning and could very well carry many meaningful moments that people will or won't recognize since this is one of many stories that is connected to that of King Arthur that people often didn't read simply because it didn't deal with the king or the more popular legends that came from his tale.
We have been given stories of another knight from King Arthur's court, Sir Lancelot, and we've even been given various tales of the knights of the round table that have been both entertaining and completed in a manner that some folks might think is far more realistic. The truth behind this is often kind of hard to swallow since the reality of the legend of Arthur is that many historians will often tell those that are interested that there is no one Arthur that has existed throughout history, and that the legend is an amalgam of different individuals that have been lumped into a single story that is meant to entertain and thrill the masses with its simplicity and the story of a boy that was destined to be king through some design of fate.
It is rather amusing to see that Joel Edgerton will be taking on a role in this movie since he starred as Gawain in another telling of the tale, the movie titled King Arthur, with Clive Owen as the titular character and Keira Knightley playing Guinevere. In that particular movie, Joel played a rather gruff-looking Gawain, who was one of the few remaining knights left in Arthur's company after years of fighting for the Roman Empire to keep England as part of their territory. Gawain was actually one of the few to survive the battle with the Saxons during that movie as well, but The Green Knight is already looking to be something that it should be, the personal quest of the titular knight and a movie that could possibly help the summer of 2021 to bring a surge to the entertainment industry and ensure that it will survive in the manner that people are ready to return to. Whether that will really happen or not is hard to say since the pandemic is still around and is still making it difficult to continue living the way that people want.
Right now it does feel as though not a lot of people are getting too excited about theaters opening back up even if they're good and ready to see it since the idea of them opening back up is something that sounds as though it could still be a far-off hope that won't come true for a while. People are hoping for the best, that much is certain, but until we see what will happen in the coming year there's not a lot of folks that are willing to raise their hopes too high, but there are plenty that are going to keep moving forward and simply watch and wait to see what will happen. Kind of like the movie, people might be thinking that the chance for greatness might not come, but one thing that's usually worth mentioning is that so long as there's some sliver of hope left, there's a good chance that things will happen. At that point, it's up to everyone to be ready for it to happen. The Green Knight looks like it could be one of the next big blockbusters of the summer in 2021, and it's a big hope that we'll be able to enjoy the movies as we used to by that time.