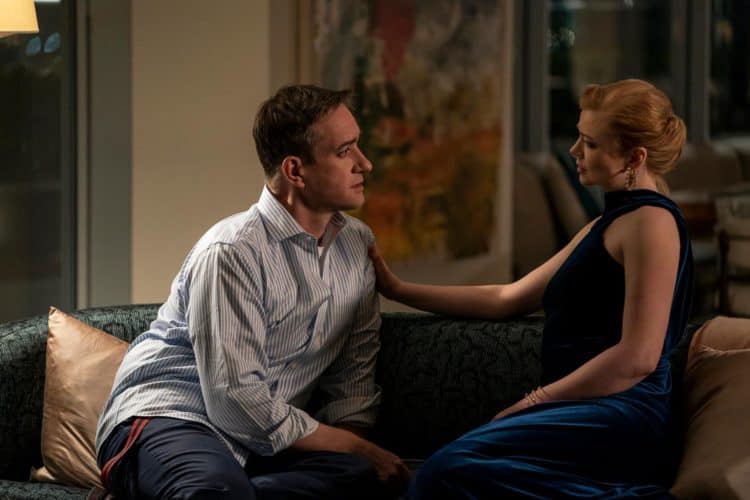 The hit HBO series, Succession, has been a testament to what good television should be like. The series revolves around the dysfunctional Roy family, the owners of the media and entertainment conglomerate, Waystar RoyCo. The cast members are led by Brian Cox (X-Men 2), who plays the family patriarch, Logan Roy, whom his four children – Connor, portrayed by Alan Ruck (Ferris Bueller's Day Off), Kendall, portrayed by Jeremy Strong (The Big Short), Shiv, portrayed by Sarah Snook (The Beautiful Lie), and Roman, portrayed by Kieran Culkin (Scott Pilgrim vs. the World), try to relinquish control of the company from, amidst his failing health. Each episode can be compared to Forrest Gump's box of chocolates. We'll never know what to expect next. There are the witty one-liners, catchy exchanges, and snarky remarks that sometimes make you feel like you're watching a hilariously brilliant comedy sketch show. Apart from this, the series has also introduced us to a wide range of characters whom we have all grown to love through the years. Each has something new to bring to the table, and each of their storylines are as explosive as the next one's. The series has gone through its fair share of divorces and break-ups, but one couple whose marriage has managed to stay intact are Shiv and her husband, Tom Wambsgans', portrayed by Matthew Macfadyen (Pride and Prejudice). There is more to this than meets the eyes though, and we're here to tackle it all. Here are five reasons why Shiv and Tom's relationship is filled with red flags:
5. Commitment issues
Shiv and Tom have a history of being in an open relationship. The earlier seasons of the show had Shiv drop a bombshell on the night of their wedding, as she surprises Tom when she tells him that she wants their marriage to be open. We then see Shiv flirting and cozying up with her political strategist colleague, Nate Sofrelli, portrayed by Ashley Zukerman (The Code). The fact that Shiv is not ready to fully commit to Tom says a lot about their relationship. Commitment issues are complicated, and is ideally addressed early on. Tom seemed to have been more invested in their relationship from the beginning. This poses a lot of uncertainties, and risks a long and fruitful partnership.
4. Having different priorities
At the beginning of the series, Shiv was seen pursuing a different career path in the world of politics. This all changed after she spotted an opportunity to work in the family business. She has since been trying to land a C-suite position in Waystar RoyCo, as she charms her way to her Logan's approval. It's not wrong to be a go-getter. It's just that Shiv seemed to value her career and position in the company more than her role as a wife to Tom. Priorities are always a good thing, except when you are at the end of the list. Tom is at the receiving end of it all, and seems to be suffering the blows.
3. Communication problems
Tom is portrayed to be a smooth talker, who has been trying to inch his way into being a full-fledged Roy family member. Unfortunately, the road ahead has been nothing but easy. He gets entangled in the conglomerate's cruise line division scandal, but is unable to fully share this with Shiv, who doesn't seem too interested to talk about his discovery. This proves to be detrimental for Tom as season 3 progresses. It's troubling when you are not able to openly communicate with your better half. Who else will you share your thoughts and opinions with? Shiv seems uninterested in Tom's stories most of the time, which is so unfair for Tom, who tries his best to be a valuable member of the Roy family.
2. Unaligned family plans
The next major decision a couple has after marriage is usually plans of starting a family. This is ideally discussed early on in a relationship to know if both of you are on the same boat. Another blow is landed on Shiv and Tom's relationship when they find out that they are on opposing sides when it comes to having kids. Tom is going through a rough patch in his life in season 3, and wants to have a mini me to look forward to. This is shot down by Shiv, who wants nothing to do with kids at this point in her life. This seed that has been planted can grow into a venomous plant that can totally wreck a marriage as time goes by.
1. The lack of empathy
The cruise line division scandal that Tom is knowledgeable about puts him in a compromising situation that might even mean jail time. Tom comes up with all these scenarios on how he will learn to live and survive in prison, while Shiv acts nonchalantly as Tom goes on rambling about his random thoughts. This seemingly lack of empathy is a huge red flag in any relationship. Your partner should be someone you can openly share your emotions, and be intimate with. Having a cold and unresponsive partner is a recipe for disaster. Emotions can build up, and just blow up when it reaches its breaking point.
Tell us what's wrong with this post? How could we improve it? :)
Let us improve this post!