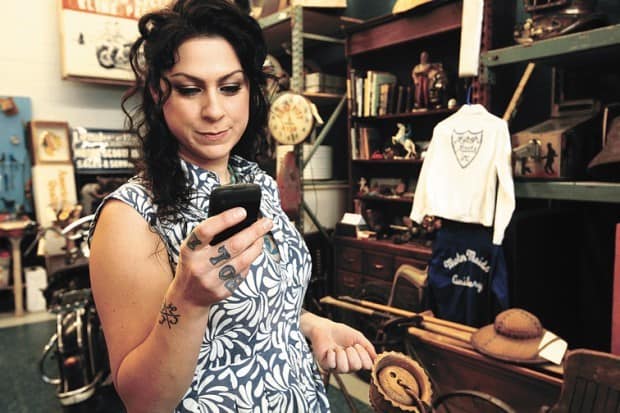 We've all heard the saying 'one man's trash is another man's treasure, and that philosophy is the basis of the TV series, American Pickers. The show follows Mike Wolfe and Frank Fritz, two 'pickers' who travel the country in hopes of finding antiques and other items to sell or add to their collections. While Wolfe and Fritz are technically the show's 'main characters', Wolfe's assistant, Danielle Colby has become a major figure as well. Danielle has become well-known for her straight forward attitude and her ability to keep everything running smoothly. Even though it's hard to imagine the show without her, that may become a reality. Recently, lots of outlets have reported that Danielle will likely not be returning to the show. What would cause her to make such a decision? Keep reading to learn more about Danielle Colby's departure from American Pickers.
Danielle's History On The Show
Danielle has been friends with Mike Wolfe for years. Once he found out that he'd be featured on the show, he invited Danielle along for the opportunity. Since season one, Danielle has become a fixture on American Pickers. Danielle is a pro at finding leads for Mike and Frank and she can negotiate with the best of them. To Danielle, the work she does on the show is more than just a job. She says, "My work on American Pickers reflects my real life passion for history. The beauty lies in the story. Without a back story there is little value to vintage. From our past we learn where to direct our present and future humanitarian efforts."
Why Would Danielle Leave The Show?
Danielle hasn't made an officially announcement that she's leaving the show, but all signs seem to be pointing to a farewell. With that being said, the main question is why? For starters, it's clear that Danielle never planned on staying on the show forever. During an interview, she said, "One never knows what will happen in the future. I highly doubt that Antique Archaeology is the last job I'll ever have in my life, though it is definitely the coolest job I've had to date. It all depends on when my time there has run its course."
Additionally, many believe that Danielle may be getting a spin-off of her own. In that same interview, Danielle said, "I have an obligation to Mike who put me in the position I'm in right now, and I'll respect that 'til the end. My plan is just to stick around and see what happens. But I have a contract, and I'll of course honor that contract. I guess that's a sugar-coated way of saying I'd love a spin-off." The network hasn't announced a spin-off focused on Danielle, but it would be a possibility. After all, Danielle is well-liked and she's also got enough personality to carry a show on her own.
Even if a spin-off isn't an option, Danielle may have chosen to leave the show for personal reasons. She is married, and may have decided that she wants to spend more time focusing on her family. Although she clearly loves her job, everyone needs a break from time to time, and she may have other interests she wants to pursue. Regardless of the reason, Danielle will definitely be missed.
Will The Show Be The Same Without Her?
The truth is that no show is ever the same after the departure of a main cast member. Without Danielle on the show, the entire dynamic will be changed in a way that the series may not be able to recover from. In reality, only time will tell whether or not the show will maintain its essence. Fortunately, American Pickers has a strong fan base of people who will likely be willing to stick around for the ride.
Tell us what's wrong with this post? How could we improve it? :)
Let us improve this post!