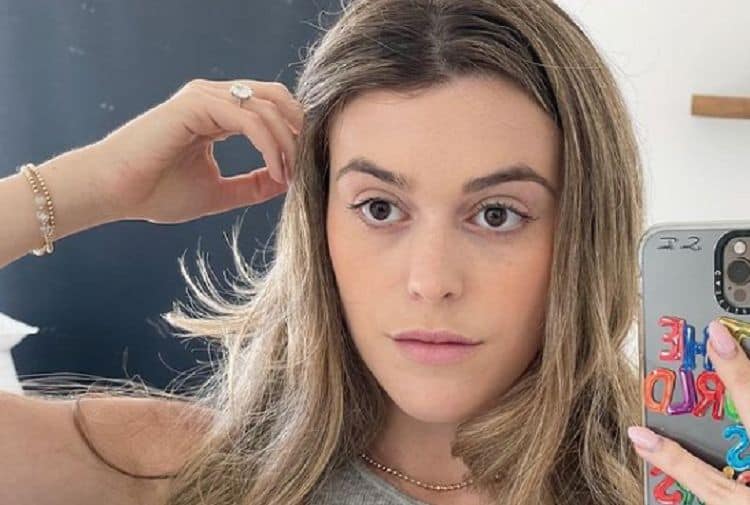 Who is Taylor Dome? Many call her Tay, and that's helpful considering Taylor Dome is the fiancé of Taylor Lautner. So, when this couple gets married, will she change her last name? We don't know her plan, but if she does, there will be two Taylor Lautners in the world – but that seems all right. When the former Twilight star proposed to his longtime girlfriend, the world was excited (even the girls who were always hoping they'd be the future Mrs. Taylor Lautner), and now we want to know more about the star's fiancé. Who is Taylor Dome?
1. She had a Crush on Robert Pattison
She posted an Instagram reel that had the world laughing hysterically. She did the trendy reel that asks you to show your childhood crush versus who you married, and she – very ironically – had a crush on Robert Pattinson. This is funny because Pattinson and Lautner starred together in the Twilight Saga both looking to get Bella Thorne to fall in love with them, and the world was very Team Jacob or Team Edward. She was team Edward, and now she's marrying the man who played Jacob. We laughed.
2. She Didn't Say Yes Right Away
It seems that this couple discussed engagement in the past, but she was adamant that something grand was not her deal. She wanted something low-key and very 'them' and Lautner made sure of that – with some flair. He lit candles, bought all the flowers, and he asked the love of his life to marry him while they were home cooking dinner. However, she did not say yes immediately. Fortunately, for Lautner, it wasn't for lack of wanting to say yes. She was simply crying too hard to get the word out.
3. They Didn't Make a Red Carpet Appearance for a While
Despite dating for many years, this couple didn't make any red carpet appearances until spring of 2022. They hit up the CMT Awards together, and fans loved it. We imagine that their lack of red-carpet appearances has nothing to do with them not wanting to go and everything to do with the pandemic shutdowns in Hollywood and all of that.
4. She is Proud
If there is one thing that we can say about this young woman, it is that she is a proud fiancé. She seems to support everything that Lautner does, everything he is, and all that makes him happy. She's always cheering him on and showing her love and support, and we cannot help but think that they are probably the most adorable couple.
5. Lautner's Sister Introduced Them
It turns out that he can thank his own sister for meeting the love of his life. She introduced the two, and it's clear they are very close. Lautner is six years older than his sister, and he is a big fan. He was there for her when she went through her numerous heart surgeries. He calls her braver than he could ever be, and the two are clearly close. It also helps that she knows her brother well enough to know who is good for him.
6. She's in the Medical Field
When she's not busy being a fiancé and loving her fiancé, she's in the medical field. She's a registered nurse, and she loves what she does. Helping her patients and being there during people's difficult moments – often their most difficult moments – is important to her.
7. She Worked on Her Career During Her Relationship
When she and Lautner met, she was not a nurse. She was in school working hard to become a registered nurse. She made her dream come true in 2019, which is a year after they went public with their romance. However, she has said on many occasions that he was there for her during her late nights and her difficult moments, and that he was always cheering her on as she worked to make her dreams come true.
8. She has A Mental Health Website
Part of her love of her job as a nurse is caring for people. She wants to care for them when she is not at work, too. She has launched a website of her own on which she focuses on mental health and its importance. She wants to be able to provide a place where people feel safe, where they feel understood, and where they feel they can find honest advice pertaining to what they go through.
9. She's Very Private
She is so private, in fact, that we don't know all that much about her life outside of what she shares with us on social media. She's good about not sharing too much, and it seems to work well for her. She's an advocate of being open and honest, but also about keeping the most important things in her life close to her heart.
10. She Focuses on her Own Mental Health, Too
The reason mental health is so personal to her is that she works really hard on her own. She takes things small steps at a time. She focuses on small things at a time. She works to stay focused. She works to give herself grace, and she places a great deal of importance on the things that make her feel the best.