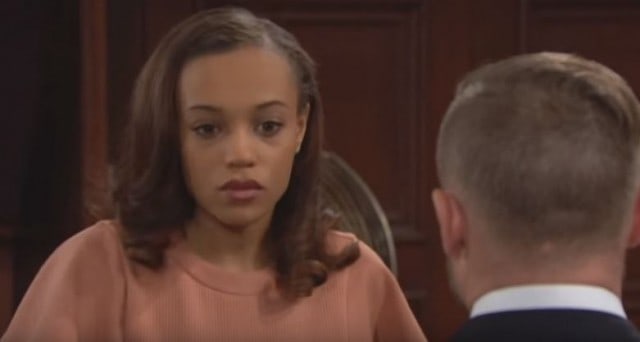 On Friday's The Bold and the Beautiful, emotions run high for many and the drama is not about to stop. Between all that is happening at Spencer Publications between Brooke, Bill and Katie (though she is quite unaware that anything is going on at the moment), the relationship mess made by Steffy and Liam and everything that's going on with Nicole and Sasha, fans can barely keep up with who is betraying whom. We will begin with Nicole and Sasha, however. We already know that Nicole is furious for reasons unknown about the fact that Sasha was offered a modeling job by Rick.
She's out to make sure that the job is taken from her frenemy as fast as it was given to her, and we cannot figure out what it is about her friend she hates so much these days. Well, we know that Sasha is a conniving and evil woman, but most people assumed that Nicole was blissfully unaware of that fact. Sasha, on the other hand, is filled with hearts and rainbows and appreciation for her friend. She's also overly excited about the prospect of working with Zende. Is her excitement the result of a physical attraction to the photographer, or is there more to it than that? Sasha is known for using anyone she sees fit to get what she wants, and there is always a chance that Zende is merely a means to an end for the master manipulator.
Since Zende recently ended his relationship with Nicole, it appears her jealousy is not unfounded. She doesn't want her frenemy to hook up with the man she wants, and she will do whatever it takes to ensure that Zende and Sasha do not get to spend any more time together, especially at work. Her pregnancy has taken a toll on Nicole, and Zende isn't thrilled with it, even though it's something that's all in the family. However, Zende is not likely to want to make amends with Nicole if she is successful in taking away his new job; it's been his life's dream to become a photographer and now Nicole is going to take that from him all because she's jealous.
On Thursday's show, Brooke and Bill enjoy a moment of passion in Bill's office, right under Katie's nose. She still has no idea her sister is in love with Bill or that the two share a very passionate history. Friday will bring with it more revelations about the kiss, especially since it happened only moments after Brooke informed Bill she wanted to be professional and maintain her distance from him. Deep down, she does not want to hurt her sister. However, the heart wants what the heart wants. Is the kiss real, or was Brooke just fantasizing about what it is she wants and hopes will happen at some point?
She and Katie are already working so hard to rebuild their relationship and improve their sisterly bond, so is Brooke really willing to sacrifice that for a secret relationship with Bill? We will certainly find that out on Friday.
As far as Steffy and Liam are concerned, their relationship is over. Neither of them is aware that most everything that has occurred this week is a big misunderstanding, or that half the people in their life would like to ensure that they do not realize this information at all. Will Wyatt get what he wants from Steffy, or will she manage to convince Liam that they actually belong together so that they can fix their relationship and bring the engagement back to the on position?
Will Friday's show bring a solution to any of the couples in the midst of their tragic breakups and jealousy? As far as we can see, simple misunderstandings could be easily avoided if these couples were just honest with one another. Additionally, if men like Zende and women like Steffy were able to say no to letting other people in their relationships in the friendship capacity and entrusting them with their personal details, perhaps they would not find themselves in these situations. Stay tuned to see what happens with these unfortunate love triangles on Friday's episode of The Bold and the Beautiful.
Photo by YouTube
Tell us what's wrong with this post? How could we improve it? :)
Let us improve this post!