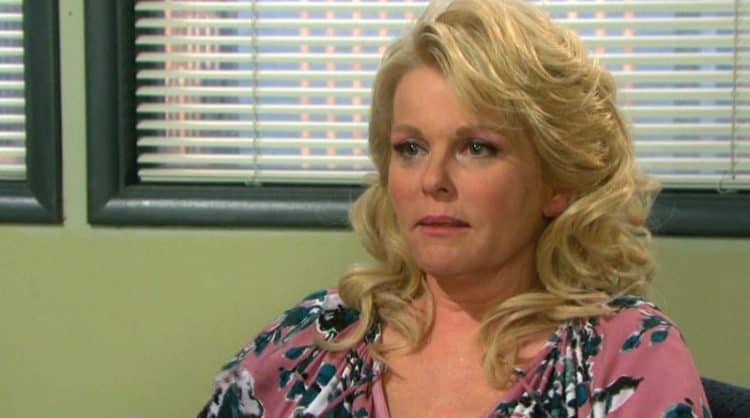 Days of Our Lives fans all watched as things unfolded with Bonnie earlier this week. She's been on a rampage that she cannot stop with. She is no longer asking Lucas for help. She's basically demanding that he do what she feels is the right thing and that he do it right now. She's not feeling that he should do anything other than help her get her way and get what she wants out of life, and that's been a problem for her. She's got a long way to go in terms of getting things together and facing the world as she sees fit, and that's a situation she cannot control because it's who she is. She's gone from asking him nicely to basically demanding that he not only help her, but that he also ensures that she's not going to lose her freedom because of it. He is not in a good place, and we aren't sure how he will respond to her at the moment.
At the moment, there are other pressing issues to contend with, too. One of those is the reappearance of Sheila. She's a mess, and we all know this. She's someone who has a long history of making poor decisions and doing things that don't make a lot of sense, but she's also someone who cannot get things together in a manner that works for her. She's brought Tionne with her, and there is not a moment that goes by we don't think she's going to make poor decisions here, and we think that she'll end up getting herself and Tionne in trouble once again. She's a disaster in every manner, and this is not something we think she can handle on her own. She's going to cause problem, and we wonder who she's starting with now that she's back.
What's Happening on Days of Our Lives
#Cin is back… for now. #DAYS pic.twitter.com/C2JWkSiIWz

— Days of our Lives (@nbcdays) September 10, 2018
Is there a reason we are all so obsessed with seeing this young girl end up with a man who spent so long locked up for killing so many people? We know he has mental health problems that caused a lot of his situation, and his murderous ways, but why do we feel the need to want to see them together? Why do we love them so and want them to be together? What's wrong with us?
What's Next on Days of Our Lives
Will Hope's quest to get Ben away from Ciara turn her into a dirty cop? Watch Days of our Lives, weekdays on NBC. pic.twitter.com/THluM5ns6F

— Days of our Lives (@nbcdays) September 10, 2018
Jennifer is about tired of all that is happening in her life. She's always been someone who goes above and beyond to help the people she loves. She's been someone who has gone out of her way to ensure her kids have the lives they want, she stands up for them, and she stands up for what she feels is the right thing when she's faced with it. She's someone who has no problem admitting when she's wrong when she's been proven wrong and she's faced with the facts, and she's someone who will take a bullet for the people she loves, but she's about had it with Eve. Eve has decided to go out of her way to make sure Jennifer's son and life are miserable, and she's done with it. She's putting this woman on notice right here and right now.
And considering it takes so much to rile her, we think she means it, too. And we are going to see that there are things that she will do that we did not think she would do. She's someone who has a lot of love to offer, but she's been sitting around long enough that she's tired of this. She's got Eric and his issues with his dying mother on his mind, and she's done letting Eve get in her way. She's busy with the things that matter to her, and her lack of patience for anything else is something we should all watch out for. She's somewhere she means business.
Stay tuned for more Days of Our Lives and be sure to check out TVOvermind daily for the latest Days of Our Lives spoilers, news, and updates.