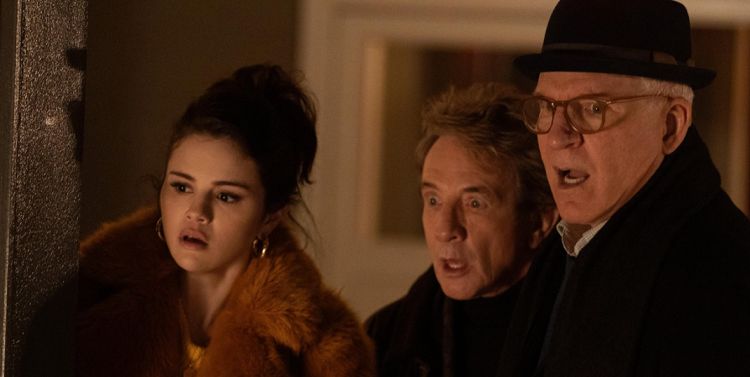 The trailer for "Only Murders in the Building," starring Steve Martin, Martin Short, and Selena Gomez, was just released and the Hulu series looks like a whole lot of fun. This comedic murder mystery, which was written by Steve Martin and John Hoffman of "Grace and Frankie" follows the three stars, who are obsessed with true crime stories, as they try to solve a murder. As they follow this crime close to home, they begin their own true-crime podcast and hilarity ensues.
Hulu's description of the plot gives us a few hints. "When a grisly death occurs inside their exclusive Upper West Side apartment building, the trio suspects murder and employs their precise knowledge of true crime to investigate the truth. As they record a podcast of their own to document the case, the three unravel the complex secrets of the building which stretch back years. Perhaps even more explosive are the lies they tell one another. Soon, the endangered trio comes to realize a killer might be living amongst them as they race to decipher the mounting clues before it's too late."
This looks like a great series with the combination of comedy and mystery we haven't seen since the movie "Knives Out." I'm also excited because similar to that movie, this one looks like it has a great cast that spans several generations (yes, it is possible to make a good show or movie that appeals to older and younger people! Really!). Steve Martin is obviously multi-talented, and I'm watching anything he's written.
Also, the Martins combined (Steve and Short), are always comedy gold, starting with "The Three Amigos" in the 1980s. They've teamed up for five movies so far that made a total of $4.5 billion so apparently I'm not the only one who loves them. They also reunited in 2018 for a live tour, "Steve Martin and Martin Short: An Evening You Will Forget for the Rest of Your Life." If you're a fan, it's available on Netflix and I highly recommend it. You can tell they just have a great time together, whether they're working or not.
The series is going to be Selena Gomez's first scripted TV series since her Disney Channel show "Wizards of Waverly Place," if you can believe it. She has, of course, had a music career in the meantime, lent her voice to the "Hotel Transylvania" movies, appeared in several other movies and shows, and executive produced "13 Reasons Why," along with other shows. She seems to have had as much fun making this series as we're hoping to have watching it. Last September, she told Variety, "I also think [the series is] going to bring a lot of joy to people. I was on a Zoom with Steve and Marty, and I'm like, 'I'm not going to get any work done because they are just so quick in their back-and-forth.'"
"Only Murders in the Building" also has plenty of cameos, so you can have fun spotting stars like Jane Lynch (the cheer coach from Glee), Nathan Lane (The Birdcage, The Lion King, and so many others), and even musician Sting.
If this genre of murder and comedy is one that appeals to you, and you can't wait for the end of August for this show, here are a few suggestions to get your fix in the meantime. I already mentioned "Knives Out," which is a pretty perfect movie in this field. If you like classics, the Pink Panther movies from the 1960s starring Peter Sellers are very funny. The very first, "A Shot in the Dark," has a scene in it that you may realize inspired an iconic Austin Powers scene decades later. You can also watch the remakes of the Pink Panther movies, which, ironically, star…Steve Martin. "Ocean's Eleven" is a great comedy heist movie as well. As for TV shows, "Death in Paradise" is a lighthearted comedy mystery series that takes place in the Caribbean. "Psych" and "Monk" are also good choices for binge-watching.
Hulu looks like it has several good shows and movies coming out in August, along with this one. You can get nostalgic with the '90s movie "The Babysitters Club," or watch the final season of "Brooklyn Nine-Nine." Lots of people are also waiting for the new limited series "Nine Perfect Strangers," based on the book by Liane Moriarty. Moriarty also wrote the wildly popular novel "Big Little Lies," which was her first book turned into a series and starred Reese Witherspoon, Nichole Kidman, Laura Dern, and Shailene Woodley. "Nine Perfect Strangers" stars Nicole Kidman, Melissa McCarthy, Michael Shannon, and several other big names, and is centered around nine people who meet at a secluded retreat and the mysterious woman who runs the resort.
"Only Murders in the Building" will stream on Hulu beginning August 31.