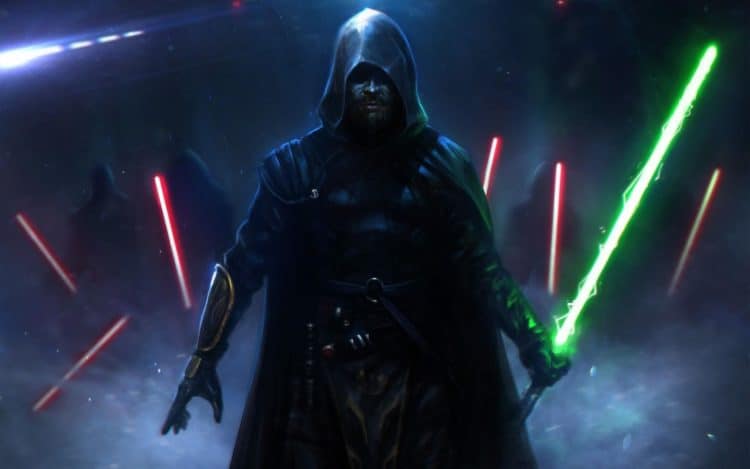 If you've been on tenterhooks waiting for news about Star Wars Jedi: Fallen Order, join the club. Ever since E3 2018, in June of last year, developer Respawn has been frustratingly tight lipped about what the game will look like, what type of gameplay it will offer and how closely its narrative will tie into the Star Wars movie franchises. In short, we don't know much about Fallen Order, despite it being one of the most anticipated game releases of 2019.
We don't know much but we do know some things. It's got a (tentative) release date. And we've been picking up on chatter from people like studio boss Vince Zampella who loves to tease details about storylines and gameplay. We also know — and this is very exciting — that Chris Avellone, writer of FallOut New Vegas, is on board and involved with the project. He confirmed his contribution with a tweet on 1st March.
This article takes a look at the rumors, hearsay and confirmed details relating to Star Wars Jedi: Fallen Order. So, strap in and prepare to be excited.
The Likely Release Date
Over the last six months, several different release dates have been suggested but they all center around the second half of 2019. Initially, reports said December, but EA has now all but confirmed it will drop in November. This information seems to have a lot of veracity so we're happy to believe it until told otherwise. Unsurprisingly, November is a popular time for games studios looking to drop just in time for Christmas and all those festive shopping sprees. The only thing to give us pause for thought is the fact that, until very recently, Respawn was still recruiting level designers for the game. Then again, we're living in an age of evolving betas. These days, games don't even need to be finished to become megahits.
Rumors and Details about the Storyline
We know (for sure) Star Wars Jedi: Fallen Order takes place prior to the turbulent events of Star Wars: Episode III — Revenge of the Sith. This has been confirmed with a tagline release. The studio says the story is original and focuses on a Padawan who survived the film's desperately darkening cloud of oppression. Some of the things we've heard, but can't confirm for sure, are that the Padawan is called Cal, he's got a mentor called Ceres and he'll be mingling with characters from the comics. If this is accurate, we don't know whether to expect familiar faces from the old Dark Horse comics or the newer Marvel releases (we know which we'd prefer though).
Some Choice Insights on the Gameplay
One other confirmed detail is the fact Fallen Order is a single player game. Again, this is something we know for sure. The official Star Wars site released a brief press release and verified it as true. It comes as a bit of a surprise, to be honest, after the release of multiplayer smash TitanFall. And let's be honest, if there's one type of gameplay guaranteed to make waves with Battle Royale hardened fans, it's 'balls to the wall,' kill everything group matches.
We were delighted to find out superstar developer Stig Asmussen, of God of War fame, is involved in the project. He became associated with the game all the way back in 2016 after announcing details of his role on a blog. At this time, he also seemed to reveal Fallen Order would be a third person action title. This little tidbit did drop a long time ago. We haven't heard much since, but nobody has denied it either.
Where Does the Game Go from Here?
Unfortunately, it's a waiting game for fans. Until the release date for Star Wars Jedi: Fallen Order is confirmed (properly), we're all in limbo. Although, it's hoped Respawn will share a few more details at April's upcoming Star Wars Celebration Chicago event. This is good news; before it was announced Respawn would make an appearance, we assumed the earliest preview would be at E3 2019 in June. All we can say for now is sit tight. At least we know the game is definitely on its way. Don't forget, it was first announced a whopping three years ago. Progress has been slow, that's for sure, and we've seen very little but perhaps it's better this way. When it does drop, it's going to do it with a bang and, hopefully, it'll fast become a new classic.