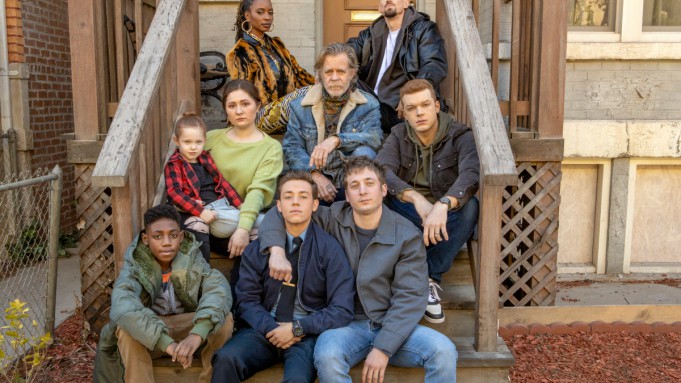 Shameless Creator Paul Abbott knows one thing about the truth: If you are going to tell it, always make sure you make people laugh in the process. That way, the joke has landed, and so has the truth. By creating the show, Abbott simply had the goal of telling the truth about a certain level of poverty. In a way, Abbott said, Frank Gallagher was his 'immune system', and he was really happy when he got away with it. Shameless premiered on Showtime in 2011 and had an eleven-season run that ended in April. In Showtime's history, the show remains one of the network's longest-running shows. Here's what the cast has been up to since its ending:
1. William H. Macy (Frank Gallagher)
Upon the show's ending, Macy penned a heartfelt note to his fans, who he prefers to call 'the audience'. In it, he thanked them for inviting Gallagher into their lives and said he was pleased by the compliments through the years. In July, Macy crowned it all with an Emmy nomination, which he celebrated by making a TikTok video. Although he's missing in the television and movie scene at the moment, Macy is heavy on the PR, having appeared on the cover of Haute Living and SFGATE.
2. Emmy Rossum (Fiona Gallagher)
Rossum has always kept the finer details of her love life out of the eye of the public. The actress managed to successfully front a relationship with Justin Siegel, but behind closed doors, the pair were actually married. This year, Rossum managed to pull a fast one on her fans, too, by keeping her pregnancy secret. The A Will of Their Own actress has motherhood to add to the list of things she's grateful for this year, given that she welcomed her daughter in May. On television, Rossum is set to appear on Angelyne, a show in which she is also an executive producer.
3. Ethan Cutkosky ( Carl Gallagher)
While Ethan Cutkosky began acting on the show when he was in his early teens, it is surprising to know that, for a good number of years, he was not allowed to watch the very show he acted on. Ethan is set to appear on another comedy show, Going Places, and is currently in the process of filming. In August, Cutkosky played the role of Josh in the Josh Hope-directed film, Alex/October. Cutkosky co-stars in the film alongside Lisa Zane, Stacy Edwards, Brad Hunt, and Rivkah Reyes.
4. Shanola Hampton (Veronica 'V' Fisher)
When Shanola Hampton is not getting ready for an overflow, she's somewhere celebrating the launch of Jennie Mai's clothing line and looking extremely fabulous while at it. If she's not doing any of those things, then she is still promoting Through the Glass Darkly, a film in which she appeared back in 2020, whose director she calls incredible and a true visionary. This year, she appeared as Elaine Fuller in Deadly Illusions. Hampton is set to appear in American Bullet, a role that was announced back in 2019.
5. Steve Howey ( Kevin 'Kev' Ball)
This year has been quite the rollercoaster for Steve Howey on a personal level. It kicked off to a rough start when he and Sarah Shahi, with whom he had been married since 2009, officially got divorced. September was yet another tough time for the actor, seeing as he lost his father. "You took me sailing. Showed me the stars. We fished for lunch and dinner," the star wrote in a tribute on his Instagram page. Howey is currently filming Day Shift, a movie whose release date is set to be announced.
6. Emma Kenney (Debbie Gallagher)
22-year-old Emma Kenney recently made headlines when she had things to say about co-star Emmy Rossum's time at the show. The actress, in an interview with the Call Her Daddy podcast, spilled on her sibling-like relationship with Rossum and said that upon Rossum's exit from the show, the set became more positive. To date, Kenney maintains her role as Harris Conner-Healy on The Conners. On the big screen, Kenney is set to make an appearance on the Richard Gray-directed film, Murder at Emigrant Gulch.
7. Jeremy Allen White ( Phillip 'Lip' Gallagher)
Life After Shameless, for Jeremy Allen White, can only be termed as busy at best. In June, White made an appearance in the Jimmy Giannopoulos thriller, The Birthday Cake. The film marked Giannopoulos' directorial debut and featured White as Tommaso. Recently, it was announced that White would play the lead role in The Bear, an FX comedy series. On The Bear, White will portray a professional cook, who finds his way back to Chicago to run a family restaurant. The rest of the show's cast includes Edwin Gibson, Ayo Edebiri, alongside Ebon Moss-Bachrach, to name but a few.
8. Cameron Monaghan (Ian Gallagher)
At the age of 28, Monaghan has a long resume that dates all the way back to 2002 and includes films such as The Three Investigators and the Secret of Skeleton Island, The Year of Spectacular Men, Anthem of a Teenage Prophet, and Another Harvest Moon. On the Small Screen, Shameless was one of Monaghan's longest-running works, but he's known to have had roles on shows such as Malcolm in the Middle, Ned's Declassified School Survival Guide, and Mercy Street. After an exit from Shameless, Monaghan is set to make an appearance on the upcoming thriller Shattered, in which he will portray the role of Chris Decker.
9. Emma Greenwell (Mandy Milkovich)
When we first met Greenwell, she appeared on the second season of Shameless as a Mandy. Prior to her appearance on the show, Greenwell's role as Mandy was played by Jane Levy. In 2016, Greenwell left the show. As Mandy, Greenwell's character was romantically linked to James Allen White's character, 'Lip'. However, it turns out that the pair did date in real life. On the big screen and television, Greenwell has been missing in action since 2019, when she appeared in Rattlesnake and The Rook. Off the screen, Greenwell is as happy as they come, if her May 2021 nuptials are anything to go by. " I wish I could marry you every day." She wrote as she shared a picture of her and her then newly-wed husband.