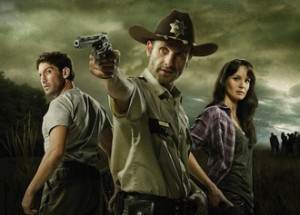 The Walking Dead will wrap up the first half of its second season Sunday night with the midseason finale "Pretty Much Dead Already." After the events of the previous episode, "Secrets," things look like they're going to change pretty drastically between the survivors. After all, Lori not only revealed to her husband Rick (Andrew Lincoln) that she was pregnant, but revealed to him that she had an affair with his best friend Shane (Jon Bernthal). Of course, Shane's going to have to find out somehow, isn't he? After all, it'd be folly to rule out the possibility that The Walking Dead's unborn survivor might just be his kid.
Talking to TV Guide, Walking Dead actress Sarah Wayne Callies (Lori) discussed how exactly the baby would change the already fragile dynamic between Rick and Shane: "Quite frankly, one of the reasons that [Lori] considered terminating the pregnancy is because it has the ability to tear [Rick and Shane] apart, and that has huge implications not just to her personal life, but to everyone's safety. There's a part of her that's afraid they might kill each other. This is the kind of thing men kill each other over."
Check out some promotional photos from Sunday's midseason finale episode of The Walking Dead.
There's no question that Shane's been trying to usurp Rick, both as the leader of The Walking Dead's group of survivors and as the leader of his own family. "[He's been] trying to take Rick's place," Callies confirms. "He's posturing. I'm thinking of the Planet Earth films, where the men of a species are trying to demonstrate to the females that they're bigger, stronger and better. Shane has a new level of investment in Lori's safety, if he does believe it's his child that she's carrying, and that means Rick's protection of Lori has to be that much more complete."
And finally, what about that barn that we recently found out was full of zombies — how will that play into the midseason finale? "It deeply, deeply, deeply divides people," Callies shared. "The whole thing blows sky-high."
You can read the full TV Guide interview here.
The Walking Dead airs its midseason finale, "Pretty Much Dead Already," Sunday night at 9/8c on AMC. Seriously, don't miss it.