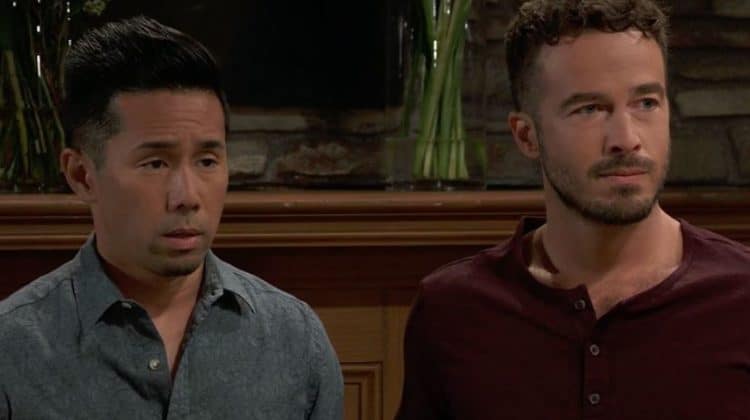 General Hospital fans aren't sure how to handle what's happening. Madeline can't keep her mouth shut, and she's opened up to Valentin. She told him all about Nina and her child, and he's not sure what to think. This is all new information for him, and he's not sure that there is anything he can do to keep it together and get things to work in his favor. He's in a bad place right now with her to begin with, but maybe now he might understand her a bit more and potentially have a way to get her back to herself. Maybe this will help him know her more and understand where she is coming from and who she is and why she is the way she is. We don't know, but we can only hope that it's one of those things that works out in the end.
But for now, we have to watch as Peter works his way back into the lives of everyone he previously upset. They all seem to be welcoming of him in a way that definitely leaves us a bit questioning, but whatever. The point is that he has a job and he's offering it to Lulu. We aren't certain that her father-in-law is going to be a big fan of that, but we are certain that there is a lot more to this than we see at the moment. There is a good chance that they have a moment to get things together before she takes it, and we wonder if she is thinking clearly. We know Drew spent some time with Margaux, and things there seem to be growing more interesting by the day. We like what's happening, but we aren't sure it will go too far in the near future. We can hope, though.
What's Happening on General Hospital
.@_lexiainsworth hosts #AskGH; live-tweet today's emotional, new #GH – STARTING AT 2PM ET | 11AM PT. Don't miss it! #GH55 pic.twitter.com/TPW9rw0OkB

— General Hospital (@GeneralHospital) August 21, 2018
In our best Eminem voice, "Guess who's back? Back again? Shady's back, tell a friend," well we suppose it's not shady so much as it's Kristina Corinthos, but she's back in town and ready to take on the world a it stand. She's happy, she's back, she's ready to take on her family, her friends, and whatever else she feels is a problem for her when she returns. Maybe she can help Joss get her life back on track. Either way, she's back, and you might appreciate what the show is offering of her.
What's Next on General Hospital
"What happened to Nina's baby?" #GH55 pic.twitter.com/5NDUBDUSVR

— General Hospital (@GeneralHospital) August 21, 2018
What's next is big time. There is a lot that is going on with everyone and their situations, and we can't help but have things worked out in our favor. Right now we have to see what is going to happen when Valentin asks Curtis for help. He's shocked, he's not sure what is going on, and he's not sure what to do. He's learned a lot this week, and it's all going to throw him for more loops than he's accustomed to, and he's not sure how to handle that situation as it all unfolds for him. But now he has to turn to someone for some help, and he hopes that Curtis is the right person for this job. Perhaps, but we will all find out before much longer. There is a lot that he needs help with, and that is not a usual situation for him.
Alexis is going to meet with Diane, and we all know that could go any way when it happens. There's a lot on her mind right now, Diane has more to share, and there might be some further issue here. But for now, Kim is going to show her compassion, and we are going to like her even more when she does. She's been good at that lately, and she's becoming someone we think we like more and more. We weren't sure about her at first, but she's actually causing us to wonder if she is a better person than she likes to admit. She's cool, and we like her suddenly.
Stay tuned for more General Hospital and be sure to check out TVOvermind daily for the latest General Hospital spoilers, news, and updates.