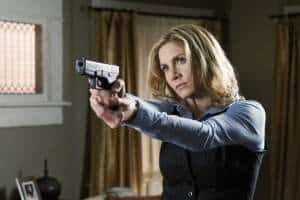 I just can't get into V. I don't know why — I should be loving the show. I can't find anything wrong with any of the show's story. But there's something, some element in that show, that keeps me aloof from what's going on in the episode. I see the characters, but I don't have a reaction to them. It's observation, pure and simple. Anna's description of V's memories aptly fits the series; it has foregone emotion for efficiency. That's not to say that V is a bad show, or that "Welcome to the War" was a bad episode. It was actually fairly good, and I enjoyed it. But if the series killed off every main character next week, I'd only shrug. I simply don't care about the characters – I can't empathize or sympathize with them.
The episode was a solid return to the series, though, which went on break back in November after a first "pod" of four new episodes. The show's return was a steady one. It wasn't a drastic improvement like FlashForward's Spring premiere was, nor was it a disappointment. If I can give the writers of V one award, it would be for consistency. The episode maintained the tone that has been established by the previous four episodes, with no expansions or major changes.
The episode, as its predecessors did, revolved around Erica's involvement in the growing resistance that has been building up throughout the episode. There are moments when Erica's cover comes close to being blown, and there are also moments when you think that someone has figured her out, even when they probably haven't. A lingering glance from an FBI agent was one such instance, that played well into the obvious paranoia that would come with anything like what Erica is trying to orchestrate. That is, recruiting a terrorist to join your resistance against an omnipotent alien force. Especially when the terrorist – an extremely wanted man – only will do it for a certain amount of cash.
On top of that, Erica has to deal with the disappearance of Tyler, who has gone aboard the mother ship with his girlfriend Lisa, with whom he is developing a relationship. He is, of course, blithely unaware that Lisa and her mother are using him for some unknown reason — but they are separating his bond from his mother. "He can have only one family," Anna says. "Us." After returning from the mother ship, however, Tyler doesn't seem to have loosened his bonds much — he still wants to remain close to his mother, even though you can tell she's not too pleased that he has a jumpsuit running a camera feed back to the mothership, where Lisa is watching their tender exchange. Is that sympathy I see in Lisa's eyes? I'm betting that she'll become a Fifth Columnist before long — the story field there is ripe with possibility.
Meanwhile, Father Jack is recovering from the stabbing he received at the end of episode four. He's taken to a V medical center, where they inject him with the chemical R9, which he claims is changing him from the inside. He has visions of himself becoming a scaly monster as a result of the medicine. However, so far, all we can tell is that R9 is a tracker agent — though apparently there's something else in there that will be unlocked later.
Speaking of medicine, it looks like Ryan's wife Valerie could be using a few pills. The V/human hybrid baby is gestating in her womb, and she's being stricken with incredible cravings and a huge appetite — she even considers eating a mouse off the mousetrap before throwing it away. That's also on top of her heart condition, which Ryan speculates might not have been able to withstand a normal pregnancy. I can see this story getting very interesting — I can't wait to see the hybrid baby ultrasound, which apparently will be coming soon.
Of course, there's also the story of reporter Chad Decker, who has been told by the Vs that he will develop an aneurism in the future. While I'm sure this story was meant to have some emotional value to it, it was probably the main source of my criticism for this episode. I didn't care when he decided to go with the Vs for their treatment. I knew he would — what was a choice for him had already been decided by the viewer, and was too predictable. What would have been interesting was for him to have not gone with the Vs cure. Then he would have been compelling, instead of remaining a stooge for Anna.
Anna, meanwhile, made someone else her stooge — she chose someone to build an army for her. However, that task wasn't as great as the guy thought it would be. All he had to do was inseminate her (apparently Vs reproduce similarly to humans, though the stooge didn't get to enjoy much — Anna had shoved his face into the floor). And then, after shedding her close for the second episode in a row, Anna ate him to nourish her newly fertilized eggs. With some pretty big teeth that reminded me of that vampire lady from last season's Fringe. Who would have liked to see her walk away with a hugely protruding belly like Lara Flynn Boyle did in Men in Black II? Sure, it wouldn't have been as scary as the way the episode did it, but it would have injected a little humor into the otherwise humorless series.
All in all, "Welcome to the War" stayed on about the same level as previous episodes of the series, without much build. I could go on and on about not caring about the characters, or the show's lack of humor, but instead I'll focus on the positive. It's a very well-plotted show with interesting storylines and great special effects. Now, all it needs is a heart. C