In this article, we will take a look at ten of the absolute top most outrageous cakes that have ever been constructed and shown on the TLC show Cake Boss. This list will be ranked according to a range of criteria that are sure to tick most boxes. This includes everything from the most fantastic designs to the variety of ingredients, as well as the overall excitement of the entire episode.
Needless to say, Cake Boss has showcased some of the most brilliant creations known to pastry. Each episode promises something exciting and off-the-charts. With that in mind, here are our choices for the Top 10 episodes from Cake Boss. Let's go!
1. National Train Day – Season 3, Episode 14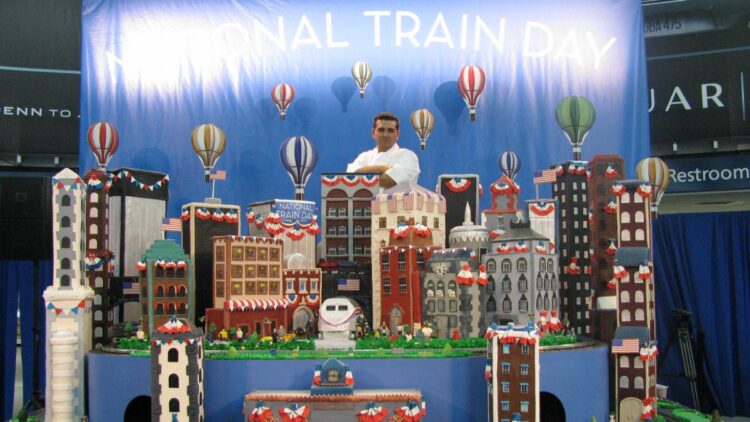 Regardless of how many works of art Buddy Valastro produces, nothing will ever come quite close to the National Train Day cake. It's one of those creations that ought to be preserved in a museum or some other hall of fame. The baker was presented with the job of designing a cake with a train motif by the marketing director of Amtrak. It was all for a good cause, too — to commemorate National Train Day.
What did he come up with? An intricate cityscape complete with trees, civilians, cars, and model trains. Needless to say, the ultimate effect was nothing short of magnificent. The completed work was presented at Penn Station, where it got quite a good reception. This was an appropriate response to what is likely one of the most stunning and intricate cakes that has ever been created.
2. A Flying Space Shuttle – Season 5, Episode 1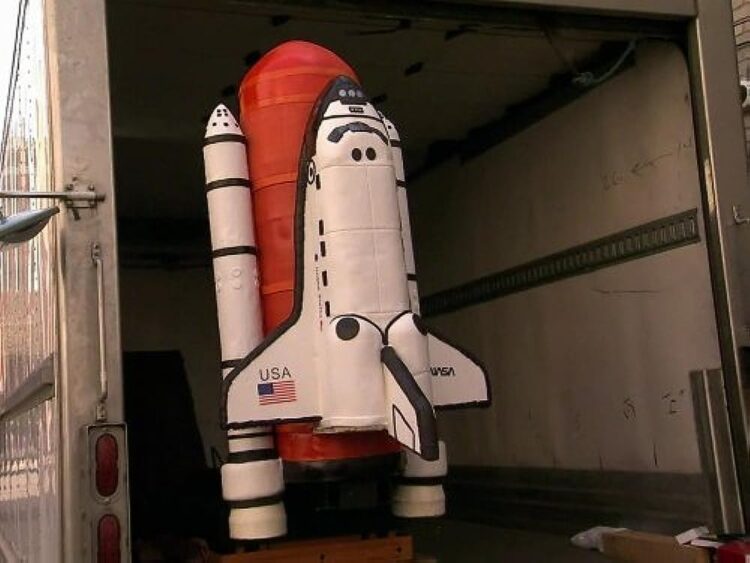 If you thought a full-sized race vehicle was incredible, then this next submission will blow your mind. This time around, Valastro was approached by representatives from the Kennedy Space Center. The request was for him to bake a cake to mark the 30th anniversary of the launch of the Space Shuttle program.
But there's always a twist and in this case it was that they needed it to have flight capabilities. The actual flight of the shuttle was the tricky part, even though its physical design wasn't that complicated. To get it up and running, the group outfitted the cake with pyrotechnics, then attached it to a moving scissor lift. This ended up creating the illusion that it was in the air. Even though the cake did not technically fly, what they achieved is still nothing short of spectacular.
3. A Full-Sized Race Car – Season 2, Episode 16

When you're asked to bake a special cake by the president of the Retail Bakers of America, you start mixing that batter. In this Season 2, episode 16, Buddy Valastro was tasked by the president of the RBA with creating a life-sized race car. It was meant to be the crown jewel of a trade fair that was going to be held in Charlotte.
Judging by his initial reaction, he wasn't quite keen on digging his creative talons into this one. However, he got to work, and after a grueling assembly, he was satisfied with his creation. At the end of the day, it was clear that he was genuinely pleased with both himself and his staff.
4. Bumblebee – Season 5, Episode 4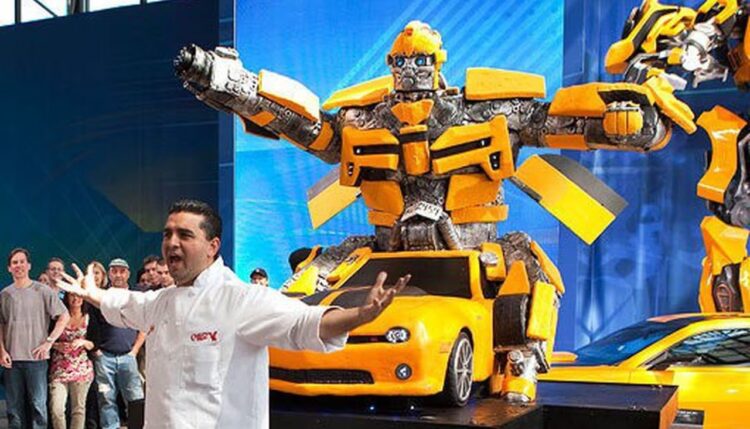 He's tackled some intricately designed and difficult cakes in his day, but he considers the Bumblebee cake one of his hardest challenges. Chevrolet reached out to the expert baker to create a cake of the fan favorite Transformer, Bumblebee, to be displayed at the New York International Auto Show. Needless to say, it was a stunner. Which, in retrospect, may have taken eyes off the actual event. Altogether, the cake took the form of a yellow Camaro and a Bumblebee. It was so large that it had to be constructed outside the bakery. So, it's safe to say that this was practically an Olympian feat.
5. A Life-Sized Cow – Season 5, Episode 10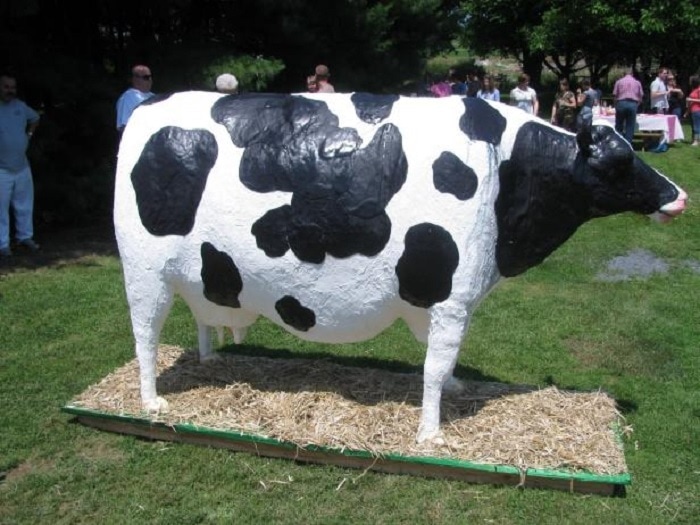 The Cake Boss' level of excellence is impossible to gauge in advance. They could get any request from the common two-tiered cake to a life-sized cow. Bottom line, there's no way to predict what comes next with these guys. That's very much representative of Valastro's day-to-day. To commemorate a dairy farmer's champion cow, he was tasked with crafting a life-sized cake cow.
The cake itself was outfitted with a secret mechanism that allowed Maurizio Belgiovine to hide inside the confection. Now get this, Belgiovine huddled inside the cow so he could press on the bottles, which in turn caused chocolate milk to gush from the cow's udders.
6. The Chinese Dragon – Season 1, Episode 10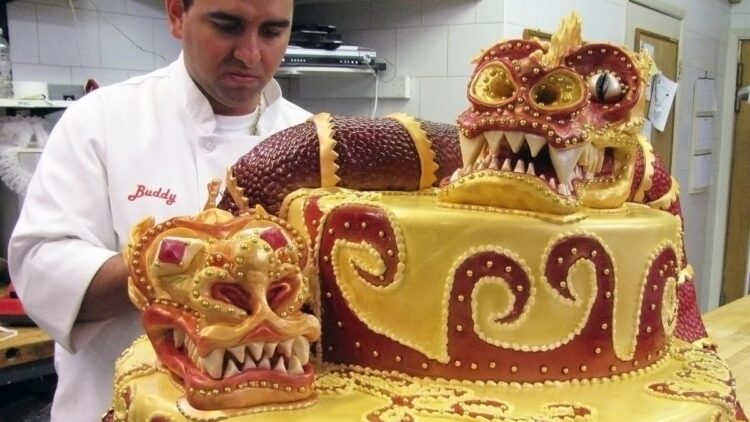 In this episode, Valastro was contacted by the two captains of a dragon boat racing team. They wanted an elaborate cake centerpiece for their upcoming fundraising event. Staying true to Chinese culture, the baker chose to make a huge dragon out of red and gold.
However, it proved to be more of a headache than anticipated. The entire thing comprised three tiers of cake combined with spiraling dragons made of cereal and modeling chocolate. Then the dragon's scales were etched on with luster dust, edible pearls, and a good old-fashioned textured rolling pin. Needless to say, the attention to detail there was massively impressive.
7. The Aquarium – Season 2, Episode 17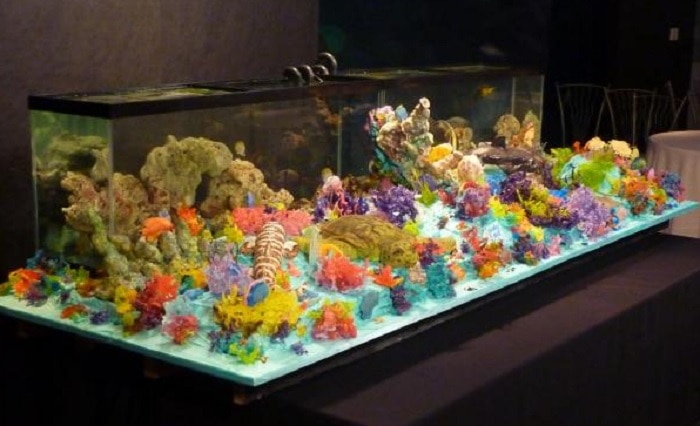 While every other cake before this was pretty much a monumental feat, this is where the big guns are introduced. Valastro produced an enormous aquarium completely stocked with swimming fish. To start it off, he needed to prepare ice malt sugar, and then he poured it over ice cubes to create the vibrant coral. Then he covered the cake in pale blue buttercream, allowing the team to create the illusion of water.
The next items to arrive were a platypus, a sting ray, some sharks, and even a turtle. To top it all off, the cake was decorated with genuine fish tanks filled with water. There were even some real fish and coral, including pufferfish and clownfish. The ultimate project was a one-of-a-kind combination of real and artificial elements.
8. Sesame Street – Season 2, Episode 14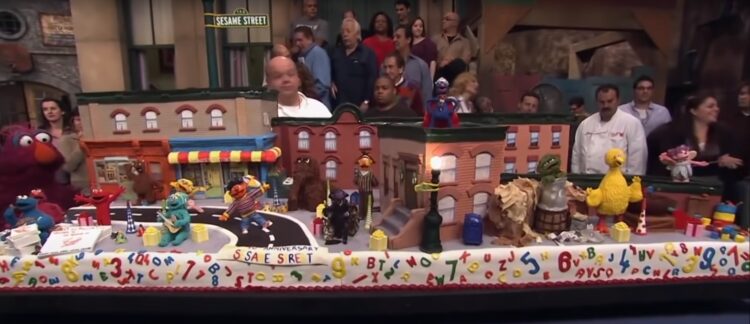 Making a cake to celebrate Sesame Street's 40th anniversary is likely to get anyone excited. The iconic show shaped many childhoods and served as a cornerstone of pop culture. So, it makes sense that the elaborate cake would measure a whopping eight feet in length!
The cake was covered in a plethora of adorable little features. This included colorful letters and numbers on the sides and light posts on the buildings. Bottom line, they were all made out of cake. It also featured all the traditional Sesame Street characters that lit up the screens in their time. Needless to say, it was an intricate cake with lots of nostalgia behind it.
9. The Häagen-Dazs Cake – Season 3, Episode 16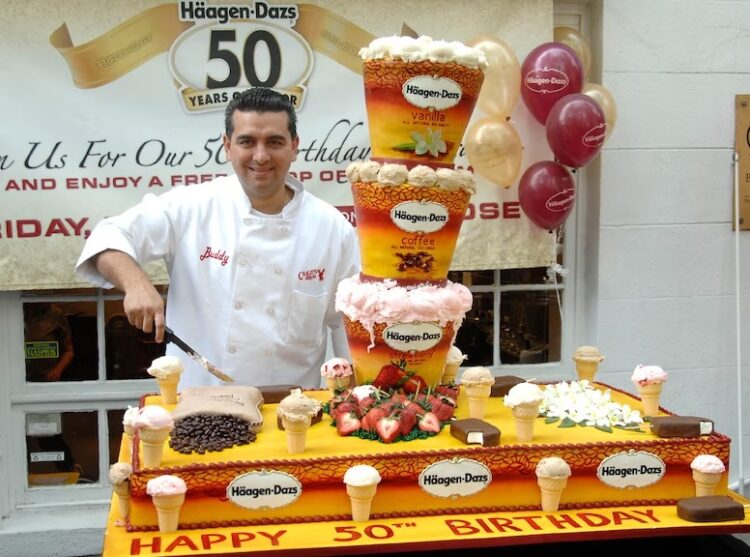 To commemorate Haagen-Dazs's half-century in business, Buddy Valastro was entrusted with designing a cake for the occasion. He went on to construct three enormous and lifelike Haagen-Dazs buckets out of pound cake and placed them on top of a rectangular base. He then decorated the buckets with materials that represented coffee, strawberry, and vanilla ice cream. To crown it all, it was a cake styled after ice cream.
10. The Bloody Shark – Season 4, Episode 2
Rightfully coming in at number 10, it's safe to say that this cake was out of this world. While the shark was being constructed, everyone on Valastro's orbit thought it looked like a "cartoon shark" and, even worse, a "bottle-nosed dolphin." However, the final product confirmed why Valastro is considered the Cake Boss. The shark looked as realistic as they come, like a true terror of the sea — however, it tasted divine.