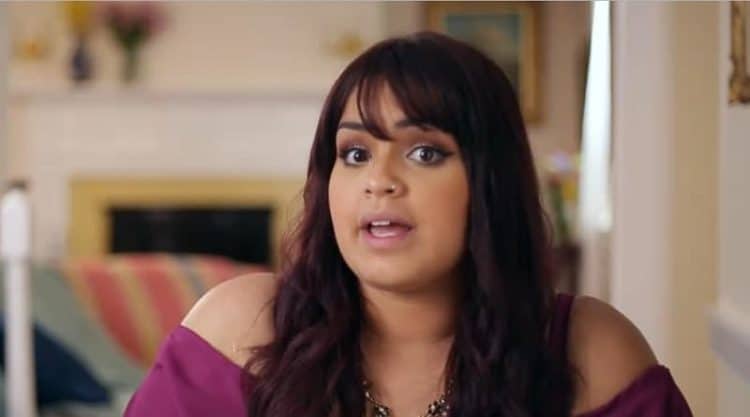 "90 Day Fiancé: The Other Way" season one featured six couples who were ready to find love in foreign countries. One of the women is Tiffany Franco, who left America to go to South Africa, hoping to make her relationship with Ronald Smith work. It has been quite a challenging experience, but she is determined to do everything possible to get Ronald in the United States. As we wait to see if the efforts will bear fruits, let's share what we know about the mother of two.
1. She did not mind being a single parent
Single parenthood is, most of the time, not voluntary, but when things are not working out, a couple should go their separate ways. In the case of Tiffany and Roger, when she got pregnant, Roger was not ready to be a father. Tiffany did not make a big fuss out of it by taking him to court to force him to pay child support. Instead, she understood and accepted that Roger was not prepared. Without any bitter feelings, Tiffany raised her son, Daniel, without badmouthing Roger. Matter of fact is she praised him, and indeed Roger has a big heart. According to Soap Dirt, he was shot trying to separate two people who were fighting at his workplace.
2. Her children are her priority
Tiffany comes across as a person who is too trusting. After helping Ronald with his addiction problem through rehabilitation, she felt it was time to let her son meet his step-father. Therefore she moved Daniel to South Africa since Ronald was yet to get a visa. Unfortunately, South Africa proved unsafe for Tiffany's son. Tiffany felt the trash she found everywhere in the country was dangerous for Daniel. Besides, Ronald admitted that human trafficking, burglaries, murder, and ATM bombings are also the order of the day in the country.
3. How she and Ronald met
Love can be found anywhere, and when Tiffany went on vacation in South Africa with a friend, meeting the love of her life was not in her plans. Still, it happened; when Tiffany and Ronald met for the first time, she admitted to them having so much chemistry. Tiffany went back to the US and returned to South Africa after six months, at which point Ronald decided to put a ring on it. They later got married and had their daughter in July 3, 2019.
4. She will do anything to make something work
When Tiffany met Ronald, he was not forthcoming about his past hence never revealed details about his gambling addiction. Worse, Ronald did not bother letting his fiancé know that he had a criminal record. Still, Tiffany found it in her heart to trust that Ronald was not hiding anything else after he came clean about his past. She even helped him with rehabilitation when he relapsed. Additionally, since Ronald has a criminal record, Tiffany went out of her way to ensure that his criminal past would not prevent him from becoming a US citizen.
5. She hates social media drama
While most people will use any chance they get to fuel their rise to the top, Tiffany is not ready to use any drama to become more famous. When Laura and Aladin took to Instagram to air their dirty linen in public, Tiffany decided to knock some sense into both of them. As reported on Meaww, Tiffany told the couple to relax and stop acting they are in high school. According to her, they are all part of a show, and once the cameras stop rolling, then they should continue with their lives, privately. She added that if anyone has to post anything, it should be beneficial.
6. She initially wanted to name her daughter, "Camila."
When Tiffany fell pregnant with her daughter, she and Ronald tried every day to find a name that they liked. They had settled on Camilla, but when Tiffany talked to her baby in her womb, the feeling was not right. She, therefore, decided to look for another name, and at around six months, the name "Carley Rose" came to her. She told Ronald about it, and they agreed to name their daughter, "Carley Rose."
7. She is committed to her marriage
They say that a perfect marriage is two imperfect people who are not ready to give up on each other, and Tiffany's marriage proves this to be true. By the time she was engaged, Tiffany was already helping Ronald with his addiction problems that he had not disclosed before he proposed. As if that is not enough, Ronald was not financially stable and had not saved any money. Still, the couple went ahead to add another mouth to feed when affording the rent in a safe neighborhood was a problem. Moreover, when it was time for Tiffany to give birth, they could not afford a private hospital since a public hospital has challenges such as overcrowding and cleanliness. Even in the face of all these problems, Tiffany has remained rooted in her marriage, and it seems like nothing will shake the relationship.
8. Her husband's criminal past
No one is perfect, but the fact that Ronald hid his criminal record from his fiancé goes to show that he suspected it might have prevented her from choosing to be with him. When he opened up, Ronald revealed that he was caught with LSD and heroin in the jacket he was wearing. He said that it was a friend's jacket he had put on when leaving a club; hence, even at the police station, the drug tests came back clean. In another instance, Ronald had pawned his mother's refrigerator, and she wanted him jailed. However, he promised to return the fridge, and his mother eased up. Additionally, he had been arrested on armed robbery charges, and he also stole money from his boss to gamble.
9. She believes in actions, not words
Actions will always speak louder than words, and Tiffany is not ready to listen to how Ronald is a changed man; instead, she wants him to prove it. When Ronald was out of rehabilitation, Tiffany kept all his credit cards to ensure he was not tempted to waste the family's resources on gambling. Ronald, being the man of the house, felt that Tiffany was not giving him enough trust to allow him to be independent, and they fought. Ronald later apologized, but Tiffany said that "sorry" was not good enough; it was up to him to show him that he was a changed man.
10. Her son may have influenced her to stick with Ronald
When Tiffany packed her bags and went back to the US, Daniel yelled while they were at the airport that he did not want to go and leave his father. However, she had to leave for the safety of Daniel and for Ronald to stop his gambling. For a woman who admitted that everything depended on how her son would acclimatize to the new country, Tiffany may have seen how much Daniel loved Ronald and decided to stay with Ronald no matter what.
Tell us what's wrong with this post? How could we improve it? :)
Let us improve this post!