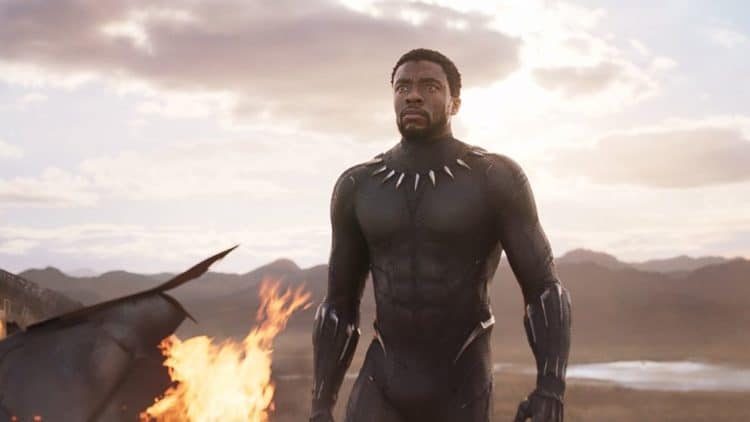 Actors can be many things on set. Sometimes they can be problematic to the point of disagreeing with the crew. In fact, we've had actors kicked out of sets and eventually fired because of poor conduct. Other times, they can be extremely friendly, something that can get in the way of doing good work. Most times, however, they manage to bring the characters to life, some of whom we have learned to love. A lot goes into making shows and movies come alive, and we learned how these actors make it happen:
1. Chadwick Boseman Played The Djembe Drum
Chadwick Boseman was more in love with acting as a craft than he was with time in the limelight. As part of his routine, Boseman played the djembe drum and carried it with him everywhere. What was more fascinating than the drum was that he played it, not for the crew or his fellow actors, but for himself. " It's the 'talking drum.' It takes on the spirit of whoever's playing it." Boseman would tell Viola Davis, with whom he worked on Get On Up and Ma Rainey's Black Bottom.
2. Jennifer Lopez Is Like A Mother
Jennifer Lopez has motherly instincts and is such a hands-on boss when it comes to making films. Through Nuyorican Productions, the actress has managed to churn top productions. Perhaps her mother-like nature explains why she's involved in several charity projects that are focused on children. The cast of Hustlers revealed that Lopez was friendly and caring on set, and made an effort to bond with each of them during the making of the film.
3. Cicely Tyson Didn't Break Character
For years, Cicely Tyson dominated Hollywood and played some iconic characters. It was watching Tyson on The Autobiography of Miss Jane Pittman that got Viola Davis interested in the craft in the first place. The first time Viola met Tyson on set, she said Tyson gave her one valuable lesson; don't break character. At the moment, it seemed cold, but that was how the legendary actress got the work done.
4. Sally Field Prefers Quiet Time
Unlike most actors who like to engage with their costars and members of their crew, Sally Field prefers to go the other way. Field's ability to pull away and be in a space in which she can practice her lines and give the role her very best shot was praised by fellow actress Maura Tierney, who acted alongside her on ER. This quality drew Tierney to Field and was the action she needed to witness to be able to take acting as a craft seriously. Tierney revealed this when she honored Field at the Kennedy Centre.
5. Will Smith Makes Everyone Laugh
With Will Smith, what you see on the camera is what you get. He is a people person. Has always been, and will always be. When he makes movies, Smith revealed at a Red Table Talk interview with Jada, he goes for days on end and does so without breaks. What many of his co-stars agree on is Smith's ability to get anyone, even the most serious person in the room, cracking up. He brings joy to the set, and, when he's in a really good mood, he may throw a party for some or part of the crew.
6. Regina King Goes Back In Time
In order to bring her characters to life, Regina King likes to go back in history. Speaking to Issa Rae, Regina said, " I feel like I tap into early things. Like, I feel like there were certain actresses and actors at a very young age that made me go, ' The way they are making me feel right now, that's f*cking dope.'" King has credited Sally Field and Meryl Streep as some actresses she thinks about when she wants to nail the characters she plays.
7. Meryl Streep Feels It
Meryl Streep has played some iconic roles and certified herself as one of the greatest actresses of our time. On how she does it, she says that, even though she loves her directors, she's quite untrainable. If she could give an upcoming actor one piece of advice, it would be 'feel it.' And feeling something isn't teachable, is it? " This is why I've been very shy to give an acting class or anything because I don't know how to do it. I don't know how to construct it in a larger goal method that I could impart to someone." Streep said in a past interview.
8. Kate Winslet Refers To Books
Once in a while, actors find themselves on the set of a book being adapted into film or a television series. To get acquainted with such a role, Kate Winslet says she makes an effort to read the book, and often times returns to it throughout filming. " Almost obsessively, actually," Winslet said while speaking to Bafta. " It sort of becomes my armor, my friend, particularly in the case of Revolutionary Road. I just would scour the book for pieces of information that surely the writer hadn't found and surely the director hadn't seen."
9. Samuel L. Jackson Keeps His Memory Sharp
In his everyday life, Samuel L. Jackson says he's pretty forgetful. The same cannot be said for when the Django Unchained actor is on set. His Pay to Play memory is as sharp as sharp can be. He only needs to read the line three times to get it right. "I'm sort of that school that if I read it three times I know it and generally I don't say the lines out loud till the first time I rehearse in front of a camera, " Jackson said in an interview with Associated Press.
10. Gabriel Macht Takes His Supplements
Right before the ending of Suits, lead actor Gabriel Macht was kind enough to give his fans a tour of his trailer. We established that he loves some cake, and apparently had the privilege of having two toilets. His fridge was basically empty and he hardly ever used any seat in the trailer but one. Most notable was Macht's strictness when it came to taking his supplements. We got to see a number of them in his cabinet, and he took them religiously.
Tell us what's wrong with this post? How could we improve it? :)
Let us improve this post!