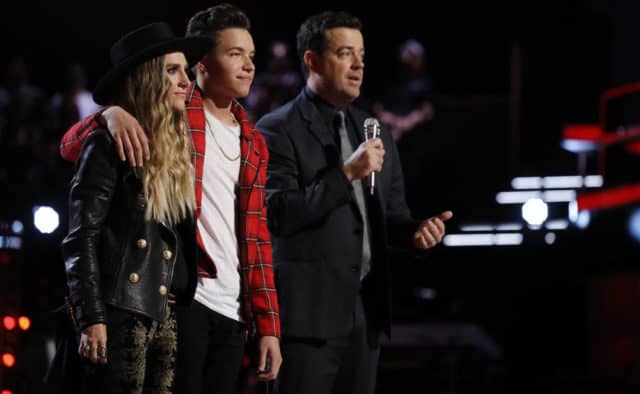 The Voice Season 12 Top Eleven Elimination Show was depressing, but at least there were a few good performances in it. Alisan Porter – winner of The Voice season 10 came and did her new single, "Deep Water." It is absolutely the best first single I've heard from a winner of The Voice! Seriously, they'd better not blow this one. They very well could have found their answer to American Idol's Kelly Clarkson!
Also during The Voice Season 12 Top Eleven Elimination Show, coach Gwen Stefani showed off her knack for dramatic staging as she performed with her team!
This performance of "Fix You" by Coldplay totally slayed! Although it would have been nice to have more time of just the artists singing, Gwen had to work with the time allotted. My next question is when is Hunter Plake going to do a Coldplay song as his live performance? Like, yes please!
Who Went Home on The Voice Season 12 Top Eleven Elimination Show?
Mark Isaiah and Stephanie Rice were the bottom two vote getters of . Mark was on the bottom last week as well. As such, even though his performance for the top eleven deserved the award for most improved it wasn't a shock that he was back there. Likewise, Stephanie was disappointing, but wasn't a total surprise either. As discussed in The Voice Season 12 Top Eleven Performances, her top eleven song choice and performance put her at risk.
Still, when you watch this performance of "Natural Woman" with Stephanie, her coach Alicia Keys and fellow teammates Vanessa Ferguson and Chris Blue the insanity of Stephanie being in the bottom is obvious!
https://youtu.be/HAHQOiYyfiA
The Instant Save Tilt Strikes Again!
Unfortunately, what the outcome of this instant save competition was going to be was equally as obvious as soon as it was announced. Normally a pop artist is sunk in an instant save situation because voters in pacific and mountain time are basically cut out. That's because California has the single largest concentration of pop music fans in the country.
However, the instant save does favor those heavily into social media. Statically that would be teenagers and females. Being that Mark has the tech-savvy teenage girl contingency voting for him he's got an instant save advantage.
On top of Mark's fanbase bonus, the same source that points out the concentration of pop music lovers in California also shows that the markets for alternative, folk, and blues are concentrated in those areas as well. That's a lot of Stephanie's market.
Even though Stephanie does wear boots and what one might consider a cowboy hat she's more like alt-country: a Lucinda Williams, or Emmylou Harris circa her Wrecking Ball album. While she might have gotten votes from some some country music fans (who are heavily concentrated in the first two time zones) most are really rooting for Team Blake's Lauren or Team Gwen's Brenneley. The instant save was a perfect opportunity to remove those singers strongest competition.
The Voice Season 12 Top Eleven Instant Save Performances
One reason to go over all of the factors that go into the instant save that on the basis of the performances Mark should have gone home. Of course, Stephanie didn't do herself any favors with her instant save song choice. Had she done something more like her blind audition, or maybe something by Emmylou Harris maybe it could have pulled the country vote. Instead she did, "Issues" by Julia Michaels. a song that seemed directly aimed at her base, who, as I mentioned earlier, are mostly cut out from voting during the instant save.
At least Stephanie's song choice made sense in terms of the topic. Yes, she has issues and one of them is that she needed people to vote for her! Mark's song choice was "Seven Years" by Lukas Graham!
When Mark hit the line of "once I was 20 years old" I doubt I was the only one who laughed. Mark is nineteen! He likely based this song choice on the genre, but he's unable to give it any emotional sincerity. It's the opposite of what he did in his top 11 performance. The result here was that his singing felt completely mechanical. On top of that, there were some off notes as he sang.
The Wrap Up: Stephanie Rice is Gone but not Forgotten!
Stephanie's exit piece shows how much she got from Alicia Keys, as well as a promise to get into a studio "as soon as she can!"
Alicia saved Stephanie for her artistry. Stephanie's emotional description of what she got from Alicia was far beyond gratitude for the opportunity to stay on the show. She describes Alicia as the "most significant person" in her life!
As for Mark Isaiah, here's a suggestion for his coach Adam Levine. Pick Mark's next song! Apparently Mark's chosen every song he's done in the live shows. Adam's music library is a lot bigger than Mark's. Given how well Mark did on "Hey Jude" another song by The Beatles could do wonders. How about "Let it Be"?
The Voice Season 12 Top Ten Live Performances are Monday. Get ready to watch and vote for your favorites because we're getting close to the final four!